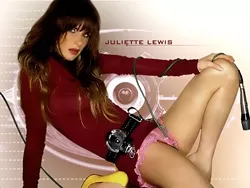 PHOTO COURTESY OF JULIETTE & THE LICKS
JULIETTE, WHERE FOR ART THOU? : Movie star cum rock star Juliette Lewis appears with her band Juliette & The Licks at Downtown Brew on Dec. 2.
# Juliette Lewis sounds like a screaming kitten on "Smash and Grab," the lead track on her new Juliette & The Licks album Four on the Floor, a 12-track collection of delectable punk nuggets.
"Hit it killer eeoow!" she screeches before launching into the song's lyrics: "Smash and grab I stole your heart/ Burnin rubber baby right from the start/ I'm on another bender, breakin at the knees/ Don't ask for mercy until you learn how to please."
Yes, ma'am!
Lewis formed her band in 2003, tapping guitarists Todd Morse (from NYC hardcore act H20) and Kemble Walter, who have been constants in an otherwise revolving line-up. The band did the 2004 Vans Warped Tour and has opened for everybody from Turbonegro to Social Distortion to Courtney Love.


In 2005, Foo Fighters frontman and former Nirvana drummer Dave Grohl jumped onboard to record some demos with the band, and while I doubt he'll play with them when they play Downtown Brew this weekend, he did stay with the band to perform on Four on the Floor, which they recorded at Grohl's 606 Studio in California.
It's an ass-kicking record and demonstrates that Lewis, one of Hollywood's most talented and versatile actors of her generation, also has some mean songwriting chops (she co-writes all the tracks with Walter, Morse, and others). There's a potent mix of brutal energy, raw sexuality, and sly innocence throughout the recording, characteristics you might expect from an actor who's played so many diverse roles.
I first recall seeing Lewis as Chevy Chase's daughter in National Lampoon's Christmas Vacation, but her big break was starring as Nick Nolte's innocent but highly sexualized daughter Danielle in Martin Scorsese's stunning 1991 remake of Cape Fear, in which Danielle finds herself the target of psychopath Max Cady's (Robert De Niro) attentions. A series of critically acclaimed films in the '90s--Kalifornia, Romeo is Bleeding, What's Eating Gilbert Grape?, Natural Born Killers, Mixed Nuts, The Basketball Diaries, From Dusk Till Dawn--cemented her reputation as an actor who could portray multiple contradictory characteristics. Nobody works the innocent-dirty trope like Lewis, and she makes good use of this ability on Four on the Floor.
See Juliette & The Licks with opening acts Scissors For Lefty and Suffrajet on Sunday, Dec. 2, at 7 p.m. This is an all-ages show. Advanced tickets (at Boo Boo's and the venue) are $14.50.
"I'm so stoked about Juliette," gushed promoter Eddy Burgos of Numbskull Productions. "You gotta come see her. Live, she's so intense your face will melt off."
Let the face-melting begin!
Nerdcore!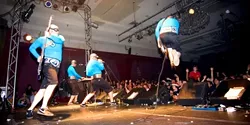 PHOTO COURTESY OF AQUABATS
NERD ALERT! : Aquabats, genius superheroes of nerdcore rock, leap into action Nov. 29 at Downtown Brew.
# Five guys, five matching superhero outfits, five instruments, five fingers and toes each or do they? Aquabats. Men? Legends? Depends™ wearers? Where did they come from? Which Saturday morning cartoon was their favorite? Do they remove their collectible action figures from the packaging and play with them or not? These are the questions of our times!
According to legend, 14 friends, all in different bands, bought seven bunk beds, Lucky Charms™ in bulk, matching pajamas, and hunkered down for a sleepover to end all sleepovers. Brainchild! One member worked at a wetsuit factory and, using scrap neoprene, stitched together matching rubber helmets. Fourteen entered, only five remain--steel cage nerd off!
"There's a difference between nerds and losers," said band member MC Bat Commander. "All these people whining about how they're losers and nobodies because they feel sorry for themselves or something--it's such a cop-out! Nerds are different. They believe in something. They believe in themselves regardless of what they've accomplished yet. So if that makes me a 'nerd,' sign me up."
Um, looks like you already signed yourself up, rubber helmet boy. Experience nerdcore when the Aquabats play Thursday, Nov. 29, at 6:30 p.m. for an all-ages, Downtown Brew show. Hunter Revenge of AFI and DJ Lance of Yo Gabba Gabba TV Show will open. Advanced tickets are $19 at Boo Boo's and the venue.
Cool cats
PHOTO COURTESY OF LITTLE CHARLIE AND THE NIGHTCATS
SMOOTH OPERATORS : Little Charlie and the Nightcats, cool purveyors of multiple blues genres, headline the SLO Vets Hall blues show on Dec. 1.
# There's cool, and then there's really cool. Alligator recording artists Little Charlie and the Nightcats are really, really cool. Fronted by Rick Estrin's cutting vocals and deep harmonica playing and propelled by Charlie Baty's jaw-dropping guitar acrobatics, the band is an amazing live music phenom, more fun than playing nude Twister™ with half a dozen Playboy Bunnies™ (Okay, probably not, but still!).
Little Charlie and company are touring through SLO in support of their latest CD, Nine Lives, playing Saturday, Dec. 1, at the SLO Vets Hall under the aegis of the SLO Blues Society.
Baty and Estrin joined up more than 30 years ago, mixing hard Chicago blues, jump, Texas swing, and jazz with rockabilly, proto-rock'n'roll, jumping jive, and be-bop--all featuring Estrin's sharply original lyrics.
I still have a vinyl copy of the band's debut album, All the Way Crazy (1987), which holds up beautifully after 30 years.
The concert begins at 8 p.m. with local blues act Unfinished Business, with Little Charlie hitting the stage about 9:15 p.m. Tickets are $17 for Blues Society members, and $20 for general admission.
Christmas vox
As far as I'm concerned, no instrument is more beautiful than a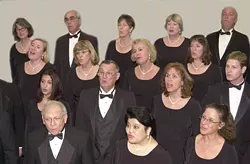 PHOTO COURTESY OF VOCAL ARTS ENSEMBLE
SING IT! : The Vocal Arts Ensemble performs "The Joyous Sounds of Christmas" on Dec. 1 in the Mission and Dec. 2 in the Performing Arts Center.
# collection of trained human voices working in unison. At their best, nothing sounds more stirring, and what other genre of music is more emotionally charged than Christmas songs? Put 'em together and you've got a potent mix in "Celebrate! The Joyous Sounds of Christmas," the SLO Vocal Arts Ensemble's annual concerts, featuring shows on Saturday, Dec. 1, at 8 p.m., in the San Luis Obispo de Tolosa mission, and again on Sunday, Dec. 2, at 3 p.m., in the Performing Arts Center (featuring the hauntingly beautiful sound of the new Forbes Pipe Organ).
Appearing in each of the concerts is the newly created Vocal Arts Youth Choir, composed of members from the ages of 16 to 26.
"This 50-voice choir will enchant you with its bright, new sound and will join the Vocal Arts Ensemble for some 100-voice pieces that will send shivers up your spine!" said VAE Executive Director Elaine Genasci.
The Vocal Arts Ensemble, a nonprofit organization, was established in 1977 and consists of 50 volunteer adult singers performing under the directorship of Gary Lamprecht. Tickets for all of the VAE performances can be purchased directly from the VAE website at www.vocalarts.org or by calling 541-6797.
Sensitive artists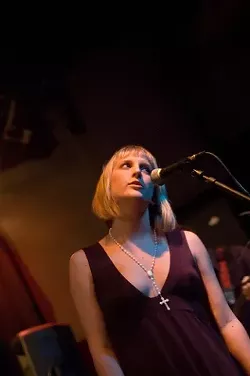 PHOTO COURTESY OF BLACK SHIRTS
SENSITIVE SINGER : Anastasia Trevino and her band Black Shirts play at the Steynberg Gallery on Dec. 5.
# I don't know what happened to King Missile, one of my favorite bands of the late '80s, but they have a song with lyrics I think about a lot, and here they are: "I am a sensitive artist. Nobody understands me because I am so deep. In my work I make allusions to books that nobody else has read, music that nobody else has heard, and art that nobody else has seen. I can't help it because I am so much more intelligent and well-rounded than everyone who surrounds me. I stopped watching TV when I was six months old because it was so boring and stupid, and started reading books and going to recitals and art galleries.
"I don't go to recitals anymore because my hearing is too sensitive, and I don't go to art galleries anymore because there are people there and I can't deal with people because they don't understand me. I stay home reading books that are beneath me, and working on my work, which no one understands. I am sensitive ... I am a sensitive artist."

I bring these lyrics up because three highly sensitive bands full of highly sensitive artists are coming to play an art gallery filled with highly sensitive art--and these bands and artists and gallery take themselves no more seriously than King Missile did, and I love sensitivity without overt seriousness.
Just how sensitive-without-seriousness are these bands and artists? I'll let Black Shirts--comprised of Kenny Carranza and Anastasia Trevino with a lot of help from Carlos "Twiztid" Sandoval, Chad "Can I Bum A" Nichol, Stormy "Pops" Trevino, and Shawn "Hollywood" Hafley--explain through their short bio on MySpace: "Like cocaine and Kate Moss, Kenny and Tasia live together, work together, sleep together, and--occasionally--write music together. Drawing inspiration from the Bible, the Bottle, and the idea of making loads of money, they collaborate with their good friends and family to bring you these musical stylings."
Black Shirts has a sensitive new EP coming out, sensitively titled Abra-Cadabra, Motherfuckers! I went to the band's MySpace page (myspace.com/dieblackshirts) and listened to "Down in the Valley," which features an emo-like melody and extremely sensitive singing by Anastasia, who's got a lovely, sensitive voice, motherfuckers!
When Black Shirts plays at the Steynberg Gallery on Wednesday, Dec. 5, for an all-ages, 7 p.m. show, they'll be joined by Port O'Brien and Seattle's The Cave Singers, Matador Records recording artists whose new self-titled debut CD was one of Boo Boo Records' staff picks. It'll cost you a sensitive $7 to get in.
More music
Ragg isn't the only local band up for awards in L.A. Land this month. Another local act, Crisptones, was also nominated for the L.A. Music Awards, where they'll be playing live at the event on Thursday, Nov. 29. You can watch it live on Cam cast (www.synchronicitylive.com). Crisptones was nominated for the song "These Old Photographs." An expected 1.3 million viewers will log in to the web cast, and the show will be televised on the E channel later in the year.
PHOTO COURTESY OF SLIGHTLY STOOPID
BOWLING FOR ROCKSTARS : Ocean Beach-based Slightly Stoopid returns to SLO Town for a Downtown Brew show on Nov. 30.
# Ocean Beach-based Slightly Stoopid returns to SLO Town for a Downtown Brew show on Friday, Nov. 30, at 8 p.m. In case you've been hiding under a rock and have never heard of the band, they describe their sound as "a fusion of acoustic rock and blues with reggae, hip-hop, and punk," and they're in top form on their most recent CD, Chronchitis. Check 'em with Supervillians. Advanced tickets are $27 at Boo Boo's and the venue.
Local trio Impromptu will bring their own blend of contemporary folk rock and Caribbean rhythms with hints of jazz to Linnaea's Cafe on Friday, Nov. 30, at 8 p.m. Hear a few tunes on the band's webpage, www.myspace.com/theimpromptuband.

Bring in the funk, babies. Local jazzers Jacob Odell and Dylan Johnson are getting together with Santa Barbara percussionist/drummer Steve Campbell for a night of heavy-hitting funk as Functus. Catch them for their last show of the year at Sweet Springs Saloon on Friday, Nov. 30, at 9:30 p.m.
PHOTO COURTESY OF ALASTAIR GREENE
BLUES FOR YOUS : Blues rock guitarist Alastair Greene and his band play O'Reilly's Bar & Grill on Nov. 30.
# Blues rock guitarist Alastair Greene and his band play O'Reilly's Bar & Grill on Friday, Nov. 30, bringing slick guitar licks in the blues, classic, and southern rock genres, including covers by artists such as the Allman Brothers Band and ZZ Top. "We've had Greene play for us once before and are very excited about his return," said Leanne Phillips of Rock Sisters Productions. "He's a truly amazing blues guitarist with a lot to brag about already and much more on the horizon." The show starts at 9:30 p.m.
A young, fresh approach to one of America's great art forms--jazz--will be presented by the Cal Poly jazz ensembles on Friday, Nov. 30, at 8 p.m. in Cal Poly's Alex and Faye Spanos Theatre. The ensembles, two big bands and a combo, will show how jazz is reinvigorated by the next generation, according to Paul Rinzler, Cal Poly's director of jazz studies. Tickets for the concert are $10 for the public, $8 for senior citizens and Jazz Federation members, and $6 for students (756-2787).
Don't miss Surfrider's "Sustainability Seduces" concert and fair on Saturday, Dec. 1, from 2 to 11 p.m. at Swallow Creek Ranch (6030 Highway 1, about two miles north of Cayucos--carpool, people!). There'll be music throughout the day, but headliners Blue Turtle Seduction will perform from dusk until the end of the fair. Tickets are $15 general, or $10 for younger-than-21 students (free if you're younger than 12!). The family-friendly green celebration will feature food and beverages (bring your own cup, greenie!) from the Cayucos Beer Company, Peachy Canyon Winery, American Flatbread, and more.
Fun Latin jazz combo De La BahÃa will bust out some dance music (mambos, cha chas, boleros) on Saturday, Dec. 1, from 7:30 to 10:30 p.m. at the Inn at Morro Bay. Featuring vocalist Maite, pianist Larry Arone, bassist Clint Iwanicha, percussionist David Solis, and drummer Mike Raynor, De La BahÃa promises to get your hips swinging and your Latin love groove swaying.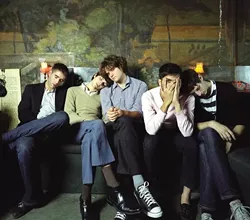 PHOTO COURTESY OF VOXTROT
TEXAS EMO : Austin-based indie pop outfit Voxtrot hits Downtown Brew on Dec. 1.
# Austin-based indie pop outfit Voxtrot hits Downtown Brew on Saturday, Dec. 1, for a 16-and-older, 8 p.m. show with Division Day opening. The quintet is fronted by Ramesh Srivastava and also includes Jason Chronis, Mitchell Wayne Calvert, Matt Simon, and Jared Van Fleet. Though hailing from Texas, these guys sound more like Europe's Belle & Sebastian. Tickets are $13.50 in advance at Boo Boo's and the venue.
World-renowned Celtic harp player Patrick Ball returns to the Central Coast with an intimate concert at Painted Sky Studios in Cambria on Saturday, Dec. 1, at 8 p.m. The captivating storyteller has recorded seven instrumental and three spoken-word albums, which have sold more than half a million copies internationally and won national awards in both the music and spoken-word categories. Tickets are $18, available at Boo Boo's, Cambria Business Center, The Yew Tree, or by calling 927-0500.
Bob Sima is appearing at the Musica Del RÃo House Concert in Atascadero on Saturday, Dec. 1, at 7:30 p.m. Bob's slogan is "Good Music for Good People," and Acoustic Guitar Magazine said, "For anyone who wishes Van Morrison was still making rustic acoustic soul records like Tupelo Honey, Bob Sima's new release Pour It On is going to be the find of the year." For info and reservations, call 466-6941 or visit www.musicadelrio.org.
Local virtuosos Dorian Michael (guitar) and Kenny Blackwell (mandolin) will be joined by Louie Ortega (guitar and vocals), Bill Severance (drums), and Jack Joshua (bass) for an evening of eclectic acoustic tunes and songs when they appear at the next Red Barn Community Music Series concert on Saturday, Dec. 1, at Los Osos' South Bay Community Center. The concert starts at 7 p.m., but, as usual, there's a 6 p.m. potluck supper planned. A $10 donation is requested at the door.
It's going to be one ho-ho-holy night when Sister is on the case in Sister's Christmas Catechism: Mystery of the Magi's Gold, on stage Saturday, Dec.1, at 8 p.m. in the Spanos Theatre. Think of it as a musical version of CSI set in Bethlehem, as Sister and her congregation try to solve the case. Sister's Christmas Catechism is the latest in Maripat Donovan's "Late Nite Catechism" trilogy. The work is an award-winning comedy that continues to play in theaters, parishes, hospitals, and various fundraisers across the United States and Europe. Tickets are $28 general, or $14 for students and children (756-2787).
The Cal Poly Choirs will perform music to celebrate the upcoming holiday season at the annual "A Christmas Celebration" concert Saturday, Dec. 1, at 8 p.m. in Harman Hall of the Performing Arts Center's Cohan Center. Tickets are $10 to $17 (756-2787).
It's a tradition! On Sunday, Dec. 2, Charlie and Sandi Shoemake (piano/vibraphone and vocals) perform alone for the season-ending concert of the Famous Jazz Artist Series at the Hamlet. This annual event features not only performances by the Shoemakes, but also discussions with the audience about jazz music and its past and present. The new season series will resume on Dec. 30 with Red Holloway and his group. For Sunday's event, there's one matinee performance only at 4 p.m. Tickets are $15, and reservations are recommended by calling 927-0567.
Americana rocker Virgil Cane returns to Downtown Brew for another Grassroots Night on Tuesday, Dec. 4. Singer-songwriter Joe Koenig will open, as will Rhodes, a native SLO Town band playing its last show. As usual, it's only $2 to get in, with $1 DTB pints.
CD Reviews

British Sea Power--Krankenhaus?
# With their quizzically titled new album, Do You Like Rock Music?, planned for an early 2008 release, maybe the boys of British Sea Power really are curious about our intentions to rawk, thus requesting a quick pulse check with this five-track EP, titled Krankenhaus? It opens with two tracks lifted from the forthcoming album both "Atom" and "Down on the Ground" are production-glossed, full-throttle heart pumpers. "Atom" harnesses a guitar riff that seems stolen from a Strokes record to a symphonic wall-of-sound chorus, ending it all with the squalling feedback. "Down on the Ground" tones the uproar down a notch, settling for a sound that mixes Echo and the Bunnymen with the larger scope of '90s Brit-rock. Having fulfilled the requirements for commercial radio play, the last three songs are inventive affairs: "Straight Down the Line" is a lo-fi organ pop ditty, the two-minute track "Hearing Aid" resuscitates the sonically distorted treble of Jesus and Mary Chain, and the adventurous nine-minute "The Pelican" ends the EP with sheer taut intensity.
Spank Rock & Benny Blanco--Bangers & Cash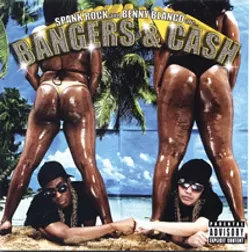 # Maybe it's the tension in the economic air or the turmoil in world affairs, but the arrival of club rap--with its focus on creating dance floor mania with outlandish lyrical perversity and revved up tempos--has caught fire. Coming from the same mouth that satirized Lindsey Lohan's famous forgotten undergarment ("Put some panties on hide your baby rat"), MC Spank Rock teams up with producer Benny Blanco for a quick five-song EP filled with trunk-rattling boom and enough crass language to challenge Sarah Silverman. As a loving tribute to the booty-driven Miami bass and raps of 2 Live Crew, you can forget about mentioning song titles here. If not for the foul mouth lyrics of Uffie and the male objectifying antics of Peaches, this may seem incredibly crass. But taken tongue-in-cheek, and acknowledging the incredible funky-breaks that are impossible to keep still to, Spank Rock and Benny Blanco have flattered 2 Live Crew with perfect imitation.
-Malik Miko Thorne, of Boo Boo Records and KCBX's Night Train
---
Glen Starkey knows he's paranoid, but is he paranoid enough? Leave him a cryptic message at gstarkey@newtimesslo.com.