For some of us, getting into the holiday cheer can be a lethargic process. I'm sure there are plenty of excuses—maybe it takes a while for the Thanksgiving glut to digest; maybe some people were too caught up in the online debate over red Starbucks cups and forgot that it was actually Christmastime; or perhaps that repressed inner "bah humbug" attitude needed time for the inevitable and ubiquitous Christmas cheer to work its magic.
For me, time just flies by way too fast to keep up with. I'm still trying to figure out where February, March, and April went, how on earth the summer went by so quickly, and, tragically, that as of Dec. 22—the day winter begins—I will no longer be able to unabashedly use the phrase "winter is coming" as an ominous answer for everything. Or, perhaps, I'm just a procrastinator (I am a writer, 'nough said).
PHOTO BY JONO KINKADE
GO BIG OR GO HOME: The Wood boys—Andrew, Evan, and Logan (from left to right)—and Merissa and Tim James (center), picked a 10-foot tall Monterey Pine that the kids were convinced was the perfect fit. Good thing they have vaulted ceilings at home.
So, in part prompted by getting the honor to write this article in our beloved Glen Starkey's absence, I decided it was maybe time to go get a Christmas tree. And to Hidden Springs Christmas Tree Farm in Atascadero I go to get a tree and see how my fellow late-in-the-season tree pickers are fairing on a tree farm that's already a bit picked over.
The farm keeps the young trees off limits so they have time to grow into their future selves as perfect Christmas trees. The smaller trees that are still available have tags on them—and many are a bit scraggly looking.
Auraly Dobbs, who's among the third generation of the family that runs the tree farm, says it's been a busy year. People stepped out of the norm a bit, and there was a run on white firs and blue spruces—both of which aren't always the most popular because they aren't the typical forest-green color.
Dobbs says she's also seen a lot more people from Los Angeles than in the past few years, guessing that both the farm, and maybe those types of trees, must have been in Sunset magazine or something.
I catch a family just about to load up a 10-foot tall Monterey pine—Merissa and Tim James, and the boys, Andrew, Logan, and Evan Wood.
I ask them what they were looking for in a tree and why they picked that particular behemoth.
"Bigger is better," Andrew says, followed by "America!"
That's right!
I then ask the family's spokesman a very difficult follow-up question: "Why a Monterey pine?"
"Why not?" Andrew responds, without even a flinch.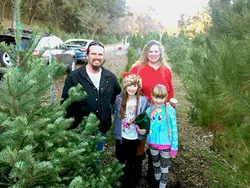 PHOTO BY JONO KINKADE
JUST PERFECT : The Chaneys stand by their little Scotch Pine, which the girls said was the "perfect tree."
The truth eventually comes out, though, and the family says that they chose it in part because it has softer needles—a wise choice for a family with a small child and a dog.
Merissa then shows me a video that captured their innovative tree falling strategy, because a tree of that size can be hard to direct to the ground without collateral damage. After most of the trunk was cut through, Andrew charged the tree and knocked it out. He showed remarkable form—driving straight at the tree, keeping his arm firmly square, and leading with his shoulder. Safe to say, he took the tree down with one swift blow. Yes, he plays football. His big brother, Evan—who is taller than the 10-foot tree that they picked—also plays and is in the process of deciding if he'll be joining the Atascadero Greyhounds or the Mission Prep Royals when he becomes a freshman next year.
The next friendly family I encounter has a different strategy. Melissa and Josh Chaney, and their daughters Mahlah and Tirzah, where just about to pick a filled-out, rounded Scotch pine that was maybe 5 feet tall.
Tirzah volunteers to be the Chaneys' spokesperson, telling me why they picked this tree.
"This is a perfect tree," she says, walking me through the tree's many virtues. The tree's top went straight up and would be the perfect perch for an angel, and the branches were well-spaced and bushy, so they could hang a lot of ornaments on it.
PHOTO BY JONO KINKADE
LET THE DOG SNIFF IT OUT: Scott and Rhiannon hadn't yet picked out a tree—they said they'll let their three-legged chihuahua, Lottie, pick it out.
I end up following their lead and also pick out a little Scotch pine that is maybe a whopping 3 1/2 feet tall.
The last family I find is an old friend and local boy, Scott Keith, with his partner Rhiannon Mistretta; their 3-week-old son, Griffin;, and their three-legged brindle Chihuahua, Lottie.
When I see them, they're methodically cruising through the rows looking for a tree. As far as their strategy—they are leaving the decision up to Lottie.
I ask her what she looks for in a tree, and she just kind of looks at me, and hobbles on to the next smell.
Staff Writer Jono Kinkade can smell a good Monterey pine from a mile away. Send comments to jkinkade@newtimesslo.com.
-- Melody DeMeritt - former city council member, Morro Bay