View a slideshow of more unicycling antics.
It's simple enough: One wheel and two pedals. But the unicycle is still a rather uncommon sight that elicits a smile or a chuckle from passersby, every time.
That sweet simplicity drew Mark Wilder to the unicycle on his birthday years ago.
He was looking for a distraction from the party scene filled with drinking and smoking that's all too common for 20-somethings.
"I'm kind of like an all-or-nothing addictive personality," Wilder said. "I quit everything on my 22nd birthday and bought a unicycle."
VIDEO BY DYLAN HONEA-BAUMANN
But why a unicycle? Wilder was athletic, had played a variety of sports growing up, and had even been a college mascot for a time. But he had never ridden a unicycle.
"It was just something different," he said. "I didn't know anyone who did it. I was living in Olympia, Washington, at the time and I saw one in a bike shop window. I thought it was cool. I just transferred all of that energy toward learning to ride a unicycle and I never looked back."
SLOwly rolling along
Wilder had no clue how to navigate a unicycle. Instead of seeking out lessons, Wilder, who was working construction at the time, would head to the Port of Olympia after work and practice and practice on the flat asphalt until he figured things out.
"I just got hooked on the unicycle quickly," Wilder said. "I didn't really know how to start. I didn't lean on anything. I was just in the middle of a parking lot, trying over and over again until I got it."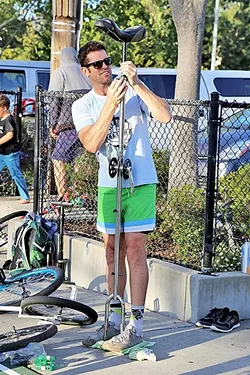 PHOTO BY DYLAN HONEA-BAUMANN
7-FOOT TALL: Mark Wilder sets up a tall unicycle during a practice session at Meadow Park.
Within a week, he could move forward without falling. The obsession only continued to grow from there. Fast-forward seven years, to 2008 when Wilder moved to San Luis Obispo to be with his then-girlfriend. Eager to learn more from the world of circus arts, Wilder started learning juggling on the side at the Cal Poly Juggling club every week. At the advice of a juggling mentor, Wilder went to check out a juggling festival in Isla Vista.
"I was asked where I performed, and at the time, I was just loading bread trucks at San Luis Sourdough," Wilder said. "I thought to myself, 'I may not be a great juggler, but I can be a great performer. I can do this.'"
By 2010, Wilder set up shop at the downtown Farmers' Market, where he could be found performing his one-man unicycle/juggling act every Thursday night. A pair of pink spandex pants found at Cast Aways in Morro Bay soon became an integral part of the act. Wilder would strip down to the bright pink pants and juggle flaming torches while riding a sky-high unicycle for tips.
"It was all over the place, super high energy," Wilder said. "It was totally unpolished, but I got a taste of what it was like to have a crowd cheering. I was hooked."
My circus, my monkeys
About 15 years after Wilder bought his first unicycle in Olympia, he now works as a full-time performer, unicycling and juggling his way through fairs across the state, cruising to places like New Zealand, performing at Universal Studios Hollywood for a summer, and even acting on your television in a CarMax commercial. But Wilder had a partner in crime for all of that. About four years ago, this former solo-artist was taken off the market.
PHOTO BY DYLAN HONEA-BAUMANN
AN ARMY OF ONE (WHEELERS): The duo Something Ridiculous, which is made up of VonJon and Mark Wilder, juggles on unicycles at Meadow Park while young unicyclists practice. Every Tuesday at 4:30 p.m., Wilder and a few of his teammates from the SLO Ballerz unicycling basketball team set aside some time to teach kids and anyone else who is interested how to unicycle.
When asked how they met, Wilder and his performing partner, VonJon (who prefers to go by his stage name) both say exactly the same thing: "Match.com."
Here's how it really went down. The second time Wilder attended the Isla Vista Juggling Festival in Santa Barbara, in 2011 where VonJon was also in attendance, he served as the emcee.
"I had only been performing for like six months at that point and I was really nervous," Wilder said. "Jon, my partner, that was his first juggling festival. Unbeknownst to me, he was in the back row of the theater, laughing his butt off. He thought I was hilarious. We exchanged information the next day because he does the circus ladder, which I was also interested in."
Wilder went to San Diego to buy a circus ladder unicycle from VonJon. When Wilder arrived, VonJon invited him to come perform with a few other jugglers downtown for Mardi Gras.
"We had a lot of fun and maybe a week or so later he called me and asked if I wanted to work together," Wilder said. "He wanted to leave San Diego and do something different."
While Wilder had to think about it, VonJon said he knew right away.
"I was trained by full-on circus people, and I'd had a few partners before Mark and I knew what it took to make a partnership work," VonJon said. "Sometimes you just know something's the right thing. It's like love at first sight. I just knew it. He didn't know it, I think, at first, but I knew it."
So VonJon moved his wife and young son up to San Luis Obispo and a partnership was born.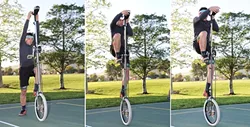 PHOTO BY DYLAN HONEA-BAUMANN
EASY DOES IT: VonJon, who is one half of the performance duo Something Ridiculous (along with Mark Wilder) mounts a unicycle that's 7-feet tall.
"He's a tremendously skilled juggler," Wilder said of his partner. "He brings to the duo a level of technical expertise. I'm more of a comedian. But together we make a good pair. There's something special about a duo, and they don't last very long usually. It's more enjoyable from the audience's perspective, there's more to see."
Together the duo is branded under the name Something Ridiculous, going wherever the next gig takes them but always returning back to home base on the Central Coast.
While the juggling scene has been alive and well in San Luis Obispo for about 25 years, other seeds of circus arts were planted later. In 2007, just before Wilder moved to town, Rebekah Leach, a former Cal Poly student and dancer, performed a striking aerial dance piece at the Spanos Theatre; started hanging her long, colorful aerial silks in trees around town; and also offered workshops. Students she trained went on to teach at spots around town like Performance Athletics Gymnastics, and two of them, Gigi Penton and Liz Stevenson, went on to form Suspended Motion in 2009. The studio—which now offers classes in aerial fabric, aerial hoop, aerial rope, trapeze, and more—recently announced plans to increase the size of its facility on Suburban Road. Acroyoga SLO, which formed in 2014, offers workshops and classes that teach students how to do acrobatic sequences with a partner in a yoga-inspired harmony at different studios.
While the budding circus scene in San Luis Obispo is still a far cry from the likes of San Francisco or Los Angeles, where professional circus schools and master teachers are plentiful, it is growing.
PHOTO BY DYLAN HONEA-BAUMANN
ALL TOGETHER NOW: VonJon and handful of young unicycle enthusiasts link arms and pedal clockwise in unison at Meadow Park in San Luis Obispo. Led by Mark Wilder, the SLO Juggling and Unicycling Club has been gathering at the park to practice and learn for about five years. Wilder tries to provide individual coaching to each kid who comes on Tuesdays. "That's what keeps them coming back," he said.
"I think it's great; the more the merrier," Wilder said of the growing interest in circus in San Luis Obispo. "I just love people getting involved in any way."
And people are getting involved, in part thanks to Wilder. For about five years, he and a varying number of enthusiasts have shown up at Meadow Park every Tuesday around 4:30 p.m. to master the art of the unicycle. At first, it started out as practice time for one of Wilder's other passions: unicycle basketball (yes, basketball played while riding a unicycle), but over the years it has evolved into a time where Wilder, VonJon, and a few others teach the next generation of unicyclists, at no charge.
"For us it's just save your money and buy a unicycle so you can keep coming back," Wilder said. "I think it's great that they continue to come out every Tuesday and make time for it."
On one late Tuesday afternoon in March, the basketball court at the park is filled with a sea of mini unicyclists, riding to and fro. It is a sight to behold. They ride forward, backward—some of the more ambitious ones even ride in a circle. A few of the kids adorably hold hands forming a link and ride clockwise. VonJon, preparing to get on the 7-foot tall unicycle, puts one foot on the wheel in a deep lunge so he can jump atop the seat. There are falls here and there, but none of the catastrophic variety.
LOOK MA! NO HANDS : Interested in learning how to unicycle? Head to Meadow Park Tuesdays from 4:30 to 7:30 p.m. For more information, visit

facebook.com/groups/SLOuni

. Want to help the legendary SLO Ballerz make it to Unicon in Spain this summer? Donations to help with travel costs are currently being accepted at

gofundme.com/sloballerz

. Want your own unicycle? Visit Flanders Bicycle on Santa Barbara Avenue in San Luis Obispo. Have a unicycle gathering dust in the garage? Consider donating it so more kids can learn to ride on one wheel; email

wilderjuggler@gmail.com

for more information.
After greeting each of his young pupils by name and checking on their progress, Wilder pulls me aside for a brief unicycling lesson. We start on the ground so I can see how it should feel to sit on a unicycle before I attempt to actually get on one. Being the newbie that I am, I'm instructed to start holding one hand on the fence as I try to pedal forward without falling. It's harder than it sounds and re-centering the unicycle without the aid of handlebars is no joke. And then finally I'm able to take a few smooth pedals forward! And I promptly fall. Grade school children are giving me the stink eye as they shuffle around, waiting their turn, so I hand over my unicycle to those who are far more talented than I.
One of Wilder and VonJon's signature moves involves the latter jumping onto his partner's shoulders and doing a backflip. It gets a lot of applause, but it's very physical and demanding. The two daydream about the future and what they might do when their performing days come to an end.
"This is the coolest place in the world," Wilder said. "This community is awesome and has nurtured the growth of Something Ridiculous. One of our dreams when we can't perform any longer is to open a circus center here in San Luis Obispo. And we know it would be huge. Right now it's not financially something we could do. The problem is we're so busy with performances."
Straight-up balling
Unicycling is already something of an oddity on its own. But within that world, smaller factions still exist. Unicycle basketball combines Wilder's affinity for riding on one wheel with his love of team sports.
"It's such a niche sport," Wilder said. "Even within the unicycle community, it's small because a lot of people who unicycle do this because it's not a team sport."
PHOTO BY DYLAN HONEA-BAUMANN
GOING FOR THE GOLD: Mark Wilder (left) and his SLO Ballerz teammates prepare to compete in unicycle basketball at Unicon, the Olympics for all things unicycle, this August in San Sebastian, Spain. The team took the bronze medal at the games in Montreal, Canada, in 2014.
Across the country, there are only two professional unicycle basketball teams (three if we're counting the U.S. territory of Puerto Rico), the Berkeley Revolution and the SLO Ballerz. And what does a professional unicycle basketball team do, exactly? Why, compete for the honor and glory of one's home country and city at Unicon—the Olympics for all things unicycling. Every two years since 1984, the best unicyclers across the globe congregate to compete in unicycle basketball, unicycle hockey, artistic freestyle unicycling, unicycle relay races, and more.
Back during the 2012 Unicon games in Italy, when the SLO Ballerz team was just a twinkle in Wilder's eye, he was brought on as a ringer for Berkeley's team, which took the bronze medal that year. Two years later at the games in Montreal, Canada, Wilder came back with his own team and the bronze. Berkeley did not medal that year.
"There's some bitter feelings there," Wilder said. "We're fine with it, because we're the ones who knocked them out."
On a drizzly, overcast Sunday afternoon, the sound of squeaking wheels leads me to the gymnasium at Grace Church in downtown San Luis Obispo, where tall athletic men are riding around on unicycles as they dribble, pass, and block each other. There's even a crazy jump here and there. These guys are in it to win it. This practice is getting the SLO Ballerz one step closer to the glory of placing at the Unicon games in Spain this August. If a regular old unicycling session was a sight to behold, then unicycle basketball is like realizing your dog can talk; you just can't look away. There's also an impressive lack of falling, and even when the SLO Ballerz do fall it's more like just stepping off a bike and less like a total wipe out. The team is hopeful but cagey when asked about their odds in Spain.
"It's going to be really hard," VonJon said. "As long as we play well and come together as a team, we'll be all right."
Team Captain Wilder's parents are in town this weekend, visiting from Massachusetts. His dad, Clyde, is simultaneously the team cheerleader and critic, yelling things like, "Good hustle!" and, "Where's the defense?" Clyde asks if New Times is going to send me to cover the games in Spain. I tell him I'll look into it. He tells me that while his youngest son is in the unicycle biz, his other son works in finance in London, and his daughter is a stay-at-home mom in the Bay Area.
"My son is unusual," Clyde Wilder says. "But he's very talented."
Every day, rain or shine, performance or no, Wilder is called to the siren song of one of his 10 or so unicycles.
"It's just so fun to me," Wilder said. "And what's great about it is when people see it, they smile."
Ryah Cooley is working her way up to just one wheel at rcooley@newtimesslo.com.