Felipe Garcia remembers the first time he heard about California Polytechnic State University San Luis Obispo. A former high school teacher recommended Cal Poly if Garcia wanted to pursue a career in engineering.
"He told me Cal Poly has a great reputation for engineering, and the words he used were 'more bang for your buck,'" Garcia said. "He was a great teacher so I took his word for it."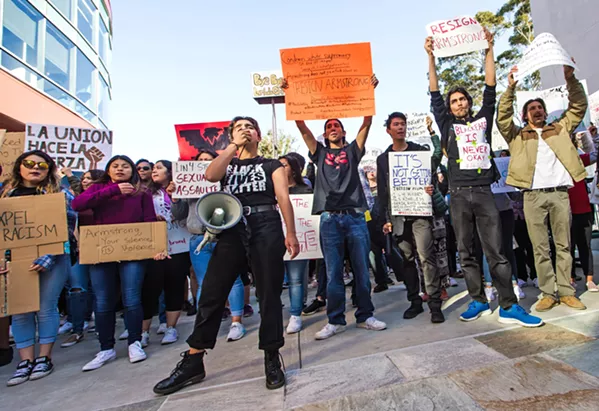 Photo By Jayson Mellom
SAY IT LOUD Students gathered on April 13 in protest of the Lambda Chi Alpha member that donned blackface at a brotherhood event.
At the time, he was bouncing the idea of several universities off of his teacher who taught an engineering course, a class that Garcia was interested in at the time. Garcia was raised in Modesto and was the first in his family to think about applying to a university.
"I'm a first-generation student," Garcia said. "I didn't know what questions to ask. I didn't know why I would want to go to a certain college or university."
That was five years ago. Garcia is now a fourth-year student at Cal Poly with an opinion of his own about the university and a different major. He recently switched his major from architectural engineering to psychology.
"I think it's more important, for me, to understand people than to understand the makeup of a building," he said.
The switch came after experiencing a disconnect with other students on campus, and recent racially charged incidents at the university only solidified his choice. Throughout his four years, Garcia said he found it difficult to connect with other students. He said it's because of the constant micro aggressions—the everyday verbal, nonverbal, and environmental slights or insults—against him and his peers as well as the racist incidents that happen on campus.
"If you're trying to carry your culture with you, it's not going to be accepted—in my opinion," he said.
In order to find a place where Garcia felt he belonged, he joined the Latino fraternity Gamma Zeta Alpha when he was a freshman. The fraternity focuses on Latino interests but it's not Latino exclusive, Garcia said, so the members of the fraternity are all of different races and ethnicities.
"That fraternity was able to get me through a whole bunch of this mess," he said referring to recent racially charged incidents on campus.
Garcia said he and many other students, especially minorities or students of color, haven't felt unity or support from their peers or members of the administration. In the past few years, a number of acts of racism have taken place on and off campus, drawing criticism of the university and its culture. The breaking point for some students, though, was in April, when a Lambda Chi Alpha fraternity member wore blackface at a brotherhood event. The incident gained national media coverage and criticism, leading the university to review its policies on diversity and inclusion, student protests, and a conversation about what free speech means on a public university campus.
Attempting change
In 2008, a crop science house on Cal Poly's campus put a noose, Confederate flag, and a sign with racial and gay slurs in front of the building.
In 2013, an off-campus fraternity and sorority party had the theme "Colonial Bros and Nava-Hos."
Photo By Jayson Mellom
UNWANTED GUEST Milo Yiannopoulos' second visit to Cal Poly on April 26 added to the divided conversation of free speech and hate speech.
In 2015, the Cal Poly College Republicans posted a free speech wall, on which students wrote Islamophobic, transphobic, racist, and sexist messages.
In 2016, the Cal Poly College Republicans put up another free speech wall with similar results. That year in Poly Canyon Village a racial, homophobic slur was written on a student's door.
In 2017, a photo of Alpha Gamma Rho members wearing culturally appropriating outfits circulated on Twitter.
In January 2018, flyers with racial statements about African-Americans regarding domestic violence, homicides, and assault were posted on campus.
On April 7 of this year, Lambda Chi Alpha held a gangster-themed party where member Kyler Watkins painted his face black and wore a black beanie and shirt. It was the same weekend as the university's Poly Cultural Weekend—an event for prospective students to explore academic, cultural, and social resources at the university. A photo of Watkins circulated on social media, receiving local and national media coverage. In the weeks that followed, the university placed all of Greek life on interim suspension, but it wasn't solely because of the blackface incident.
According to university spokesperson Matt Lazier, other incidents involving fraternities—including racially charged and insensitive events as well as sexual assaults, hazings, an alcohol-related death, and violations of the university's code of conduct regarding hosting social events—led to the university's decision.
Since April 7, Cal Poly President Jeffrey Armstrong has addressed the university community via email, social media, discussion forums, and a video address.
"I was disgusted that this sort of image was coming from someone in our campus community. I was angry and frustrated to see such a display of insensitivity, and I was pained by the thoughts of the members of our community who would be affected by the image," Armstrong told New Times in an email.
The blackface incident and the fallout, Armstrong said, only make him feel resolved to continue working toward improving the campus climate.
"I want us to be cognizant of the fact that we have already made great strides in improving our diversity and inclusion—and that even in the face of these positive steps, we always must keep inclusion at the top of our minds and constantly ask ourselves: How can I be a model of openness and understanding for those around me? How can I help make every campus community member and visitor feel welcome here? And how can we as a university continue to address this issue and improve the campus climate," he said. "I am committed to the work of diversifying our campus community and providing an open and welcoming climate for anyone who studies, works, lives, or visits our campus."
The university has been working on diversity and inclusion for several years now. In 2010, before Armstrong became president, the university established an Office of Diversity and Inclusion to help shift its campus culture and create an environment that supports all students. In 2017, Jozi Deleon joined the office as the new vice president and chief officer. She reports directly to Armstrong and serves as a member of his cabinet. In June of 2017, the Student Affairs office hired its first-ever assistant vice president for diversity and inclusion. In 2017, the university's Week of Welcome (WOW) orientation program offered a Cross-Cultural Experience (CCE), which is devoted specifically to welcoming underrepresented minorities to campus. In 2017, Student Affairs opened a DREAM Center and Office of Diversity and Inclusion in support of undocumented students on campus.
"When I joined this campus in 2011, 63 percent of our student body was Caucasian. Today, Cal Poly is more diverse than it ever has been, with a student body that is under 55 percent Caucasian," Armstrong said.
Lizabeth Schlemer, the interim associate dean of the college of engineering, said there's still more to learn from students who have been affected by racist acts at the school over the years. She's been working for the university as a professor of industrial and manufacturing engineering and was a student years ago—Schlemer has spent about 25 years within the Cal Poly community. She made it clear to New Times that she was speaking as a person who's been in the university community for a long time and not on behalf of Cal Poly or the university administration.
"Everything that's happened recently, it makes me feel awful because I've been here for so long. Have I freaking contributed to this?" Schlemer said. "I've been in this position of privilege. I've been benefiting from this place that I'm in, and so I'm asking myself, 'OK, so what do I do?'"
She said she asked a colleague of color what she can do to show support for her students.
"He said, 'Just show up.' In your position of power, just show up, and if you're humbly trying to learn, then that shows support," Schlemer said.
Showing up is the first step for Schlemer, but she said that's not enough. There needs to be action.
"I think about this when I've listened to Armstrong talk, because I do think he feels terrible about it. I also think that feeling bad about it is a human response, but as a leader and a person in a position of power, it's kind of not enough to just feel bad," she said. "Like I've said, I feel like I have so much to learn."
The blackface incident and the chaos that followed not only gained national coverage but also shed light on long-standing concerns about racial incidents and a lack of diversity on campus.
Strong voices
Students voiced their demand for change during the university's Open House on April 12 through 14, a weekend for prospective students and their families to tour the campus and learn about extracurricular activities the institution has to offer. The Open House began on Thursday during Farmers' Market in downtown San Luis Obispo. Booths and signs along Higuera Street protested the blackface incident and race issues at the university.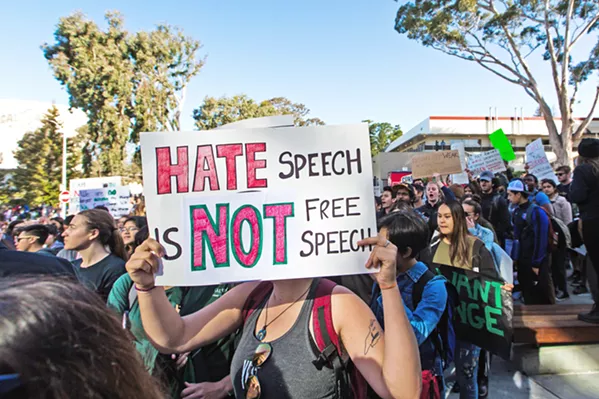 Photo By Jayson Mellom
VIEWPOINTS Many students differ on the definitions of hate speech and free speech when it comes to the recent blackface incidents at the university.
The next day, students and clubs protested the administration and race issues at the university. As prospective students and their families toured the campus, activists called for Armstrong's resignation, an increase of the funding allocated to multicultural clubs, and the end of Greek life at the university.
An online petition on change.org also called for Armstrong's resignation.
Garcia, who protested during the Open House Weekend "Day of Action," said he spoke with several minority students in the days leading up to and during the action. He and other students feel that Armstrong and the administration haven't done enough to deal with the school's recent race issues. Garcia doesn't think administrators understand how students of color feel on a daily basis and how these racially charged incidents have affected students.
"He's a great president when nothing is going wrong, but when something hits the fan he doesn't know how to react, and I think it's because he's not knowledgeable in that area," Garcia said.
Students decided to come together and protest, he said, as a way to get administrators to understand how minority students feel—not only about the blackface incident, but also about the ongoing micro aggressions and explicit acts of racism at the university. Garcia participated in protests on two out of the three days during that weekend. Saturday's silent protest stood out to him because of how peaceful and collected the group was.
"Everyone knew we're doing something that matters. It was really beautiful in the sense that we were all together," he said.
While there were many acts of support throughout the weekend, Garcia said there were still times when people taunted protesters.
After the silent protest, the group split up into pairs to talk to prospective students and their families one-on-one about the current campus climate. Garcia said the intimate discussions weren't to warn off students but rather to educate students about the campus community and how students are calling for change. He said while many people were interested, there were a few parents who weren't receptive to the dialogue.
"There was a friend of mine that came back crying after interacting with a parent. My friend is African-American and when she approached the parent to talk, the parent called her stereotypical names and raised her voice at my friend instead of listening at least or trying to understand what's going on," he said. "If those are the parents, I can't even imagine what the kids are like."
At one point, the group took a break from protesting to have lunch and headed to Santa Rosa Park. A white truck with the Cal Poly university logo on the driver's side door came to a stop at the light on California and Foothill boulevards. The driver singled out an African-American female, said, "Hey that booty girl," and then spat on her. Instead of confronting the driver, a protester took a video of him in the car and sent it to the university.
"We had to collect ourselves and continue on with the silent protest as we headed to the park because we were representing minorities so we couldn't do something stupid or else it would make us look bad," he said. "But I remember a few minutes after we all crossed the street and the driver left, the girl just broke down crying."
For Garcia, the "Call for Action" was a way to put pressure on the administration, but it was also a way to seek support from other students.
"If admin doesn't have it down on paper that racial acts are not OK, then students will think it's OK," he said. "From my personal perspective, it feels better when our students are with us. Right now, we're putting pressure on admin, because not all students are with us."
Freedom of speech
A week after the blackface incident, Lambda Chi Alpha member Watkins apologized through a letter to the editor in Mustang News, the school newspaper.
Photo By Jayson Mellom
ARE WORDS ENOUGH? The April blackface incident caused a string of racially charged outbursts on campus and many students believe Cal Poly President Jeffrey Armstrong's speeches are not enough to change campus culture.
Student activists called for Watkins' expulsion in protests and several forums after the incident, but Armstrong and philosophy professor Patrick Lin—who spoke during the biannual Baker Forum May 4—said that Watkins was protected by the First Amendment. Watkins is also protected by Education Code 66301, which states that a university cannot discipline a student on the basis of speech or other communication.
But students countered that what Watkins did is hate speech, and that it made some on campus feel unsafe, therefore, it should not be protected. The split over what free speech should and shouldn't allow for has divided students.
"I think we're reaching a culmination point, a climax in our divisiveness, and people on both sides are getting pushed farther and farther in either direction, which is creating a hostile attitude," second year English major Jackson Ratkovich said.
Ratkovich is the vice president of Turning Point USA at Cal Poly and Cuesta, a new club on both campuses. Turning Point is a national conservative, right-wing nonprofit organization whose mission is to identify, educate, train, and organize students to promote the principles of freedom, free markets, and limited government. The organization has more than 1,000 college campus chapters. Ratkovich and chapter President Isaac Schick said their chapter is nonpartisan—if you believe in free speech, you're in.
Schick said that he believes in conservative political commentator and writer Ben Shapiro's three fields of speech. There's your opinion, the opposing opinion, and acceptable discourse. Acceptable discourse may not align with your opinion but are the things that are OK to talk about.
"A lot of what's happened, especially on campuses, is the left has taken acceptable discourse and has made it so small that it's deemed a lot of speech that is otherwise innocuous, like, not OK to talk about," Schick said.
It's gotten to the point, he said, that unless you agree with them, you're somehow a bigot. Turning Point was established on campus last November because Schick and Ratkovich said they believe there is a wave of anti-free speech sentiment taking over young people on campuses.
During his freshman year Schick was part of the Cal Poly Democrats club but quickly left after an invitation to a pizza mixer turned sour. He said the Cal Poly College Republicans invited the Cal Poly Democrats out to pizza so the clubs could get to know one another. The Dems refused the invitation, Schick said, because they felt meeting with members of the other side meant that they were endorsing their viewpoints. That refusal was enough for Schick to decide to leave the club. Schick said he couldn't understand why the Dems wouldn't want to have a discussion with people who had other viewpoints.
Current Cal Poly Democrats club President Erin Chazer said she remembers when that happened. At the time, President Donald Trump had just announced the travel ban on seven predominantly Muslim countries. Chazer said it affected one of the club officers because he was Middle Eastern, and the ban personally affected some of his family members. She said the Cal Poly College Republicans weren't inviting the Dems to a debate or professional discussion.
"They had not said anything about it [Muslim ban]. They continued, to my knowledge, to support Donald Trump and his agenda," she said. "With Donald Trump being president and him enacting racist laws that personally affected people in our club, we did not want to engage socially with a group that was OK with that and continued to support him."
Schick said one of his classes had a discussion about the blackface incident, and a student responded by saying he didn't think it was right for a fraternity member to wear blackface but that Watkins shouldn't be suspended because he had a right to do what he did. The student, Schick said, also said he believed Watkins should get kicked out of the fraternity and have other social repercussions, but that the school shouldn't get involved. A female student responded by saying the student didn't understand because he was a "white man."
"In her mind, she can't make the connection with defending someone's right to do something and defending their actions. You can defend someone's rights to do blackface, but you don't have to say 'Oh, now, I'm condoning blackface.' But she has this political perception that if you allow something to happen, you are condoning it," he said. Δ
Staff Writer Karen Garcia can be reached at kgarcia@newtimesslo.com.