Humans aren't the only creatures with social anxiety. Sometimes our feline friends aren't so confident in group situations either. Fortunately, Woods Humane Society is working on a solution to make sure those cats find loving homes too.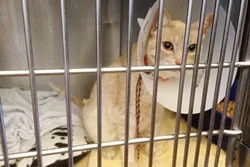 PHOTO BY KATRINA BORGES
READY FOR A NEW HOME: Scorsese, a 5-year-old cat, sits in his cage in the temporary cattery during construction. He is one of many Woods Humane Society residents that will benefit from the remodel.
Last week, demolition began on a project that will upgrade and enlarge the Woods "cattery," making it more suitable for cats with different needs. The renovations are being designed by the Colorado-based architects Animal Arts, a firm that specializes in animal shelters, veterinary hospitals, and pet resorts. According to their website, they have completed more than 600 projects in four countries, each ranging from 900 to 85,000 square feet. The goal for this remodel is to provide a variety of living environments for the cats at Woods, ensuring that they will be as happy and healthy as possible, and therefore much more likely to get adopted quicker.
"We have been struggling with the current space because we find that many cats are just not comfortable with the group environment," Woods Executive Director Jill Tucker said. "Some cats will behave aggressively, while others will spend their time hiding in fear."
It's not only the anti-social cats that will benefit from the redesign. The new arrangement—which will allow cats to be placed in large groups, groups of two or three, or even alone—will also make it easier to care for and adopt out cats with special dietary needs, upper respiratory infections, or other health issues.
"These cats tend to get better in a home much more quickly and we prefer this to holding them in our isolation area for weeks waiting for their sniffles to clear," the Woods website reads.
For those cats that are more of the outdoorsy type, there will also be several "catios" (a fenced-in open air patio for cats) where they can enjoy the sunshine and fresh air.
According to Tucker, improving the cattery has been a subject of discussion for about four years. At one time, there were more than 100 cats in the old cattery. This number was eventually cut down to fewer than 30, and although it was not as ideal as having a variety of rooms, it shortened the length of stay for adult cats from nearly 90 days in 2012 to 22 days in 2016.
"We firmly believe that animals don't belong in shelters; they belong in homes," Tucker said. "As such, we do everything we can to keep their stay as comfortable and as brief as possible."
Though the cattery is the main focus of these renovations, it is not the only part of Woods that will be getting a makeover during this process. Due to a 55 percent increase in adoptions over the past year, Woods increased staff, and thus was in need of an upgraded administrative wing. The new wing will include more offices to accommodate the bigger staff, as well as a conference room and a space for volunteers.
There is no need to worry if you were planning on adopting a furry friend soon. Woods will remain open throughout construction, using the community room as a temporary cattery and reception area. It is estimated that the project will be completed in about six months.
Woods is also offering donors the chance to have sections of the new cattery or the new administrative wing named after them. There are 15 placements for names for the cattery and four for the administrative wing, starting at $2,000 per placement. The full list of options can be found at woodshumanesociety.org.
Those who are uninterested in naming options are welcome to donate any amount to the cattery project.
Fast Fact
The SLO County Association of Fundraising Professionals (AFP) is looking for nominations for the Outstanding Philanthropist of the Year award and the Outstanding Youth in Philanthropy award. These honors will be presented at the second annual National Philanthropy Day awards luncheon on Nov. 15 at the Madonna Inn. Visit npd.afpvote.org for more information.
Intern Katrina Borges wrote this week's Strokes&Plugs. Send comments and business news to strokes@newtimesslo.com.