View a slideshow of SLO's painted utility boxes.
Back in early September 2012, Alister Dippner took to Facebook to beam about his newest project.
"yesss!!!" he wrote. "I got selected to paint one of SLO's Box Art Project…soo pumped."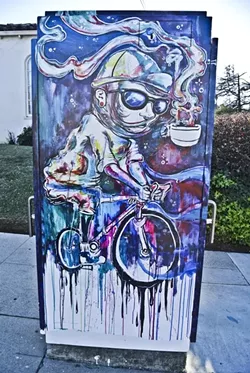 PHOTO BY MORGAN CHADWELL
OUTSIDE THE BOX: A painted utility box near downtown San Luis Obispo could be removed based on some resident complaints.
A little more than two months after that post, Dippner's piece at the corner of Broad and Pismo streets near downtown San Luis Obispo was the focus of a story on KSBY. At the time, nearby resident Peg Pinard, who also happens to be a former city mayor and county supervisor, was complaining that the art went up with no neighborhood input, and she didn't care for it. KSBY reported that Pinard felt the painting was "too drastic of a juxtaposition with the homes that are around it. Many of the houses in the area are Victorian and Spanish-style, while the utility box is painted in a modern style with bright colors."
About a month after that story, Hayley Thomas (now the author of New Times' Flavor column) talked with Dippner about the piece; the controversy; and, according to him, how the KSBY reporter burned him in the story.
"I love the neighborhood my box is in," Dippner told Thomas. "They're a lot of really bright colored houses by its location that seems to fit the bold colors of my box. While I was painting my box I received a ton of compliments by residents that live nearby saying they were so excited that this particular box was the one they would pass by on a daily basis."
He said Pinard had characterized his painting as something that didn't match the neighborhood, but "I don't think any of the boxes match the location they're in. That was not the point of the box art program. It was to spread artwork throughout the town and to minimize graffiti."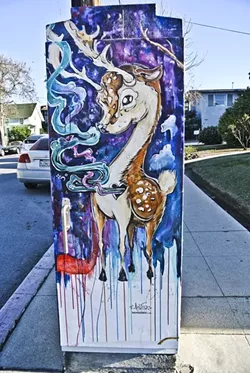 More so, Dippner said, KSBY interviewed him and others who liked his work for the story, but his interview never made it on the air—though the reporter later added some of his side to the online version of the story.
Ostensibly, the issue stayed quiet until August 2014, when Pinard wrote about it in her Whooo Knew? column for the SLO Coast Journal. In a column titled "Disempowering Citizens," Pinard wrote about "a very quiet shift away from 'citizen based government' towards a concept of 'stakeholder based government.'" She used Dippner's artwork as an example: "[SLO officials] never asked the residents, who would have to look at this every day, if they wanted the policy of keeping the boxes unobtrusive changed; and secondly, for input on what would be painted on individual utility boxes adjacent to family homes."
But, like all of the 32 utility boxes that received a new splash of paint and flair, Dippner's piece did go through an approval process.
More recently, however, there's been a renewed charge to take it down.
Near the close of the Feb. 3 SLO City Council meeting (earlier in the night, city councilmembers voted unanimously to update the city's public art policy), Mayor Jan Marx asked to schedule a discussion in an upcoming agenda. Specifically she wanted to talk about Dippner's utility box artwork; more specifically, she wanted to talk about removing it. Her colleagues Dan Carpenter and Carlyn Christianson also gave the OK to schedule the item, which should come back to the city sometime after the budgeting process.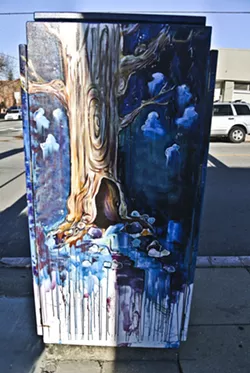 Pinard had also submitted a letter to the city before the meeting.
"Just to refresh your memory and for benefit of new council members, this is the inappropriate 'art' that just showed up one morning outside our homes," she wrote.
Earlier in the night, Marx referred to a piece of box art that depicted someone smoking something that "may or may not be tobacco." Though Marx didn't clarify which piece of art she was talking about, Dippner's painting of a surreal bicycle rider includes a steaming mug of coffee.
New Times sent Marx a batch of eight questions about her request to potentially remove Dippner's piece. She provided a short response by email:
"This item will be on the city agenda in July or so. Much of the information you seek will be available prior to that time. The utility box policy was recently revised, to include neighborhood input. The utility box design you refer to was installed with no neighborhood input and has become controversial. City Council does have final say on public art, paid for with taxpayer dollars."
SLO's painted utility boxes first made an appearance in 2010, then again during phase two of the project in 2012. Artists were asked to submit a request for proposal to paint a box. All public art was then reviewed by the city's Art Jury before heading to the Architectural Review Commission for approval. Under the policy, certain pieces located in the historic district also go before the Cultural Heritage Committee. Lastly, the City Council has the final say on public art pieces.
The utility box project was originally conceived as a pilot program but was later adopted as a "regular ongoing element within the city's public art program," according to Public Art Coordinator Melissa Mudgett.
Artists like Dippner were paid between $1,000 and $1,500 for their work. Mudgett said that she has received "both praise and a complaint against" Dippner's painting, as well as comments from members of the Art Jury.
"These members have stated that while they understand that art is subjective and may not be everybody's cup of tea, they support that this art piece followed the review processes set forth and conformed to the public art guidelines," she said by email.
In a follow-up email to New Times, Marx said that she hasn't kept count of complaints about Dippner's piece, adding, "When the item is on the agenda, probably in the fall, there will be a public hearing and we will hear from people with all kinds of opinions."
Asked why she wanted to have the discussion now, so long after Dippner finished his painting, she said it was because the utility box policy was on the Feb. 3 agenda.
Carpenter said he was OK moving forward with a discussion just to have the discussion.
"It doesn't mean we will necessarily move forward on it," Carpenter said. "But let's talk about it."
Christianson said that during walks in the neighborhood, she had heard from a few constituents who didn't like the artwork, and she's not too fond of it either.
"If you're going to have public money spent on public things, then the public gets to say what is art, and right now I'm representing the public," she said.
Dippner, who has since moved to the deserts east of Los Angeles, declined to comment for this story. Pinard did not return phone and email requests for comment.
When New Times asked Facebook readers about the piece, the response was unanimously positive. One user wrote, "Every time I drove [sic] by this utility box I need to shield my eyes from its offensive art of a fawn in love and a man enjoying coffee on his bicycle... Too rowdy indeed."
Contact Senior Staff Writer Colin Rigley at crigley@newtimesslo.com.
First launched in 2010, San Luis Obispo put out calls to artists to paint utility boxes spread throughout the city for a $1,000 to $1,500 stipend. Artists had to submit an application, and win approval from a public art jury; as well as the Architectural Review Commission and, in some cases, the Cultural Heritage Committee. Phase two of the project went into effect in 2012. To date, 32 boxes have been painted.
PHOTOS BY MORGAN CHADWELL (first four); FILE PHOTOS BY STEVE E. MILLER