Any recent Cal Poly journalism graduates worth their salt will have a story or two to tell about George Ramos. A former L.A. Times reporter who traded in his notebook for a gig as chair of Cal Poly's Journalism Department, Ramos, 63, passed away at his Morro Bay home over the weekend of July 22.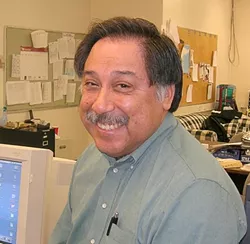 PHOTO COURTESY OF CAL POLY JOURNALISM DEPTARTMENT
INTREPID : George Ramos, the beloved hard-hitting journalism professor and former chair of Cal Poly's Journalism Department, passed away sometime around July 23, leaving behind a legacy of old-school reporting.
Ramos, a Los Angeles native, graduated from Cal Poly in 1969 and shipped off to Vietnam, where he served with the U.S. Army as a second lieutenant artillery forward observer, supporting infantry troops on the frontlines. There, he suffered a leg wound and was awarded a Purple Heart for his service.
After being honorably discharged from the military, Ramos returned to Los Angeles, and, in 1978, thumped the pavement as a street reporter for the L.A. Times. He helped secure three Pulitzer Prizes for the paper, becoming the first Latino reporter to ever win the coveted Gold Medal for Meritorious Public Service in 1984 for a series of stories in which he led a crew of Latino journalists who wrote about Latino life in Southern California.
Ramos would later go on to help the paper
win two more Pulitzers: one in 1993 for his coverage of the Rodney King riots, and another in 1995 for his reporting of the Northridge earthquake.
In 2003, Ramos left the Times to return to his alma mater. He was hired on as chair of Cal Poly's Journalism Department, teaching courses in investigative journalism and public affairs reporting. As a professor, he was known best to his students as the guy who gave unconventional assignments and tests, including one where students had to track down Ramos' residence with nothing but notes from class and their own resourcefulness to guide them.
In 2007, Ramos was inducted into the National Association of Hispanic Journalists Hall of Fame for his work with the Times and for leading the way for Latinos in print journalism.
Ramos stepped down as journalism chair in 2008, but retained his position as tenured professor. In recent years, Ramos joined calcoastnews.com as a volunteer editor.
According to the site, colleagues tried unsuccessfully to contact Ramos for a number of days before ultimately requesting assistance from the Morro Bay Police Department. According to Police Chief Tim Olivas, officers found Ramos inside his home while performing a welfare check.
According to the San Luis Obispo County Sheriff's Department, Ramos appeared to have died of natural causes. The department hadn't yet completed a planned autopsy as of press time. Calcoastnews.com reported that Ramos suffered complications from diabetes.
Though most of the journalism department is currently away from campus for the summer quarter, news of Ramos' passing sent ripples through the Cal Poly community.
"We are stunned and saddened by this," Cal Poly Liberal Arts Dean Linda Halisky told New Times. "He accomplished so much in his life, and he was proud of his accomplishments—and rightly so. He held journalism in his heart."
Ramos leaves behind a legacy of old-school reporting in a profession undeniably changed by the face of new media and the Internet, and his students—who currently litter the state's media like confetti—will remember the man who taught them to "get off your ass and find it."
"It" being the truth.