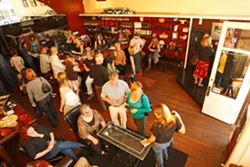 PHOTO BY STEVE E. MILLER
IN SPOT : Gather Wine Bar has quickly gained a reputation as the place to meet, dine, and enjoy wine in Arroyo Grande.
The first person who turned me on to Gather, the hot new wine bar in downtown Arroyo Grande, was New Times' Calendar Editor Christy Heron. Whenever my friends at New Times get excited about a new eatery, bar and lounge, or tasting room, they always call or e-mail me with the news. But I had already been keeping a watchful eye on Gather's owner Kari (car-E) Ziegler on Facebook. She had created a photo journal on her Facebook wall that showed the hard work she'd undergone to create this cozy new haven for wine lovers, and it's been a hit since it opened in late March.

Gather, located in the building that was formerly the Susan Branch Heart of the Home Store, is attracting winemakers, wine lovers, and the curious from far and wide. When I met Kari she explained: "While remodeling the interior of the store I covered the huge front windows with butcher paper, and that brought inquisitive neighbors around." Judging from the packed house at the grand opening two weeks later, this is a place locals are eager to support. Many winemakers from SLO and Santa Barbara counties came to Gather's grand opening to pour their wines, nearby food purveyors provided their specialties, and it seemed everybody in South County showed up to join the fun.

It was a good thing I had visited Gather twice previously or I wouldn't have had a chance to get to know Kari, she was so busy during the party. When I read her online notes and photos it certainly piqued my interest. But it was Christy's spirited comments on Facebook about feeling at home in Gather the moment she walked through the door that made me eager to go by and have a glass of wine.



GATHER WINE BAR: 122 E. Branch St. Arroyo Grande 474-4771
Christy's first e-mail described the "killer vibe" at Gather. "On a drizzly Saturday night, my friend Tracie and I sat in the window sill and drank our wine as we watched the world go by with a hint of music in the background and beautiful people all around," she enthused. "The seating is fabulous and the décor is so beautiful, and the wine divine. It is special, truly a different kind of experience on the Central Coast." Christy believes Gather will become the most popular spot in South County if it continues to feature local artists and musicians.
Just before visiting Gather, I had asked Red Zeppelin winemaker Stillman Brown to meet with me so I could taste his new releases. A fellow Facebook mainliner, he suggested meeting at the new hot spot. We met early on St. Patrick's Day at Gather amid fired-up Irish lads and lassies all decked out in green, and a Celtic band in full dress kilts parading up and down Branch Street. Stillman's four new wines were outstanding and Kari had time to join us. But after tasting, we were quick to move on before the ensuing crowd arrived. That night the spirit was lively and the laughter infectious, but I would later discover you don't need a wild night like St. Paddy's Day for inspiration to join the warm community that has begun gathering in AG.


It's not just the historic site, the Bennett building circa 1897, nor the entertainment that makes Gather so inviting: I credit the amiable, spirited Kari. Born in SLO's Sierra Vista Hospital, she was raised by adoptive parents in New Jersey. Five years ago she moved back to the West Coast and reunited with her birth parents. She credits all of her family members for encouraging her career change from the software world to the world of wine.
She shared the sad but sweet note of her last days with her dying father. Together they came up with the name Gather to imply community, family, and togetherness. She recalled the poignant moment when they laughed over the idea of a wineglass stain on a napkin as Gather's logo. Her only wish now is that he could have been there for her grand opening, along with her East Coast relatives. Clearly, her dad knew she would succeed when he told her, "I'm the proud father of a girl who has high dreams." Confiding that she's happy she was able to achieve this dream, she said, "It's been worth everything to have it happen."
The plucky Kari told me her dream of opening a café started in 1992, and she began planning it then. With her growing interest in wine the café evolved into a wine bar. She said she couldn't have brought Gather to life without the support and hands-on help of her family and friends.
"I said the other day on Facebook that I love my job. It was the first time I've said that in almost 10 years—that's nuts," Kari laughed. "I've said it several times after, and intend to say it more!"
Good eats, cheap tab
In my continual quest to find dining bargains, I found one deal that's going to be difficult to beat: Sunday Supper at the Gardens of Avila at Sycamore Mineral Springs in Avila Valley. Every Sunday, from 5 to 9 p.m., chef David McWilliam will offer a three-course dinner for only $20 per person—that's a steal. Unbelievably, they also allow you to bring in your own bottle of a San Luis Obispo County wine, be it from Paso Robles, Arroyo Grande, Avila or Edna valleys (it must be by a local producer and grown in SLO County), and there's no corkage fee. Or, for an additional $15, you can have the three wines the chef chooses to pair with each dish. The three-course meal offers such starters as soup or salad, such entrée choices as top sirloin steak with mashers and vegetables, or mushroom raviolis with Marsala sauce and shaved pecorino; and such desserts as tiramisu or fresh apple cake. McWilliam said the menu will change continually according to what's fresh in the market. Available for a limited time, reservations are necessary. Call 595-7365.

You can reach New Times' Cuisine columnist at khardesty@newtimesslo.com.