Upon first hearing the name Fenomenal, one of the newest restaurants in Paso Robles, I laughed. I told friends that name was pretty ballsy, adding that the problem with it is that people expect you to live up to it. After a wonderful dining experience there due to an enthusiastic endorsement from Paso winemaker Augie Hug of Hug Cellars, I'm not laughing anymore. The menu explains the concept: "[fe-nom-e-nal}, sp., adjective, not a particular type of food, rather a style of eating … more focused on bringing people together while enjoying food and drink."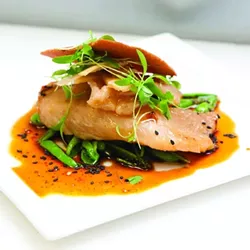 PHOTO BY STEVE E. MILLER
FENOM : A new restaurant in Paso Robles is boldly named but follows through on its promise.
The menu also explained that it's a collection of small dishes that can be eaten for lunch, dinner, or in-between. Fenomenal serves the menu all day Thursday through Sunday, but opens only for dinner on Tuesday and Wednesday. Most weekends my husband Dan Hardesty and I prefer dining mid-afternoon, which serves as our lunch and dinner.
Arriving at Fenomenal at 2 p.m. was great because they weren't busy, and the many dishes we ordered were delivered to us in perfect timing. The bartender who served us was happy to explain the entire concept and took care of our every need. He had no idea I was the Cuisine columnist. I was content overall, but it was far more important that they get it right when it comes to the food—and they did so with panache.
We were starving when we sat down, and they immediately brought out a tasty little amuse bouche of albacore tuna on a slice of beet topped with microgreens. We chose a bottle of French Rosé by Chateau d'Aqueria in Tavel, Rhone ($34) because it's versatile with so many foods. It was an excellent dry pink with pretty notes of strawberries, raspberries, and citrus that made it refreshing and flavorful enough to meld with everything from abalone to lamb kabobs. Cayucos abalone, the daily special, was cooked to order then cooled to present in a lemon cucumber salad with tiny sprouts and vinaigrette ($9). It was delicious. Even better was the local Dungeness crab and albacore tuna with avocado, crispy shallots, radish sprouts, and cucumber dressed in a delightful ponzu mango puree ($13).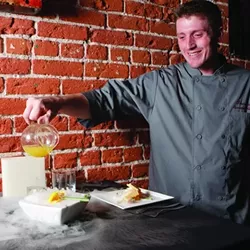 PIPESTONE DREAMS: The inaugural Celebration of Farms, Food, and Fun at Pipestone Vineyards, a special evening in celebration of agrarians, begins on July 12 at 6 p.m. with a tour of Pipestone's vineyard and farm in Paso Robles. An alfresco dinner in the vineyard begins at 7:30 p.m. with a multi-course dinner by chef Jacob Moss from Lido at Dolphin Bay Resort, which will be paired with Pipestone wines. This event also has a silent auction and entertainment. Everything was donated by four generous businesses for this dinner/fundraiser: Pipestone Vineyards, Dolphin Bay Resort, With the Grain, and Happy Acres Goat Farm.

Winemaker Jeff Pipes has been a board member of the Upper Salinas-Las Tablas Resource Conservation District (RCD) for 12 years. The RCD helps local farmers and ranchers with conservation projects through lower cost evaluations and engineering services. It also helps farmers who were cited for errors by the county become compliant.

"People think we're funded by taxes, but that's not true in California," Pipes explained. "We provide a lot of advice by phone and run the agricultural grading program. We had to create this fundraiser to support these services."

Tickets cost $50 each for dinner and $15 more for the wine pairings. One hundred percent of the proceeds will benefit RCD's local stream restoration projects. Reservations are limited and must be made in advance by calling the RCD at 434-0396, Ext. 5, or Jeff Pipes at 227-6385.
Next we feasted on the hot tapas: tender little steamed clams and mussels in a coconut red curry with Thai basil and curry-infused salt ($12), which was good (but the sauce was heavy); a slider trio with lamb, luleh ("It's a fancy word for beef," bartender Russ explained), and rabbit mini-burgers with black truffle fries ($14), each one unique and delicious; the green bean fries with Creole dipping sauce ($7); and lastly the grilled lamb kabobs: small chunks of lamb grilled on skewers were served over basmati rice with fresh lima beans and dill ($16), an excellent combination of flavors.
I was fortunate enough to meet the ardent young chef, who's only 24: Thomas Drahos. A native of Bradley, he grew up on a farm and noted: "We never watched TV; the 55-acre garden was our playground." He worked with chef Will Torres of Deborah's Room at Justin Vineyards, who inspired Drahos to attend Johnson & Wales Culinary Institute in Denver, Colo.
"Will was a huge influence on me with his avant-garde cuisine; he sparked my interest in foams and molecular gastronomy," Drahos remembered.
His next local job was at Windows on the Water with chef Neil Smith, who encouraged his work on molecular gastronomy. I admitted to Drahos that I know little about the subject. He candidly replied that most diners don't know much about it either. So he's introducing it to the clientele in small bites.
"I like to do demonstrations of simple stuff to show people what molecular gastronomy is all about," Drahos said, adding, "I'm big on science!"
I'll return soon just to focus on his molecular gastronomy, which will surely be fascinating.
Having grown up farming, Drahos totally respects local farmers.
"I'm all about helping the community and the world. I'm working with other chefs to promote local farms. You can tell when food was grown by somebody who cares," he finished. "Some chefs keep the same menu for years—that drives me crazy. I'm constantly teaching my kitchen team new things. I'm all about creativity and getting the freshest most flavorful food to our diners."
Contact New Times' Cuisine columnist at khardesty@newtimesslo.com.