The time was 1957; the place was San Luis Obispo. At this particular crossroads, the paths of two fine artists—Channing Peake and Elaine Badgley Arnoux—would cross, sparking years of creative discourse. Fifty-five years later, this artistic intersection and its place in California art history is being brought to light by the exhibit "A Time and a Place," currently hanging at the San Luis Obispo Museum of Art.
PHOTOS BY STEVE E. MILLER
STANDING COWBOY : This painting by Channing Peake, rancher and fine artist, reflects both an interest in Cubism and reverence for the cowboy figure, which he depicts as having near-mythic proportions.
Badgley Arnoux, now a celebrated Bay Area artist, was asked by the San Luis Obispo Art Association in the late '50s to organize an exhibition. Having heard of Peake, an artist and rancher, she paid a visit to his idyllic home in the Santa Ynez Valley, where he painted his unique, abstracted visions of farming equipment, horses, and agrarian scenes. Though he was in the process of preparing for exhibitions at the de Young Museum in San Francisco and the Santa Barbara Museum of Art, Peake agreed to a San Luis Obispo gig as well.
The show that resulted was inspired and unusual. For the newly formed Art Association, it was a rare glimpse at what was happening artistically beyond San Luis Obispo County. Peake's paintings seemed to reveal a new way of seeing, breaking a scene down into intriguing collisions of shape and color, giving the viewer that elusive feeling of seeing an ordinary object for the first time. Farming equipment sat in the exhibit space, allowing visitors a chance to see a little of what Peake saw: light and form warped intriguingly through the geometric lines of a plow or grain combine.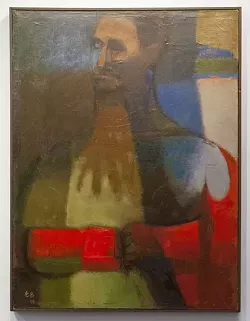 PHOTOS BY STEVE E. MILLER
MAN WITH RED GLOVES : Elaine Badgley Arnoux painted this portrait of her mentor, Channing Peake, in 1959.
The exhibit was also the start of an artistic relationship between Peake and the younger Badgley Arnoux, who became his student, friend, and colleague. The evidence in her work, as "A Time and a Place" demonstrates, is dramatic and immediate. Badgley Arnoux's representational watercolor paintings The Net Menders and Ochre August—painted in 1952 and 1955, respectively—are vastly different from the works that followed her encounter with Peake. Toward the late '50s, Peake's Cubist and Abstract Expressionist influences very clearly seep into Badgley Arnoux's work. Though her subjects stayed largely the same—boats, houses, still lifes, and portraits—her execution morphed.
Her Victorian House, though moored to reality through her use of colors and lines, is nonetheless almost completely abstract. In the Cubist tradition, an ordinary, representational picture seems to have been exploded and then crazily reassembled. Badgley Arnoux's portraits, still lifes, and a series of beautifully geometricized artichokes demonstrate her adoption of Peake's style, in which depth is shortened, shape is simplified, and color becomes a kind of design tool, used to boldly sectionalize the image.
PHOTOS BY STEVE E. MILLER
THE BIG PICTURE : The current SLOMA exhibit "A Time and a Place," pictured, uses props such as old farm equipment and '60s furniture to contextualize Peake and Badgley Arnoux's creative encounter.
In fact, the period in which the two most influenced one another—1956 to 1962—was a fabulous time for design in general. Interiors went from chintzy to streamlined, with clean lines, solid colors, and great bold shapes. Vidal Sassoon, seeming to take a cue from Modern architecture, restructured our notions about hair. Graphic designers swooned over the gleaming utility of Helvetica.
This aspect of the era is subtly evoked by the exhibit's presentation, in which a stylish table and chairs reminiscent of the early '60s have been set up beside the works of Badgley Arnoux, suggesting the time and the place in which the works were created.
Of course, Peake's work was likely less inspired by modern looks in the big cities he visited as by his rural homestead of Rancho Jubali, a place he painted lovingly and often.
In an homage to the artist's first San Luis Obispo show, the current exhibit features pieces of old farm equipment again placed among his paintings, sharing with guests a few glimpses of Peake's world.

AN ARTISTIC INTERSECTION: "A Time and a Place: The Artistic Encounter Between Channing Peake and Elaine Badgely Arnoux, 1956-1962" hangs at the San Luis Obispo Museum of Art, 1010 Broad St. in downtown SLO, through Sept. 2. Hours are 11 a.m. to 5 p.m. every day but Tuesday. Visit sloma.org or call 543-8562 for more information.
Standing Cowboy, the first painting to strike viewers upon entrance, is a wonderful blending of Peake's sophisticated influences and reverence for country life. It depicts its subject as a horned, near-mythic figure, towering over the viewer. Peake became friends with Picasso during his travels in France, and that artist's influence is all over Standing Cowboy, which Peake painted sometime in the '50s. The painting's brown-gray coloring and purposeful warping of shape and perspective are clearly informed by Cubism, and the structure of the subject's features even recalls the African masks from which Picasso took inspiration.
Peake attended the Santa Barbara School of Fine Arts, went on to study muralism with Diego Rivera in Mexico, and became a member of the Art Students League of New York, where he worked with many influential artists. Yet he was also a rancher, with a love of the land, his animals, and his crops. For him, it seems, the two aspects of his life were symbiotic. He turned his sophisticated artistic sensibilities on his agrarian surroundings. He made the plow into modern art. He painted on animal bones. Even when he turned toward the utter abstraction of color field painting—seen in this exhibit in a work called Baja, and another untitled piece he began in Paris in 1961—Peake seemed to keep to the golden, dusty hues of the Santa Ynez Valley.
In "A Time and a Place," Peake's influence on Badgely Arnoux seems to culminate in her 1961 piece Abstraction, in which her still lifes and boat scenes appear to have been dissolved into a great mass of line and color. Perhaps as an acknowledgement of her friend and mentor's transformative effect on her art, Badgely Arnoux often painted and drew Peake himself. His strong nose and steady line of a mouth are clearly visible in Man with Red Gloves. Peake, his strong gloved fists pressed together, appears solid, mighty, immovable. Emerging from the soft haze of the otherwise abstracted work, he looks on with neither approval nor condemnation, though a hint of pride seems to flicker across the geometric lines of his face.
Arts Editor Anna Weltner has looked at farms from both sides now. Contact her at aweltner@newtimesslo.com.