Joleen Fanton-Fahmy clasped her hands and let out an audible sigh of relief Tuesday morning as a Superior Court judge struck down an alleged backdoor criminal warrant filed against her husband by the Department of Homeland Security.
For almost three hours, the Morro Bay woman—married to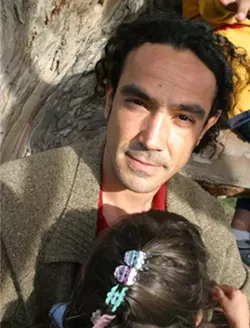 PHOTO BY CHRISTOPHER GARDINER
NO SHOW : Egyptian-born Ahmed Fahmy defied a warrant from the Department of Homeland Security Tuesday, fearing it was a plot to produce him for immigration processing.
# Egyptian national Ahmed Fahmy for the past 11 years—sat transfixed, locked in a state of visible distress while the court prepared to rule on the outstanding warrant against her husband, a man long under the surveyance of federal immigration agents.
When San Luis Obispo County Judge Ginger Garrett tossed out the order during Fahmy's preliminary hearing on the grounds it lacked the signature of a federal judge, Fanton-Fahmy's relief was utterly palpable. "It's very good news,� she says. "For now.�
In the early hours of April 1, a San Luis Obispo police officer stepped out of an unmarked car and approached Fahmy, a professional musician, in between sets outside of a club in downtown San Luis Obispo. Asserting he believed the man to be a federal officer, Fahmy promptly retreated into the venue. A lengthy standoff ensued between the suspect, the doorman and the officer. Eventually, Fahmy agreed to step outside, at which point, he claims, ten police officers violently tackled him to the pavement.
"One of them was frantically yelling, 'are you Ahmed Fahmy?' He was pinning me down with his knee on my shoulder,� the musician alleges. "I told him, 'my shoulder's not broken yet and I'm not resisting, can you stop?'�
Police arrested Fahmy and charged him with drunk in public and resisting arrest. He was later released on his own recognizance.
The recent ruling effectively absolves Fahmy of prosecution for not appearing Tuesday to face the misdemeanor charges against him. The defendant entered a not-guilty plea at a hearing May 2, maintaining the approaching officer never identified himself, nor was he given a sobriety test while in custody to verify the drunk in public charge.
Police reports, conversely, show the approaching officer in full uniform. "We have statements from the doorman that he recognized the officer as San Luis Obispo Police,� says Capt. Ian Parkinson. "[Afterward] he was apologizing for his conduct.�
Deputy District Attorney Eric Dobroth introduced the warrant to the court at the initial trial date, but DHS reportedly failed to produce the paperwork to either Fahmy or defense lawyer Ilan Funke-Bilu until Tuesday morning—the day of the follow-up hearing. Fahmy refused to show up for court unless the prosecution presented the physical warrant, believing the district attorney intended to lure him in for administrative immigration processing. DHS Immigration and Customs Enforcement agents were, in fact, on hand Tuesday.
"They're waiting like vultures,� Fanton-Fahmy said from the front row of the courtroom, gesturing at a file-toting immigration officer two seats back.
According to Garrett's ruling, an administrative warrant, like the one filed against Fahmy for an overstayed visa, can only summon a person to immigration court and not a criminal court. As a result, Fahmy's decision not to appear at the hearing, regardless of the warrant, proved a wise roll of the dice. "I'm not stupid, I don't trust them and I'm not being given due process,� Fahmy says.
After the hearing, DHS agent Anna Walko, who signed the warrant in question, deflected inquiries on the why a matter of administrative processing appeared in a criminal court proceeding. Dave Wales, a resident agent at the Ventura office, calls the referral by the involvement between DHS and the district attorney a "courtesy notice� and stated he doesn't believe the federal government overstepped its bounds by contacting the district attorney.
Agents with the DHS intend to continue to enforce U.S. immigration laws in this case, citing Fahmy's long-expired work visa. "When it all is distilled, Mr. Fahmy, we believe, is here in this country illegally,� Wales said.
Fahmy professes his willingness to take any steps necessary to become a legal inhabitant, but says the post-9/11 climate makes it virtually impossible.
Earlier this year, Morro Bay police, in league with customs agents, prepared to raid his wife's home but eventually split when, they say, the man turned suicidal. It later turned out the standoff was staged on a phantom warrant. "I'm sick of these Gestapo style tactics,� Fahmy says. "They're frightening my family.�