Here's a fun fact for the holidays: The world will end someday. Absolutely, without a doubt, everything we know and love will be gone. Chances are the big day won't come for billions of years; people will have evolved by then into giant brains that ride around in the stomachs of giant robots; and the end will involve an exploding sun instead of zombies, weird Mayan gods that I didn't bother to research, or Jesus and some horses.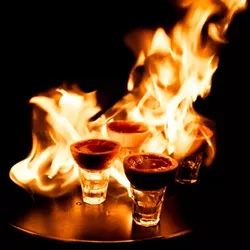 PHOTOS BY NICK POWELL
END IS NEAR? : Known for their fastidious planning, the ancient Mayans (kind of) scheduled the end of the world for Dec. 21, 2012, at 3:12 a.m. Pacific Standard Time, meaning Thursday night is your last chance to party… except that it obviously isn't.
But still. Earth won't last forever, and deep down everyone knows it.
I'm sure you're well aware that some kind of Mayan calendar etched in stone hundreds of years ago somehow ends abruptly at Dec. 21, 2012.
Regular old American people in high rises and trailer parks caught word of ruins and immediately assumed the ancients were privy to mystic prophecies our modern brains just can't understand. The stars warned the Mayans that the apocalypse was coming, and we latched onto the idea, repeating it ad nauseum even though no one really believed it.
But why?
All kinds of cultures have apocalypse myths, from Revelation and the Death Star to Norse gods battling in Ragnarok until the world is submerged in water. I submit that humans are kind of obsessed with the idea because it erases loneliness from death. Our individual lives and worlds are fleeting, prone to slip away at any second. But if everyone goes at the same time, there are no abandoned loved ones, no grief, no deeds left undone. And even though Revelation-like scenarios involve huge amounts of death, the idea is kind of comforting.
An accurately predicted apocalypse is even sweeter, because there's nothing anybody can do to try to stop it, and there's a definitive deadline. When you know that everything will be gone tomorrow, what's going to stop you from going on an epic adventure, getting crazy drunk with friends, and dancing around topless? Nothing, that's what.
But in San Luis Obispo, this well-connected party animal has barely heard a peep about Apocalypse parties. What's the deal?
In Grover Beach, Mongo's is playing host to the Last Annual Zombie Apocalypse Ball on Dec. 20, with dance tunes, a costume contest, and a countdown to the end. At midnight, bath salt shots* will be poured and drunk so everyone can go face-eating crazy. Fun!
"We don't know what to expect, but we're going for it," General Manager Tony Campitelli said.
In Morro Bay, the class acts known for introducing patients to doctors who might consider probably prescribing pot as the cure for what ails them are holding a party of their own at Pacific Referrals, located on Quintana Road. There will be live music with the Mother F Bomb, food, and free prizes, but technically, their party will be a day late. It's happening on Dec. 21 from 5 to 9 p.m., a full 14 hours after the world's due to get eaten by Galactus. But whatever. Procrastination never hurt anyone. It's not like there's a deadline looming or anything.
That's all I got. The only two Apocalypse parties scheduled for the Central Coast, and one of them is late. But don't let that stop you from celebrating the fact that the end, in some form or another, is near. Get out on Thursday night, and for God's sake, go home with someone. Enjoy sweet, sweet sexual intercourse like there's no tomorrow, because maybe there isn't.

* Spoiler: The bath salt shots won't be bath salt at all, but tequila with regular, non-zombie-inducing table salt. It's best to play it safe, even on the apocalypse.
Staff Writer Nick Powell probably won't parlay the Apocalypse into epic bed fun. Send your condolences to npowell@newtimesslo.com.