Well the weather outside isn't frightful, and the parade looks like it will be delightful. We've got some friends to see, so let it be let it be let it be.
It's Friday, Dec. 7, the date that will live on in infamy and also the evening of the SLO Holiday Parade. My wife Anna and I just parked our eGo electric scooters in the bike rack in front of McCarthy's Irish Pub and are hightailing it to Mission Plaza, where we were supposed to meet friends about 25 minutes ago!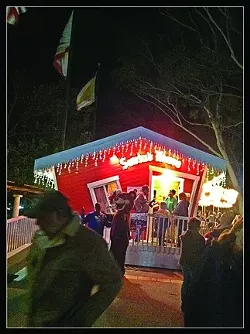 PHOTOS BY GLEN STARKEY
SANTA! : A short line trails out of Santa's House in the SLO Mission Plaza. It remains up until Christmas, so get down there and tell Santa how good you've been!
By the time we get there, they're gone. Dang it! The parade doesn't start for about 35 minutes, so we decide to walk by the various floats and folks waiting to strut their stuff. There're a lot of little hooligans with inline skates and hockey sticks tearing up the streets, a gaggle of little girls spinning lighted batons, a marching band warming up. Looks like it's going to be fun!
Anna and I decide to wander to Santa's House, where she laments never having been able to sit on Santa's lap and tell him what she wants for Christmas.
"Wanna get in line?" I ask.
SPINNING 'ROUND! : Take a classic carousel ride for $3 or buy four rides for $10. The carousel will stay up through Dec. 31.
She doesn't, so we head over to the carousel, which has come to a stop to load more smiling kids onboard the plastic horses. A "holiday tree" towers over the plaza, lit up with colored lights. Aside from being a balmy 65 degrees with nary a snowflake in sight, downtown feels like a winter wonderland.
We start walking the parade route, and people are lined up all the way, some sitting in chairs, others standing, a few in prime spots in some of the open-air restaurants. When we get to the corner of Higuera and Broad, we see former mayoral candidate Don Hedrick on his electric cart, and he's only too happy to stop for a quick pic before heading onward to spread some holiday cheer.
O TENNENBAUM! : Check out the towering Royal fir in Mission Plaza. It's extra lovely at night!
It's still a little before 7 p.m., and it will probably take a good half an hour before the parade winds its way down to the end on Nipomo, so we decide to head over to McCarthy's and grab a couple PBRs and Jameson shots.
There's plenty of good cheer in here, too, and Mama's Meatball has fired up its mobile pizza oven in the parking lot. Anna and I start looking over the menu, getting hungrier and hungrier.
"When are you going to start serving pizzas?" I ask the guy manning the oven, which is filled with brightly burning firewood.
PIT STOP! : We decided to get a round of drinks at McCarthy's Irish Pub while we waited for the parade to wind down to Nipomo Street.
"It'll take about an hour for the coals to be ready," he tells me, so Anna and I order another round.
Now we're famished, and the oven's still not ready, so we decide to scoot home and make some dinner to soak up these delicious beverages. We assuage ourselves by noting that though we didn't see the parade go by, we at least walked by the parade. Close enough!
Glen Starkey takes a beating and keeps on bleating. Keep up with him via twitter at twitter.com/glenstarkey, friend him at facebook.com/glenstarkey or myspace.com/glenstarkey, or contact him at gstarkey@newtimesslo.com.