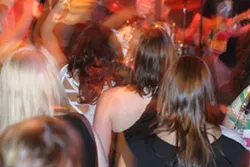 PHOTO BY GLEN STARKEY
FEELIN' IRIE : Heads bob to the sweet sounds of The Shival Experience during the New Times Music Awards.
It's Thursday, Aug. 19, and I'm in Downtown Brew looking at a dude in skinny pants, a skinny tie, nerdish glasses, and an impressive faux-hawk. It's Evan Jarrell from Callista (second place), and he and his band hit the stage and begin their impression of budding heartthrobs. Girls swoon, guys scowl, and I think about the Beatles in Hamburg before they hit it big.
It's rock'n'roll, people, and it's happening at the first night of the New Times Music Awards showcase. After this rousing set, I get to see why my buddy Scott Cusick of American General Media is always raving about Criticnue (first place). Lead singer Heath Seager sounds like the guy from Blues Traveler but has an Eddie Vedder vibe, and he and his band are killing it! Then Axia (honorable mention) delivers a blistering set of dark anthem rock. We're off to the races.
PHOTO BY GLEN STARKEY
SKINNY JEANS : Shoegazing is out when Callista singer Evan Jarrell works his teen heartthrob magic on the crowd at Downtown Brew.
Now it's Friday, Aug. 20, and I'm up past my bedtime at Frog and Peach for the reggae and worldbeat showcase and awards. I get there just in time to see Steve Hillock and his band Klockwyze (second) whipping the crowd into a frenzy. Their rap-reggae hybrid is bouncing, but on the break between sets, I meet a prostitute who's been a source for a couple
New Times
stories. She's surprisingly forthright about what she does, and I'm wondering if I should stay out later more often—so many interesting characters! Then The Shival Experience (first) comes on and reminds SLO Town why Al "Shival" Redwine is one of the best. The problem is, he's been around so long people tend to take him for granted. As he accepts his big fat bronze award, his smile makes the Joker look maudlin!
It's Saturday, Aug. 21, and the crowd is growing as the Mission Plaza fills with people waiting to see winning performers in the Americana-country genre, the jazz-classical, and the blues-R&B. Bill Wingfield (second) and his quintet set the bar way high as they rip through a set of original straight ahead jazz. Loren Radis (third Americana; second songwriting contest) blows the crowd away. Even our publisher, the notoriously unflappable Bob Rucker, is gushing and asks Radis to bring him a copy of his newest album. Then double winner Joe Koenig (first R&B; second Americana) works through an emotionally raw set.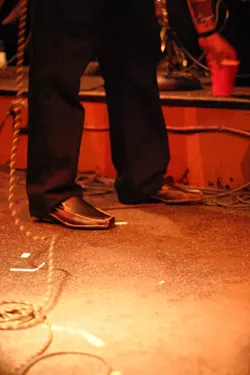 PHOTO BY GLEN STARKEY
WHAT ROCKSTARS WEAR : Heath Seager of winner rock act Criticnue turned the crowd on with an emotional and sweaty performance at Downtown Brew.
Then comes good ol' boy and former prison guard Don Lampson (third blues), a guy who's crustier than a week-old loaf of bread, with a voice like a razor stropping leather. When Inga Swearingen (first jazz-classical; best overall) takes the stage, I start crying as she sings "Brick by Brick," which never fails to work me over emotionally. Amazing! The afternoon winds out with Doug Groshart (first Americana) who leads his band The JD Project (second R&B) through a terrific set of rockin' music.
Another great day, but no rest for the wicked, because now it's 10 p.m., and I'm in Native Lounge looking at dudes I can best describe as tools and the incredibly hot girls who love them. This place blows me away. Electronica music by DJ Luna Jay is pumping, and a bevy of girls is grinding on each other on the dance floor, but soon the sea of dancers parts as Ashis Clay (second hip-hop) rips through a short, succinct, thumping set. Then Public Defendaz (first and third hip-hop) further arouses the crowd. These dudes are stoked! Finally a little recognition in SLO Town, which is notoriously unfriendly to hip-hop. Man, I'm tired, but there's one day to go.
PHOTO BY GLEN STARKEY
THEY GOT LEGS AND THEY KNOW HOW TO USE THEM : Hot babes line up for cocktails at Native Lounge during the hip-hop awards.
I
t's Sunday, Aug. 22, and Peter Steynberg hands me a Firestone draft as I walk into the Steynberg Gallery for the songwriter's showcase. Steve Key is warm and witty as emcee, and highlights include Bob Liepman accepting the third place award on behalf of his wife Wendy, who couldn't attend: "California is a community property state, and since Wendy and I have been married for 25 years, that means half of this is mine!"
Ted Waterhouse, who won first, came in for a quick set with two other members of the Viper Six.
Note to self: Next time we do the New Times Music Awards, don't stretch it out over four days with five events and venues. I'm exhausted!
Glen Starkey takes a beating and keeps on bleating. Contact him at gstarkey@newtimesslo.com.