Days start early at Three Oaks Ranch in Templeton—usually around 6 a.m.—and they stay busy until almost 10 p.m. Horse-keeping is no easy business. Everything takes time, and that time must be taken in order to do things right; it's important to make sure everything is done right, including the coffee. On a recent morning, it was the "iced-or-hot?" debate.
"Make it iced, Katie," Chris Hill sighed. "It's gonna be hot today."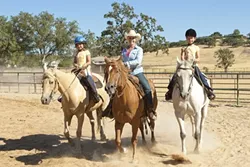 PHOTO BY STEVE E. MILLER
ONE FINE EQUINE : Katie Hill of Three Oaks Ranch provides a well-rounded introduction to horsemanship.
Katie Hill stands about 5-foot-3, with a sun-bronzed, freckled complexion and blond hair. She has a simple sense of humor; everything makes her smile. She runs Three Oaks Ranch with her mom, Chris. The grounds boast barns, riding arenas, and thoughtful landscaping. The morning sunshine filters through the eucalyptus trees, foreshadowing the warmth of the day to come.
"I've always wanted to share my love of horses with people, especially kids," Katie said. "They're so enthusiastic about horses that it makes it really fun."
She was standing in the kitchen of the ranch house, stirring creamer into her coffee. She shares that love of horses through her riding school, Horseplay, which she says is "for kids or the young at heart." Her students range in age from 4 to 65. They come to Katie and the horses of Three Oaks to learn the basics of horsemanship.
Katie has an extensive equine background. She's been riding since she was very young, and she grew up showing the animals and working training horses for sales barns. She competed for the title of Miss Rodeo America 2008 and took first runner-up; she took fifth in the 2012 Operation Cowgirl competition in Sacramento.
"I worked really hard for good grades in high school so I could keep my horses, and then I took the money I won riding and showing to pay for college," said Katie, who graduated from Cal Poly as a journalism major in 2010.
Working with new riders can be risky; horses are large animals, and it's important to always exercise caution and awareness. Katie makes sure her students understand how to conduct themselves appropriately around the animals, teaching riding "from the ground up." Students learn how to catch, lead, tie, and groom horses before mounting.
"I couldn't do it without these really nice, broke horses," Katie said. "They're really the teachers."
With Horseplay, Katie takes the safety-first approach and sprinkles it with fun. Students are assigned horse-homework disguised as crossword puzzles and word searches to teach equine anatomy and proper terminology.
Horseback riding is a sport that offers participants a multitude of benefits. First, there's the physical side. Riding requires balance and core strength; it's been said that equestrian activities are the only sport that engages every muscle in the body, which is why horses are often used for physical therapy to help patients build strength. Katie shared a story of one student who has physical ailments—simply walking is painful—and how over the course of his lessons she's watched his physical condition improve significantly. Katie has other students who came to Horseplay introverted, shy, and frustrated; through the horses, they've become more outspoken and confident.
"In riding, you must learn to communicate with something that doesn't speak your language, and when you learn how to communicate with something that doesn't speak your language you learn how to communicate with people," she explained.
For people who've always wanted to ride but are maybe a little bit scared, Katie says it's important to find a safe environment with someone you trust. And, if after a few lessons, you get bitten by the horse bug really badly and decide you need a horse of your own, Katie can help you find a mount suited to your riding ability.
Each Horseplay level runs six weeks, at the end of which students are tested on their horsemanship before graduating to the next level. Each weekly, one-hour lesson is one-on-one and tailored to the individual. Katie also welcomes students who already have their own horses and are looking for some objective perspective to improve their equitation. Contact Katie Hill at 238-0580 or check out the Horseplay Facebook page: facebook.com/horseplaybykatiehill. Happy trails!
Fast fact
Get wet! Atascadero is offering a water polo camp for kids ages 9 to 14. The four-day camp, starting Aug. 13, welcomes beginner and intermediate water polo players and will cover dribbling and shooting, plus offensive and defensive playing skills. The cost is $40 for residents and $44 for non-residents. For more information, contact Paula Anton, recreation supervisor, at 461-5000 or visit atascadero.org.
New Times Intern Ana Korgan compiled this week's Strokes and Plugs. Send your business and nonprofit info to strokes@newtimesslo.com.