Weeds are a social construct. I mean, what is a weed really?
Merriam-Webster defines weeds as "plants that are not valued where they are growing and are usually of vigorous growth."
I offer this thought: Just because a plant is not socially or culturally valued doesn't mean it isn't, indeed, valuable. I don't just mean a plant's potential beauty poking from the brim of a Mason jar or its inherent usefulness in the biodynamic web of life.
I also mean straight-up nutrients. And what about flavor? Couldn't weeds have pleasurable, delicious, joyful qualities when thoughtfully prepared in a dish?
Melany Vorass Herrera believes so. The Seattle area botanist and author of The Front Yard Forager will host a Wine and Edible Weeds Walk at the SLO Botanical Garden this July 12, proposing that "weeds" should take the leap to "what's for dinner."
Photo Courtesy Of Melany Vorass Herrera
WILD CRAVING Hypochaeris radicata, also known as cat's ear, flatweed, hairy cat's ear, or false dandelion, is a perennial, low-lying edible herb often found in lawns. It's also smashing when made into pesto and served over pasta.
During the hands-on tour of the garden's Glen Pavilion, Vorass Herrera will point out not just what you can eat around the Central Coast, but how you should cook the plants, too.
"Clover is everywhere; all different kinds," she said during a phone interview. "Between the clover, dandelion, cat's ear—there is not a thing that comes up in your yard that's really poisonous."
Mushrooms and the odd seasonal plant aside, she has a point. A humble grass mix blended with some nuts, garlic, salt, pepper, and EVOO isn't that different from a basil pesto.
Maybe that's why pesto is the gateway drug for so many new front yard foragers taking that first timid step into the wilds of their own backyards.
"You can literally make a pesto out of anything green that's not poisonous. You could go out and grab a handful of your lawn and have a very close match. It's delicious and you can put it on anything: fish, eggs, meat, pasta," Vorass Herrera added. "This shouldn't be scary or overwhelming. For many people, the main hurdle is just getting that first bite in."
Once you know an edible or two, you can also easily toss a few wild leaves into your next salad. You'll brighten up dinner, feel virtuous, and empower your family to learn about the world around them.
Skeptical? Vorass Herrera knows what she's talking about.
The green thumb studied ethnobotany at Evergreen State College and holds a degree in environmental policy. For more than 20 years, her work focused on storm water, hazardous waste, solid waste clean-up, and the Endangered Species Act.
Photo Courtesy Of Melany Vorass Herrera
WEED HUNTER Author, botanist, and environmentalist Melany Vorass Herrera will inspire locals to cook up edible wild weeds during a Wine and Edible Weeds Walk at the SLO Botanical Garden this July 12.
Now retired, she throws herself into her main passions: writing and plants. A small urban farm about a mile outside of Seattle keeps her busy (think happy goats and chickens plus a giant garden).
When Vorass Herrera looks around her yard, she sees more than the fruits of her labors. She also sees the often invisible link between plants and humans.
"These weeds are as cosmopolitan as we are. Just about everywhere we go, we carry seeds and dump them. That's largely how they pop up in our environment," she said. "We have been coexisting with these weeds for such a long time. They have been part of our diet for millennia."
Think about it this way. What is more natural to eat: a strawberry engineered and hybridized for shelf life and color or a wild variety accustomed to the land where it grows? I can tell you one thing for sure: The latter probably has more phytochemical bounty and certainly more flavor.
"Our bodies are very well equipped to metabolize all the nutrition available in wild weeds versus all the plants we've tampered with," the forager added.
From a human perspective, the author points out that we are all gatherers and foragers at heart. In 2017, so far removed from the lives of our caveman ancestors, have we really lost that instinctual knowledge of what we should and shouldn't put in our mouths?
The author says no—we just have to remember to listen to the world around us, educate ourselves, and experiment with caution and curiosity.
"Children have an amazing aptitude for figuring it out. I remember sampling various things when I was a child and enjoying them and being told they were poisons, then later finding out that they were actually quite healthy," Vorass Herrera said. "A lot of it is innate, but as a goat owner, I know that a lot of it has to do with mothers teaching their kids what to eat, too."
That goes for goat kids and human kids (no one is saying you should tell your child to ingest every plant they see). However, the disconnect between the food we eat and where it was grown is real. This blindness to the world around us causes confusion, misinformation, downright apathy, and unnecessary fear. We can kill weeds with noxious chemicals, strain our backs trying to pull them from the earth, or let go and learn to let them speak to us.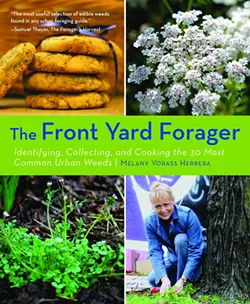 Image Courtesy Of Melany Vorass Herrera
"We have lost the ability to teach our kids what to eat because we don't even know," Vorass Herrera said. "In my life, I wanted to get away from a blind dependence on purchased goods and wanted to see how far I could take it to be self-reliant."
That goal brought along a whole new perspective, and now, this walk—which promises to be educational, enlightening, and (hopefully) surprisingly yummy.
The first step? Think of weeds not as an obstacle to be removed, obliterated, or avoided, but as long-lost friends pulling us back to our wild selves.
"We have co-evolved," Vorass Herrera said. "Weeds have always and will always will be with us." Δ
Hayley Thomas Cain is ready to plop those dandelions in a food processor. Reach her at hthomas@newtimesslo.com.