PHOTO BY HENRY BRUINGTON
PARTY ON!: The crowds were in good spirits and well fed and lubed!
It's Saturday, June 7, and my wife and I are pedaling down the Bob Jones Trail toward Avila Beach Golf Resort. The sun streams through the trees that line the trail, and my wife occasionally dings her bell to let pedestrians know we're coming up on their left. The weather's pretty much perfect, and though we've brought sweaters, we leave them with our bikes at the Bike Coalition's free bike valet before walking over to the entrance of the Central Coast Oyster and Music Festival.
I can hear Rey Fresco tuning up as we make our way to get a beer. The first one costs $11 but comes with a pint glass, and refills are $6—a bargain for a festival drink—and reusing the same glass and then taking it home as a souvenir saves on disposable plastic cups! Earth first, baby!
The festival grounds look awesome! The stage has this red fabric and bamboo proscenium, and various areas have fabric shade structures. There's a wooden sculpture that looks a little bit like a giant DNA structure.
PHOTO BY HENRY BRUINGTON
KING FRESH!: Rey Fresco gets the crowd amped up with their mix of Latin, world, rock, reggae, and soul sounds.
I've got my eye out for our new food writer Hayley Thomas, whose flaming red hair is usually easy to spot, but nope, I don't see her, but there's New Times photographer Henry Bruington, a hipster kid so impossibly thin that when he turns sideways, he actually disappears. Seriously! I could fold him in half and slide him under a closed door! He's with one of our new advertising executives, Nate Holbern, and they're trying to figure out a good place to photograph a wine glass filled with oyster shells. Artists, you know?
Rey Fresco is laying it down now, so we walk over toward the sound booth, where I see SLO Brew sound guru Kip Stork fiddling with his soundboard as he tunes in the sound. Kip is rocking a mullet. Just owning that shit! I will henceforth refer to Kip's hair as "Honey Badger."
PHOTO BY HENRY BRUINGTON
TAKE WING: This angel's costume wasn't the most elaborate, but it was the tallest!
Rey Fresco launches into a cover of Screamin' Jay Hawkins' "I Put a Spell on You," which officially makes him awesome in my book. Then I see the Newman clan, Todd and Korie and their two adorable rug rats, and Todd and I chat about the next awesome outdoor festival, the free Cayucos Pier Benefit Concert on Saturday, June 21, with Tom Curren, Tumbleweed Wanders, Julian Temple Band, and more. Gotta dig the Central Coast lifestyle, right?
Anna and I head over to the SLO Brew beer tent to test out their newest brew, Cali Sessions, which is delicious and has this sort of nutty/fruity finish, and we walk around checking out the various vendors and all the people slurping down oysters and drinks.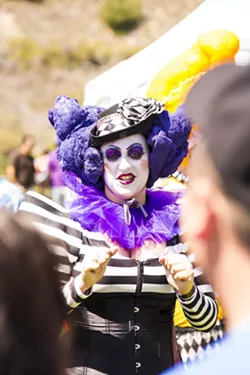 PHOTO BY HENRY BRUINGTON
GO BIG OR GO HOME: A trio of gals that looked like '80s-era NYC club kids prowled the grounds.
All told, this is a pretty cool event, but all good things must come to an end, and we have some bike riding to do, so we pick up our bikes at the valet and head back down the Bob Jones Trail, 'cause that's the way we roll!
Glen Starkey takes a beating and keeps on bleating. Keep up with him via twitter at twitter.com/glenstarkey, friend him at facebook.com/glenstarkey or myspace.com/glenstarkey, or contact him at gstarkey@newtimesslo.com.