Sometimes it's the little things that have the power to turn life around.
This came to mind when Sahvanna Ettestad, communications specialist for the city of San Luis Obispo's Parks and Recreation Department, read an article in California Parks and Recreation magazine about a family that lost a daughter in an accident. They used their tragedy to reach out to the community by writing inspirational messages of love on rocks and leaving them in public spaces.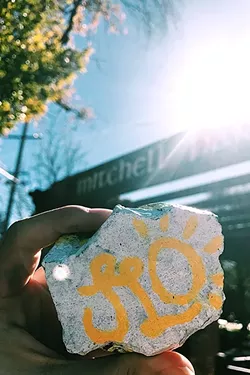 PHOTO COURTESY OF CITY OF SAN LUIS OBISPO
SURPRISE: Painted rocks with inspirational messages or simply fun or pretty designs are being dropped off at parks across SLO in an effort to spread a little love for #rockaroundslo.
Wanting to bring that same sense of connection to SLO, the department launched Rock Around SLO in February. The project aims to connect people to arts, nature, and kindness.
"We just wanted to bring smiles to people's faces," Ettestad said. "We really believe in random acts of kindness."
Here's how it works: Go to any of SLO's 19 city parks, pick out a rock (no larger than your hand), paint it (keeping all designs and words PG themed), and bring it back to the park (just don't drop it in the grass where it can get caught in a lawn mower) so it can catch someone's eye and brighten up their day. If a particularly inspirational or pretty rock strikes your fancy, you're welcome to take it home for keeps, just be sure to replace it with a rock of your own design. Rock art creations that get some Instagram love can sport the hashtag #rockaroundslo.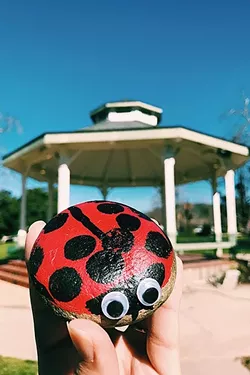 PHOTO COURTESY OF CITY OF SAN LUIS OBISPO
GOOD VIBES : A ladybug rock with googly eyes is deposited at Mitchell Park in downtown SLO.
Ettestad estimates that about 60 people have painted and dropped off rocks at local parks so far. While she likes all of the designs, her favorite has sun beams radiating off the "O" in "SLO," though a snowman made by gluing three rocks together was extra impressive. Ettestad's own contribution to the project is a lovely ladybug rock, left in Mitchell Park, complete with googly eyes. On Instagram, about 17 people have shared their rock art creations. In Anholm Park, one resident dropped off rocks with messages like, "You are loved," "Today's focus: Kindness," and "Tomorrow will be better." Another crafty rock artist stumbled upon a rock with a hole in the middle and with a little ribbon turned it into a cheerful rock ornament hanging off a tree branch in Meadow Park.
While Rock Around SLO has been a sort of DIY solo project so far, Ettestad said that the department hopes to introduce it to its kids after-school programs. On March 18, volunteers can meet at Mission Plaza and paint rocks as part of Love SLO, a day of community engagement. But Ettestad said there's no end date for the project.
PHOTO COURTESY OF CITY OF SAN LUIS OBISPO
RAWR: Who can be sad when stumbling across this dinosaur rock at Islay Hill Park?
"If they're having a bad day and come upon a rock, we just hope it reminds them they're in an awesome place and lucky to be a part of this community," she said.
Ryah Cooley is on the hunt for heart-shaped rocks at rcooley@newtimesslo.com.
#ROCKAROUNDSLO: Want to participate in Rock Around SLO? Head to the nearest SLO city park, pick a rock, paint it, and bring it back. Just make sure not to leave rocks on the grass and keep all rock art designs PG. For more information, visit slocity.org. Share your rock art on social media with #rockaroundslo and tag the park.