PHOTO COURTESY OF JAY THOMPSON
DO THE WAVE: Students at Cuesta's 49th annual commencement ceremony interacted with each other and their friends and family members who came to support them from the audience.
We don't cover much in the way of pomp and circumstance in this paper, but we felt that this week, we could all use a reminder of the good and the progress there is in this world.
Join us in celebrating the 724 students who graduated from Cuesta College; 180 of them walked in the 49th annual commencement ceremony this past May 23.
The students, from 17 to 67 years old, earned a collective 900 degrees.
PHOTO COURTESY OF JAY THOMPSON
BMOC: Atascadero's Charlie Scovell was the Associate Students of Cuesta College President for this past year.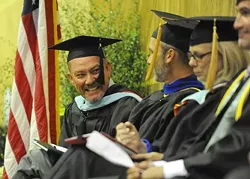 PHOTO COURTESY OF JAY THOMPSON
SPEECH! SPEECH!: Faculty speaker Don Norton gave the keynote address for Cuesta's May 23 commencement ceremony.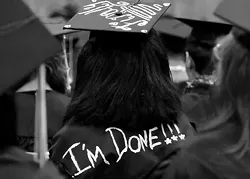 PHOTO COURTESY OF JAY THOMPSON
WRITE WHAT YOU FEEL: Some students opted to embellish their simple robes with art and messages for the masses.