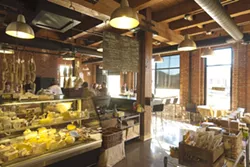 PHOTO BY STEVE E. MILLER
MMM… : At Meze Café, delicious meals highlight products that can be bought and consumed at home—or anywhere.
When I first heard about Meze—"meh-zay," as they call appetizers in the Mediterranean and Middle East—I thought it was strictly a wine market and deli. But that didn't come close to describing the menu that's drawing so many people here. This market offers an upscale menu with a good selection of small plates that range from appetizers and salads to soups, among other dishes the chef creates daily. The market inside Meze has an excellent selection of gourmet specialties: baguettes, cheeses, sausages, imported canned goods, wine, beer, and more. After enjoying an extravagant multi-course lunch there, I couldn't resist buying several foods and wines to enjoy at home.
The large open-room section features touches of old, like the brick wine cellar and giant crockery befitting the historic, restored Roundhouse in Railroad Square. Yet there's a contemporary feel to it that sets it apart from other delis around SLO. I watched people, like myself, really get into it: buying international cheeses and meats from the deli case, or selecting wines to enjoy with the menu. It seems no matter what time of day you choose to dine here, you'll find there are always several people inside indulging in small plates paired with wine, beer, coffee, or bottled water.
I stopped in for a late lunch on my first visit with my husband Dan, and we were glad we came hungry. The friendly co-owner, Jason Edwards, helped us choose a wide array of delightful dishes. We hummed over the "nizzarda" salad (also referred to as Nicoise in France), a creatively-arranged dish of Yukon Gold potato slices topped with tuna, black olive tapenade, and a slow poached egg, with a side of haricots verts, aka green beans ($9). The next dish was equally delightful: a salad of Brussels sprout leaves dressed with a piquant Champagne-honey vinaigrette, topped with minced bacon, chopped Marcona almonds, persimmon, and shaved Roncal cheese ($8).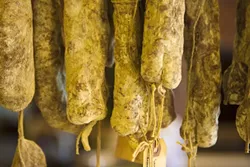 PHOTO BY STEVE E. MILLER
CARNIVORE : The "market" part of the name includes a delicious array of meats, cheese, and wine for sale.
Edwards suggested that we try the lamb kofta and Bellwether Farms "kasik," only to discover the chef hadn't completed the Moroccan dish yet. That's not uncommon here, because space is so limited, as Edwards explained: "What you see is what you get." The small kitchen in the middle of the room has no other storage space for refrigeration, and certainly no freezer. Chef Michael Reyes cooks on three induction burners with one portable convection oven for baking and broiling, so he can run out of his dishes quickly. But I've watched him handle a few tables without a problem, as he did during my first visit. The next dish we had just blew me away: the chef's special of chicken and chanterelles ($16). A large, boneless chicken breast, moist and tender, was covered with a delicate, delightful sauce and a sauté of fresh, local chanterelles. What was amazing was that it's cooked skin on, which becomes crisp and delectable. Unusual for us, we quickly ate up every bite. The simple lemon tart ($6), often the best kind of dessert, was tasty but lacked the acidic tang I prefer in lemon custard.
We couldn't wait to return for more. The French country board ($20), a large rustic-looking board came laden with treats: two thick slices of pate de champagne, three cheeses (camembert, l'etivaz, and tome des recollects) served with toasted baguette slices, dried pears and apricots, candied walnuts, marinated cherries, cornichons, and Dijon mustard. It was like enjoying a wine country picnic and was wonderful with a French Revelette 2009 Rosé ($7 glass/$18 bottle). When you buy a bottle of wine to enjoy there, at retail prices, you pay a corkage fee of $8. Corkage is $15 if you bring your own wines in for wineglass service.
Although the French board was excellent, it was created to promote the gourmet foods sold on the market side, not showcase Reyes' specials. Edwards, who owns Meze with his life partner Kari Kittinger, later explained the menu is still evolving: "We changed the menu to feature more salads and sandwiches at lunch. At dinner, it has more meze selections and the chef's specials."
The passionate chef has built a distinguished résumé. He started his cooking career at Mosaics, where he became inspired by cookbooks written by three outstanding American chefs: Thomas Keller, Charlie Trotter, and Alfred Portale. Inspired, he signed on at the prestigious Culinary Institute of America (CIA) in Hyde Park, N.Y. While at CIA, he worked at Portale's Gotham Bar and Grill in New York. He returned here to work at Hoppe's Garden Bistro, Lido, and Cass House. Introduced to Edwards and Kittinger by mutual friends, Reyes decided to join them in opening Meze.

TO MARKET, TO MARKET: Meze Wine Café and Market is 1880 Santa Barbara Ave., SLO. For more information, call 548-8070.
"Everything I prepare here is the best I can do," Reyes said. "I cook as if Thomas Keller is standing behind me."
"The business was four years in the making. I had lived in Granada, Spain, and met Kari in Florence, Italy. After we started dating, we took annual trips to Europe," Edwards recalled. "We really enjoyed the culture of sharing small plates with a drink. We wanted to create a gourmet market with a café that could introduce people to that culture in a friendly way."
Both have years of experience working in the local wine industry, but have focused on unusual European and Australian wines that aren't widely available. Edwards manages the restaurant full time. Kittinger works evenings and weekends, when she's not working her full time job at Clayhouse Winery. Before opening Meze, the couple took their annual trips to Europe.
"We enjoyed the European style of taking a few hours off to go out and have a moment of the day, stopping to relax and enjoy a bite to eat with wine," Edwards concluded, noting that many visitors pick up foods here to enjoy on their excursions to wine country. "We want people to realize this isn't fast food. This is where you take a break to relax and enjoy good food and wine."
Contact New Times' Cuisine columnist at khardesty@newtimesslo.com.