Check in. Spin the wheel. Win money.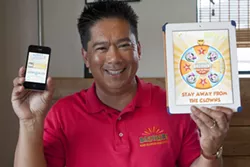 PHOTO BY STEVE E. MILLER
BOOM! : Tony Bautista founded Where's Bazomb?, which turns getting deals—and money—to customers and bringing business to local shops into a game.
Seems easy enough. A new cell phone app roaming San Luis Obispo's streets allows for just this. Where's Bazomb? is an interactive game that encourages players to go to local businesses for a chance to not only get good bargains, but win money.
The app was created by Tony Bautista, the founder, president, and CEO of Bazomb, Inc. He created the game to give consumers great discounts and make something fun and interactive that positively draws customers into local businesses. When creating Where's Bazomb?, Bautista wanted to encompass certain aspects from a variety of coupon and social media sites.
"We had to think outside the box and leapfrog everyone," he said. "I started with a clean slate, and I looked at this thing from all angles."
Bazomb is an easy game for anyone to play, but there are a couple of steps to notice. The location of the game varies daily, but once users download the free app, they can access its homepage and know exactly where it can be played. Businesses that are host to the game are typically within San Luis Obispo County limits. Some businesses that have already enjoyed Where's Bazomb? are TeaBerry, Jaffa Cafe, and Gino's Pizza.
"What we do with the game is we create a mobbing effect," Bautista said. "We have everyone come to one location. We just bring people right here for the day and bring people to different places on a daily basis."
Once the users know where they need to be in order to win their potential rewards, all they have to do is get within 100 feet of the location and check in. The app includes a map of the businesses location, making it easy to find the destination. By doing this, the user has access to the daily deal, which is a coupon that provides some type of discount at the specific business.
In essence, everyone who plays is instantly a winner.
"It's plain and simple, no risk and nothing out of pocket," Bautista said.
The added bonus for checking in is an opportunity to spin the Vegas-inspired wheel three times. A swipe of a finger could lead to a cash prize, which varies every day.
All these steps may be overwhelming at first, but through studies conducted by Where's Bazomb?, Bautista learned that people who check in are at the business for an average of four minutes. The benefit is that each player automatically receives a daily deal, which is e-mailed and can be printed out and used as a coupon in the future. Since "everyone loves winning money," Bautista argued that Where's Bazomb? is an easy way to do just that.
Where's Bazomb? can be downloaded for iPhones and Androids. Daily deals and other coupons can also be found at bazomb.com.

Fast facts
Looking for a book to read inside during the rainy season? The Grover Beach Community Library will be holding a book sale on Saturday, Oct. 20, from 8 a.m. to 3 p.m. A wide range of genres will be available, such as fiction, nonfiction, classics, and children's books. The volunteer-operated library will use the profits from the event to help assist with rent, services, and supplies. The library is at North 9th St. in Grover Beach. For more information, contact Carol Roberts at 473-3457. …
The 2012 Open Studios Art Tour will be held for a second weekend in a row on Oct. 20 and Oct. 21. Considered the largest visual art event on the Central Coast, the tour will display more than 230 artists' work from 10 a.m. to 5 p.m. Creating a scavenger hunt vibe, art by various artists will be displayed all over the county. The 14th annual tour is free for the third year in a row. Download a catalog of featured artists and locations at artsobispo.org.

Intern Tayler Duprel compiled this weeks Strokes. Send your business and nonprofit news to strokes@newtimesslo.com.