Leading up to the New Year's weekend, I found myself pulled in two directions.
One of my best friends invited me up to his place in San Francisco for a New Year's Eve party. But my sister, Lisa, invited me down to Los Angeles for a trip with her friends to Joshua Tree.
Photo Courtesy Of Peter Johnson
FAMILY TIME My sister, her boyfriend, and I soak in a San Francisco 49ers win against the Los Angeles Rams on New Year's Eve.
I was genuinely torn—until Lisa came up with a new plan: buying tickets to the San Francisco 49ers vs. LA Rams game on Dec. 31. Sold!
After four disastrous years of organizational dysfunction and terrible football, this midseason, the 49ers traded for New England Patriots quarterback Jimmy Garapollo. It was widely viewed as a good trade, but no one knew how great it'd turn out. After starting the season 1-10, the Niners won four in a row with Garapollo at the helm
Now the 26-year-old with an impeccably accurate arm and chiseled handsomeness is the talk of the Bay Area, and we didn't want to miss the opportunity to see his last game of the season against the Rams. The Rams moved back to LA from St. Louis last year, and this year they're playoff-bound as the NFC West champs. I smell a kindling rivalry.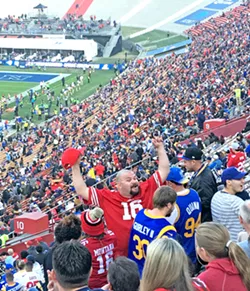 Photo By Peter Johnson
LIFE OF THE PARTY This jubilant Niners fan partied all through the fourth quarter, making many friends in the process.
Our excitement for the game waned a little bit as the Rams announced they'd be resting most of their key starters to stay fresh for the playoffs. But it did wonders for the ticket prices, which basically dropped to half of market value by kickoff.
We took the metro train from Culver City to the USC campus, and haggled with scalpers to get the best deal possible. The Coliseum is a classic football venue—a good placeholder for the Rams while they await construction of their new stadium. It was sunny and felt like 80 degrees, and Rams fan laughed at us for wearing our big 49ers jackets. "You're not in the Bay anymore!" they howled.
For a game that didn't really matter, it was pretty exciting. Jimmy G dazzled with nearly 300 yards passing and two touchdowns. Tension mounted after our best wide receiver, Marquise Goodwin, got knocked unconscious by a reckless Rams hit to his head. After lying motionless for about 10 minutes, Goodwin was carted off the field awake, giving a thumbs up and a wave to the crowd before disappearing into the tunnel. Scary stuff.
The funniest part of the game was in the fourth quarter, when half the stadium had emptied because the 49ers were up 34-13. One jubilant 49ers fan sitting a few rows below us refused to call it a day; he danced until the final buzzer and goofed with several fans of both teams—the life of the New Year's party. Δ
Staff Writer Peter Johnson is looking at Jimmy Garapollo on his computer desktop background at pjohnson@newtimesslo.com.