It felt like a once in a lifetime moment. And then it started happening again and again.
Right on the waters of Avila Beach, near his shop, four humpback whales were feeding. It was 2012, and Vincent Shay, photographer and owner of Avila Beach Paddlesports, didn't even think to grab his camera.
"I kind of kicked myself for not taking photos because no one had ever seen that," Shay said.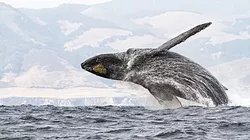 PHOTO BY VINCENT SHAY
WHOOSH: SLO photographer Vincent Shay's photo Whale Breach captures a whale emerging from the water off the shore near the Diablo Canyon Nuclear Power Plant.
But then in 2015, the whales came back, making appearances all over the waters along the San Luis Obispo County coast. Shay, a SLO county native who grew up surfing and then later kayaking and paddle boarding, had long been drawn to photographing nature—specifically the ocean—but it wasn't until a few years ago that he really heard the siren call of the whales.
"I never thought they would come back," Shay said. "It got me really excited."
Shay's time spent getting to know the whales will be on display though a series of photographs titled Whales. Waves. Wanderings. at the Photo Shop in SLO through April 15.
Shay isn't one to just hop on a whale cruise and compete with other photographers for shots. Instead, he prefers to jump in a kayak, on a jet ski, or maybe on a small boat and get out in the water surrounding Avila Beach, Port San Luis, or the Diablo Canyon Power Plant at 6 a.m., with his camera in tow.
A WHALE OF A TALE: SLO Photographer Vincent Shay's series of ocean-inspired photographs, Whales. Waves. Wanderings. will be on display at The Photo Shop in SLO through April 15. An opening reception will be held on April 6 from 6 to 8 p.m. and 10 percent of the proceeds from sales of photographs will go to the local Marine Mammal Rescue Center. Photos for sale range from $10 to $150. For more of Shay's work, visit vincentshayphotography.com.
"This 40-ton animal dives under your kayak and makes eye contact with you," Shay said. "I feel like it's a calling for me to be out there."
In the past few years, Shay has spent more than 200 hours floating around with these majestic beasts, so close he could touch them. Being in a kayak while he shoots gives the photos a unique angle and makes it feel almost like the whales are practically on top of Shay, though that's not the case. Shay aims for images that evoke emotion and loves the timeless look of the whales shot in black and white.
"Being part of that whole world with the whales, it really means a lot to me to be there when no one is around. It makes me realize they were here first."
In his non-whale photographs, Shay once shot a picture of a fluffy sea otter holding on to a piece of litter—an empty bottle of Crown Royal. He shared it online, and it went viral. Through his work, Shay hopes to inspire people to create a world where that kind of blatant disregard for nature and animals doesn't happen.
"If we can get people to look at the photos and say, 'Wow, this is beautiful,' instead of just exploiting it, then we can bring awareness," Shay said. "I just want people to see the beauty of the world, from a different perspective. I want people to get a feel for excitement."
Ryah Cooley is looking for whales at rcooley@newtimesslo.com.