When it comes to pinot noir, I'm among those who are passionate about tasting these noble wines from appellations around the world. Some readers would call it obsessed, and I'm fine with that description, too. But who better to seek advice from when you're developing a new interest—be it a wine variety, gourmet cooking, or venturing into a new career—than someone who is deeply involved in that pursuit? Consider our Central Coast winemakers who produce pinot noir; they're devoted to this great variety despite its reputation for being "the most fickle of all grapes to grow."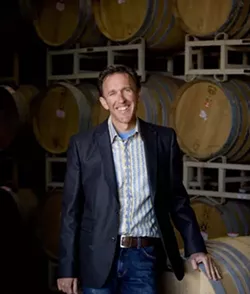 PHOTOS COURTESY OF TALLEY VINEYARDS
IN LOVE WITH PINOT : Brian Talley of Talley Vineyards has been producing pinot noir for more than 25 years.
We live in the heart of America's pinot noir country, where great pinots are produced in ideal growing regions from the Santa Lucia Highlands in Monterey County to the Sta. Rita Hills in Santa Barbara County. That's why they're frequently among my wine recommendations year-round. I get particularly excited this time of year as my favorite wine celebration is the upcoming World of Pinot Noir. For anyone interested in becoming more wine savvy, this pinot noir-focused event provides the opportunity to be a connoisseur, critic, and advocate. The 13th annual World of Pinot Noir celebration takes place March 1 and 2, when you'll not only find the greatest Central Coast pinot producers, but will also have the opportunity to taste the great pinots from Oregon, Burgundy, Switzerland, and New Zealand during a series of tastings/seminars that highlight pinot noirs from around the globe.
These enlightening seminars provide the experience of tasting aged gems versus new releases, indulging in pinot noir-focused gourmet meals, and constant entertainment. You'll meet the superstars who make these celebrated pinots, and you'll walk away better informed and wiser about buying and collecting pinot noir after learning by tasting. Whether you attend every seminar or just one of the grand tastings, you'll be rewarded by what you've learned from tasting each extraordinary and unique pinot noir.
I called on Brian Talley of the renowned Talley Vineyards to ask what drove him to become so passionate about pinot.
"I fell in love with pinot noir the very first vintage we produced in 1986. It just tasted great and went with so many different foods. My first trip to Burgundy in 1994 sealed the deal," he remembered. "I've been passionate about pinot noir ever since."
Early in 1996 I met Brian and Johnine Talley right after I relocated here from San Francisco. That year, the Talleys invited me to the 10th anniversary tasting and dinner at the winery on Aug. 17. They had organized a blind tasting of the best Central Coast pinot noirs, and every winemaker of note was there to contribute and participate. To sit in on that tasting was an extraordinary experience for me. And that event was the inspiration that motivated Brian to create World of Pinot Noir, which is now an international celebration. That's the effect World of Pinot Noir has on everyone; to sit in on any part of it is unforgettable.
World class
World of Pinot Noir (WOPN) always features a fabulous extravaganza of comparative tastings, pinots paired with gourmet meals, and intellectual discussions, providing something for anyone who is passionate about wine. This year, WOPN—set for Friday and Saturday, March 1 and 2—will present new events and repeat a previous seminar that provided one of the most absorbing discussions. Event Coordinator Damon Miele reported: "All of our winery spots sold out in early November, the earliest ever. Over 160 wineries and two importers of Burgundies will attend WOPN this year." Not only are the wineries enthusiastic attendees, the regulars who come each year are eager to participate: the Burgundy tasting and Williams-Selyem dinner at Lido sold out immediately.
During one of this year's seminars moderated by Karen MacNeil, author of The Wine Bible, you'll hear popular winemakers who espouse minerality in pinot noir while others argue it doesn't exist. Following that breakdown, MacNeil will lead another panel of winemakers during the Alcohol and Balance Redux, and how weather affects each vintage. The latter is a repeat of a topic that created a rather spirited discussion among the winemakers and the audience; it was an unforgettable experience that I'm sure will create another lively session.
Among the new seminars/tastings: Sta. Rita Hills Focus Luncheon at Cass House in Cayucos by chef Jensen Lorenzen with Brewer-Clifton, Dierberg, Foley, and Gainey; a breakout session featuring four renowned Rhone producers who make pinot noir on the side, Curtis, Margerum, Qupé, and Tablas Creek; and the Gala at Chamisal, a grand finale where everyone brings a bottle of pinot to share while feasting on delicious foods by Et Voila, Morro Bay Oyster Company, Rooney's Irish Pub, and Thomas Hill Organics.
The beauty of WOPN is that you don't need an expensive ticket package if you want to attend an educational seminar. Even if you only attend a grand tasting—three-hour events taking place on Friday and Saturday—it will provide you the opportunity to explore the in-depth world of pinot noir. Those are the reasons so many pinot lovers like me attend this event annually. It's still early enough for consumers to buy tickets for most events, which are all sold individually. To make sure you get in, run—don't walk—to your computer or grab your smart phone and get those reservations now. You can also find WOPN on Facebook, by calling 489-1758, or visiting wopn.com.
Contact Cuisine Columnist Kathy Marcks Hardesty at khardesty@newtimesslo.com.