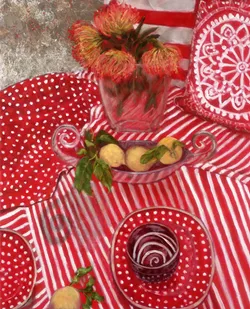 Image Courtesy Of Patti Robbins
SERIES REGULAR The curved, silver serving bowl in Red, White, and Yellow in Motion is a particular favorite prop of artist Patti Robbins. The bowl finds its way into her still-life paintings time and time again.
Artist Patti Robbins is something of a hoarder, but a hoarder with a purpose for each and every coveted trinket or thingamabob.
The Arroyo Grande-based still-life oil painter never knows what will cause inspiration to strike on a given day, so a table in her home studio is filled with glassware and odds and ends like extra wine corks. A suitcase is filled to the brim with cheerful, brightly colored fabrics marked with stripes, paisley, flowers, and more to serve as the perfect backdrop.
"I find that this is very personal because these objects are mine, that's my plate," Robbins said. "Nobody could copy it."
Still, all of Robbins' art income doesn't get shuffled back into paying for her subject matter. Many pieces, like her favorite silver serving dish with the swirly ends or a bright red pitcher, star in multiple paintings. She also borrows items from friends and searches for deals at thrift shops or discount stores like Marshalls. And every once in a while, a particularly spendy item might get returned after its modeling career is over, unless Robbins falls in love with her muse enough to give it a forever home.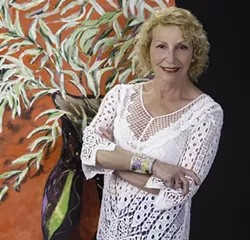 Photo Courtesy Of Patti Robbins
LIFE IN COLOR Still-life painter Patti Robbins is fan of using lots of colors, particularly bold shades of red, in her work.
"To me, it's the treasure hunt," Robbins said of staging a scene to paint. "It's like setting up a dollhouse or a stage. It's like clothes when you put it with a different outfit."
Robbins lives in South County on several acres filled with citrus, sunflowers, and trees. Therefore, the natural world often sneaks its way into her work as well, whether it's the view peeking in through a window or a fig branch reclining on the dining room table. Her pieces are always marked by bold colors: deep shades of red, dark purples, or loud yellows.
"I love color and I'm not afraid of it," she said.
Image Courtesy Of Patti Robbins
JUST RIGHT Arroyo Grande artist Patti Robbins never knows when an object might inspire her, so she keeps a table in her studio filled with things like extra glassware and wine corks (which made an appearance here in Still Life with Wine and Flowers) and a suitcase stuffed with bright, intricately patterned fabrics.
While Robbins has created art since she was a small child—"scribbling on the walls of her mom's house"—it wasn't until after she'd finished a career as a second grade teacher and nearly raised all of her children that she decided it was finally time to make art her main focus. Until then, she had spent her time creating art and attending workshops, but she had no interest in displaying or selling her work.
"Someone pestered me to buy one of my paintings and I gave in," Robbins said. "When I turned 50, I gave myself permission. Once I went for it, I decided to take it seriously."
After Robbins preps her canvas, she sketches her shapes, and things begin to take form from there. Where it stops, no one knows.
"You get into it and it has a life of its own," Robbins said. "One more stroke of paint and I think I'll ruin it, that's when you know to step away." Δ
Arts Editor Ryah Cooley is very attached to teacups and mugs at rcooley@newtimesslo.com.