Due to a recent surge in chickenpox cases in public schools throughout the county, the SLO County Public Health Department is encouraging families to take special precautions to prevent the further spread of this highly contagious disease. Cases have popped up at Cambria Grammar, Grover Heights Elementary, Laguna Middle, and SLO High schools.
      Â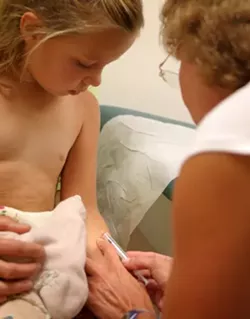 CHRISTOPHER GARDNER
VACCINATION FASCINATION: Protect yourself, your family, and your friends from the unpleasantries of chickenpox. Health officials say: Get your vaccine today.
#Anybody showing signs that they might have chickenpox should immediately see a physician for treatment, health officials say. Symptoms include a rash that starts at the trunk, quickly spreads to the face, hands, and legs, and develops into small, pimple-like blisters. Fever and runny nose, or "flu-like� symptoms, are also common. Because the disease spreads easily through the air or from direct contact with fluid from the blisters, infected persons should not attend school or work until the disease has run its course.
       Additionally, the health department recommends that all children and adults who have never had chickenpox should receive a vaccination to protect them from contracting the disease. Those without a healthcare provider can receive their vaccinations through the health department. A $25 fee will be charged for children, though the health department officials add that no child will be turned away for lack of funds. Adults ages 19 and over will be charged $123 for the service.
       Healthcare professionals caution that this increase in cases is seasonally normal, and the recent alert is not intended to cause undue alarm. Chickenpox affects approximately 5,000,000 Americans annually, and though death from the disease is uncommon, it is particularly ravaging for persons who contract it during adulthood.
       For more info, or to make an appointment for a vaccination through the county health Department, call 781-4647.