Photo by Steve E. Miller
RUSTIC CHARM : Little has changed about the Pozo Saloon since it was constructed nearly 150 years ago. The interior is decorated with period artifacts, including a little pistol that the owners found while tilling the back field.
# By all accounts, Pozo is a sleepy little village. It's the kind of place where a few people still ride horses to get around, and when they do drive, they slow down for tarantulas crossing the road. So you can imagine that many of the dozen or so residents clustered around the historic Pozo Saloon didn't much cotton to all the hullabaloo caused by the increasingly large and loud rock shows that the nearly 150-year-old saloon has been hosting in recent years.
What started in the '80s as gatherings of a few hundred people listening to classic rockers and countrified folkies such as Country Joe McDonald and New Riders of the Purple Sage, grew in recent years to crowds upwards of 3,000 visitors rocking out to hardcore rapper Too $hort, headbangers .38 Special, and reggae superstars Steel Pulse. To say that some neighbors weren't pleased would be an understatement.
During these shows, cars lined the road for a mile in both directions, and concertgoers weren't always respectful of private property. And then there was the noise. Fat racks of speakers shot sound out into the surrounding hills. People yelled and cheered and raised their Bic lighters to the sky and requested "Freebird."
Although it's not the Pozo way to publicly complain, private conversations among neighbors reflect their concerns about fire risk and security related to thousands of music fans and their herds of cars descending on the rural Pozo countryside.
And although they're thankful for recent improvements in the saloon's concert regime, some say they hope progress will continue. They're already talking of staying at home for the Oct. 13 Black Crowes concert, enduring window-rattling bass and high-decibel main speakers rather than risking alcohol-fueled trespassers who take the lifesize Smokey Bear's sign--"Very High"--as a command rather than a fire-danger description.
"Our neighbors were upset, and I don't blame them," said Rhonda Beanway, who, with her husband Brian, owns Pozo Saloon. "In the winter of 2005 it rained and rained, and people parking along
Photo by Steve E. Miller
THE MAN WITH THE PLAN : Levi Beanway, son of Pozo Saloon owners Rhonda and Brian Beanway, is the concert promoter behind the venue's outdoor concerts, including the Black Crowes concert.
# the road made a real mess. People got stuck in the mud. They left trash along the road. After that, all hell broke loose. The complaints starting coming in."
"And on top of that, [our neighbors] thought we were making millions of dollars [off of their inconvenience]," added Levi Beanway, the 27-year-old son of Rhonda and Brian and architect behind the increasingly raucous concerts.
Enter the county of San Luis Obispo, which contacted the Beanways and told them the concerts had to stop because they didn't conform to current land-use regulations.
What commenced was a protracted battle by the Beanways to establish "historic use," a sort of grandfather clause that means if a property has long been used for certain activities in the past, the current owners have the right to continue such uses--even if they wouldn't be granted permission under current county rules. It was a page ripped from ,ber-developer Rob Rossi's playbook, the same rule he invoked to push through his nearby Santa Margarita Ranch development.
The Beanways, with the help of Joseph Boud, a designer/planner and former SLO County Planning Department employee, began researching the history of the saloon at the SLO County Library and the county Historical Society. What they discovered is that this now-sparsely populated spot was once a major hub of transportation, commerce, and--most importantly--giant kickass celebrations.
Local history guru Dr. Dan Krieger even pitched in, penning a letter to the county on the Beanways' behalf, noting that as early as the late-1830s, Pozo "became a gathering point for what was regarded as a sizable group of Mexican immigrants in sparsely populated California." He added that "Pozo's significance as a central gathering point was reconfirmed in 1858 [the date the saloon was constructed] when it became a stage stop on the Butterfield Route." Pozo remained an important hub of activities "well into the automobile age," until the creation of highways 58 and 46 rendered it obsolete as a major thoroughfare.
In their presentation to the county, the Beanways provided further unassailable evidence of the saloon's long-reigning title as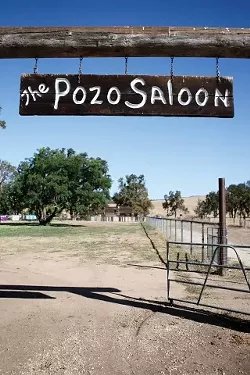 Photo by Steve E. Miller
WELCOME TO POZO SALOON : Concertgoers enter the outdoor venue through this portal, filing into the field to the left, which will be filled with upwards of 3,000 people when the Black Crowes play.
# Party Central. One newspaper clipping from 1896 chronicled the construction of a road from Arroyo Grande to Pozo: "When the road is finished through to Arroyo, we anticipate that the people of this valley will give a celebration equal to the occasion, and as the Pozo Saloon never does anything of that kind by halves, we may expect a blow out surpassed by nothing short of the annual 16th of Pozo celebration."
That last bit referenced an even longer-standing Pozo Saloon tradition: the Mexican Independence Day celebration held at Pozo every Sept. 16, where "salsa and barbecued meat will be served in abundance," read yet another clipping, which also mentioned a performance by the First Artillery band. Music and barbecue? Yep, things are pretty much the same in Pozo today.
Because of these documents, Art Trinidade, chief investigator for the SLO County Department of Planning and Building, agreed that the Beanways were able to show these types of events had happened in the past. Trinidade called their exception a "grandfathered use, a non-conforming use."
So it turns out you can fight City Hall, or in this case SLO County, which relented, granting the Beanways their "grandfathered use" permit under a few conditions: During concerts they had to pay to have the sides of the road closed, pay increased insurance associated with the road closure, find alternative parking for concertgoers, and pay for a CHP officer to patrol the area and have an ambulance.
No problem, said the Beanways, and now their once surly neighbors are making five bucks a car providing parking in their fields.
Good country folk
There's a saying among Pozo neighbors: "There's the right way, there's the wrong way, and then there's the Beanway." It's a little nod to the family's go-it-alone, pioneer spirit--and perhaps a little snarkiness from a community that, prior to the Beanways' purchase of the saloon in 1983, had grown used to Pozo as a quiet little burg unspoiled by traffic and outsiders.

PHOTO COURTESY OF POZO SALOON
THEN AND NOW : The tree in front of the rustic Pozo Saloon is considerably bigger today than it was in 1870, when the photo at left was taken. Aside from that, the saloon's exterior remains largely the same.
# "The Pozo community is kind of a hard nut to crack," admitted Rhonda, who keeps track of dates by recalling the age of her son. "Let's see, we first did the Whisky Games hmm, Levi was about 7, so it was 1987."
One of the first annual events the Beanways instituted at Pozo was an annual Scottish Highland Games. People would gather to compete in events like the Farmer's Walk and the Hammer Throw.
"Our insurer didn't know we had unprotected spectators," Rhonda recalled, "so when they found out people were standing around while boulders were being thrown well, that event ended."

When the Beanways started to have small concerts in the '80s, the shindigs took place on the back porch of the saloon, and later on a small stage right behind the porch. This reporter remembers attending one concert and being surprised to see two people ride up on horses and tie them off by a row of motorcycles, and then a while later watching a bubble helicopter land in the back field with more concertgoers. What can I say? That's Pozo.
That same back field is now the site for Pozo Saloon's giant 3,000-plus concerts, the next of which is blues rock act The Black Crowes, who play on Saturday, Oct. 13 (see the music column on page 25 for details). It wasn't that long ago that the field was a rocky, fallow mess. How it transformed into the grassy paradise it is now is one of the "right way, wrong way, Beanway" kind of things.
"We got John Blake to plow and till the thing," Rhonda said, "and then we started walking through the field picking up rocks. We picked up rocks. He re-tilled it. We picked up rocks. We found lots and lots of rocks, but we also found a little antique gun that's now hanging on the wall behind the bar, toys, old glass bottles. When we finally got ready to seed it, we worked from 7 a.m. until 8 p.m., amended the field with fertilizer, rolled it to flatten it out, raked it. I thought, 'Oh my God! Why did we do this ourselves?' We had the kids out helping and they wanted to kill us! Levi was seeding this huge field with this little seed spreader."
Maybe that's why mowing the massive field is now Rhonda's job. She gets on her little riding lawn mower and goes and goes.
"It's my way to get away from people," she said. "If I see someone pull into the parking lot when I'm mowing, I just turn the thing around and go in the opposite direction. Vroom!"
Levi is one of those country kids who was a little hellraiser. He calls his mom Rhonda because, he says, "it was the only way to get her attention. If you called her 'Mom.' she didn't hear you." They continue to have a good (albeit antagonistic) relationship, and Rhonda is hoping the Pozo Saloon spotlight will begin to shift off of her and onto her son, who she says is the future of the saloon.
Levi is the one with the plans. He wants to build a new kitchen and make it a "real restaurant," a statement that prompted his mom to send him a mock-withering look, leading him to correct himself: "a restaurant open four or five days a week instead of two." He also wants to build new dressing rooms--now that the dancehall side of the saloon is the bands' greenroom during concerts--but he's a little hamstrung by the historic-use permit, which doesn't allow any new construction. He also wants to build a roof for the stage and get a liquor license to make the saloon--now a beer and wine bar--into a whisky bar. As for concerts, what's the limit?
"Dave Matthews," Levi said matter-of-factly. "Six thousand people."
Can you hear that? That's the sound of Pozo Saloon's neighbors mobilizing their protest-letter writing campaign. But the Beanways will be there with their documentation that proves the Pozo of today is experiencing less impact annually with their dozen or so concerts a year than it did when it was heavily populated, with constant traffic coming back and forth from the valley to the coast, when it had two mercantile stores, three blacksmith shops, three school districts, a hotel, and the saloon--the only business left standing today.
"Old things that have been part of the county forever have been taken for granted," Rhonda said. "People need to think when they're walking around that their footprints are going in the same spot as the early settlers' footprints."
Wise words, indeed. Now let's freaking rock, people! Woohoo!
Glen Starkey has been throwing up in the bushes of Pozo Saloon since 1986. Tell him to hold his liquor at gstarkey@newtimesslo.com.