On Easter's eve, my friend Nicole and I are pulling up to a pitch-black church parking lot in Los Osos. Then, we promptly walk down the street to catch SLO Tease Burlesque's Transformations show. Sorry, Jesus.
PHOTO COURTESY OF BRIAN J. MATIS PHOTOGRAPHY
SIZZLE: SLO Tease Burlesque performers like Caramel Aphrodite (right) and Dream Boat Willie (left) rocked the stage at the South Bay Community Center in Los Osos on April 15 as part of the troupe's Transformations show.
We were long overdue for a girls night, so after a drink at the Baywood Ale House, we make our way to the South Bay Community Center to take in burlesque in all its sassy glory for the first time, ever.
The parking lot is packed and the line spills out the door. We get our table assignment (lucky number 13) and quickly head to the back of the room, where bartenders from Sidecar Cocktail Co. are mixing up delicious cocktails for the low, low price of $7 a pop. All proceeds from drinks sold at the show go to RISE and the Cancer Support Community of the California Central Coast. With two Cures (tequila, aloe vera juice, and a rosemary garnish) in hand, we walk back to our seats. It's already heating up as nearly every seat in the house is taken. We happily people watch and feel a tad underdressed as we admire the variety of fedoras, corsets, and full-color tattoos on display.
Then, at last the lights began to flicker, signaling the start of the show.
The sweet tune of "Pure Imagination" from Willy Wonka and the Chocolate Factory fills the air and a male performer dressed in drag stands in what appears to be a sort of purple dress/cake contraption, with a lovely lace top. The big reveal comes when a string is pulled and he steps out of the dress, lacy short underwear and all.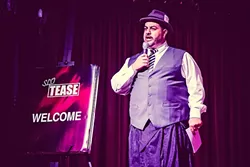 PHOTO COURTESY OF BRIAN J. MATIS PHOTOGRAPHY
MASTER OF CEREMONIES: SLO Tease Burlesque founder and emcee Rick Castle (pictured here at the troupe's fall 2016 performance) led the audience through an evening of fabulous burlesque numbers on April 15.
The fun only continues from there. One burlesque performer takes on the character of the bling-loving crab Tamatoa from Disney's Moana, scurrying about on stage to the song "Shiny": I was a drab little crab once/Now I can be happy as a clam/ Because I'm beautiful baby. She really came out of her shell.
While some clothes do indeed come, or rather fly, off at the burlesque, there's still a lot left to the imagination and a plethora of sparkly pasties (from flower-shaped to black x's) keeping the ladies covered up. I'm really happy to see a variety of body shapes and sizes represented in the show, because inclusivity is sexy, guys. Oh, and pro tip: Keep your phones tucked away during the show, no photos or videos are allowed and if you're seen with a lit up screen, you will be kicked out.
In between performances, emcee and SLO Tease founder Rick Castle takes a moment to talk to the audience about one of its partners, RISE, a nonprofit that offers services to survivors of sexual and intimate partner violence. Castle reminds everyone that while sexy times can be exciting, consent is still required, "every fucking time."

WHAT A TEASE: While the troupe's spring show has come and gone, check out SLO Tease Burlesque at sloteaseburlesque.com for information on upcoming performances.
The rest of the show flies by. A group of lady dancers in men's white-collared shirts and ties (and nothing else) take the stage to dance to the jazzy "Fever," and a fed-up housewife finally finds a way to distract her oblivious husband from his newspaper and evening cocktail. Before long, the lights are back on and we're making plans to drag more friends with us to the next burlesque show.
Send saucy and sordid story ideas to Ryah Cooley at rcooley@newtimesslo.com.