Good news! I wasn't killed, beaten, or even threatened last Friday, Feb. 3 when I stopped into the opening reception for The Phantom Project's first art show, about which I wrote last week when I chronicled my task as a juror along with Steven DeLuque and Tim Anderson.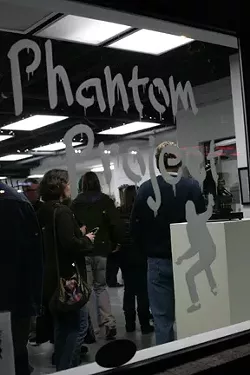 PHOTOS BY GLEN STARKEY
FOLLOW THE SIGN: The Phantom Project's iconic sign is currently up at 672 Higuera St., where the show hangs through March 2. Look for the sign on other empty retail spaces as more of these ephemeral shows pop up around the county.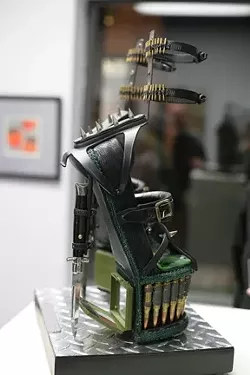 PHOTOS BY GLEN STARKEY
MY FAVORITES! : While the show is chock full of awesome art, my favorite piece was Larry Le Brane's "Combat Stilettos," constructed completely by hand of fused glass, switchblade knives, ammo, hardware, found objects, and "G.I. Jane compacts."
In fact, people were surprisingly sympathetic—even those we rejected. Take plein air painter Lachlan MacDonald, for instance, who emailed me this message:
"Dear Glen, you are a fortunate judge as the only one of the notorious trio to have a column to display your consternation, compassion, and humor at judging of The Phantom Project. I think the community is well-served by offering this kind of exposure to so many artists and look forward to the next opportunity to be rejected (but at least considered) for a display in an empty retail spot. My consolation prize is having my 'Sweet Springs Afternoon' painting in the New Times (Feb. 2, p. 36), huddled on the floor with two other aspirants. The photographer (you?) must have thought it worthwhile including. Lachlan MacDonald, Phantom Reject."
Very sweet of you, Mr. MacDonald!
What's really been fascinating is watching how instrumental Facebook has been in coalescing all these artists and art lovers into an online community. The event page is full of comments, and Michael Reddell, one of the event's organizers, decided there was so much ongoing activity on a page whose event date has now passed, that he made a Facebook page for the ongoing series. Log onto Facebook, find it, "like" it, and join in the conversation.
PHOTOS BY GLEN STARKEY
A COUPLE OF LOOKERS : Two of the dozens of opening reception attendees soak in Alyce Broome's "Lighthouse Peninsula," a gorgeous aerial view painting.

PHANTOM ART!: The San Luis Obispo Museum of Art (SLOMA) has embarked on a new series of art shows called The Phantom Project, which feature month-long shows located in vacant urban retail space. The first show is in 672 Higuera St. (thanks to Quaglino Properties) and runs through Friday, March 2, when there's a closing reception from 6 to 9 p.m.
Back on the event page, one of the event helpers, Peggy Sonoda, took in art and gushed about her interaction with Lena Rushing, who had two paintings included in the show: "I'm recovering from yesterday's intake. What an incredibly rousing response to the Call for Artists. As Lena Rushing told me when I checked her in, it gave her 'goosebumps to see all the excitement.' Thanks to all who showed up with their work, congrats to those who were selected, and to those who weren't, we'll see you next time."
People were just plain excited about this show! Julia Alexis wrote, "I can hardly wait to see the show. There was a high level of excitement at the day of entry. I believe that this Phantom concept will encourage entries that would not be seen anywhere else in the Central Coast."
Of course, the problem with a juried show is some people are rejected, as Reddell wrote on his blog:

AND THE WINNERS ARE…: 1st: Dennis Kehoe, Untitled 2


2nd: Larry LeBrane, Combat Stillettos

3rd: Lena Rushing, Straight Ahead

Honorable mentions:

Lena Rushing, You Can't Go Home Again


Sara Egerer, Manifest Destiny


Ron Roundy, As She Spread Her Wings


Robert Oblon, Penumbra


Henry Wessels, Flow, et al


Rusty Lipscomb, Take Your Time
"While this kind of show is very fast and efficient to jury, it is also the most traumatic for artists. If at least one of your pieces is accepted, you're spared the worst of the trauma. But if not, then your entire ego is laid bare, and you have to do what one artist at today's intake and jurying event good-naturedly called 'the walk of shame.' You can't just slink away to nurse your wounded ego; you have to pick up your work and walk it out the door for all to see. I write about this to make a very important point. Rejection is the price of admission into this world of the full time artist. You will experience it. If you've been at it for long, you know this. If you've been at it for long, you've learned to steel yourself from it when it comes."
Here's what's important. A show like this, especially the first one in which people are bringing in their very best works, results in a stellar collection of art. As Robert Oblon wrote on Facebook after the opening, "The opening reception this evening was as close to an L.A. opening since I've been here on the coast. Great turn out; everyone's work looked great."
True, that! Cheers to The Phantom Project! Congrats to the included artists! And for those rejected, keep the faith. Creating art is its own reward.

Glen Starkey takes a beating and keeps on bleating. Keep up with him via twitter at twitter.com/glenstarkey, friend him at Myspace.com/glenstarkey, or contact him at gstarkey@newtimesslo.com.