It wasn't until this spring that I finally planted the tiny packet of fenugreek seeds I received on my first visit to Foremost Wine Company, almost two years ago. Since opening in November 2014, owners Rob and Nancy Murray have vowed to honor quality ingredients first and foremost, hence continuing the practice of giving out seed packets along with every meal.
Those unassuming fenugreek seeds grew into a thriving life-form, and so has Foremost Wine Company, which is continuing its mission to plate only the ripest, healthiest, happiest local bounty. Executive Chef Julie Simon carries this mission out with immediacy, integrity, and refreshing simplicity.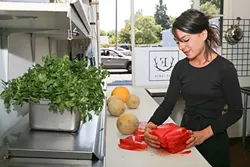 PHOTO BY DYLAN HONEA-BAUMANN
SIMPLY FRESH : Foremost Wine Company Executive Chef Julie Simon believes that good food isn't complicated, and the best food helps you live well.
However, "simple" isn't always the first thought that comes to mind when locals think of the downtown dining establishment named one of Wine Enthusiast's Top 100 Best Wine Restaurants. With high, cavernous ceilings, lush greenery throughout, and a dark and moody aesthetic, the restaurant feels a little like a living, breathing jungle: Exotic. Exciting. Adventurous. Not quite your "everyday hangout."
Simon and her team want to change this perception, one plate at a time.
"Foremost is beautiful and we love our location, but for your average weekly diner, it can be off-putting," Simon said during a break from slicing fresh summer melons. "It's not that we are more expensive, but the menu wasn't offering the kind of warmth we wanted to convey. We heard a lot of people say they felt like they thought they needed to get dressed up or spend $100 a head just to eat here. That's never been what this place is about."
It took some retooling, but Simon and her team cleared a path toward better accessibility and understanding. A more user-friendly menu plus a slimmed down, dedicated staff have made all the difference.
"In terms of the food offerings, the quality and philosophy hasn't changed. It's exactly what we've believed in from the get-go, just less obscure, a little bit more approachable," Simon added.
Yes, you can still get fantastic small plates like fresh burrata mixed with warm garlic, speck, and honeycomb; a killer cheese and meat board; or the tartare of the day. However, you can also get cozy chicken biryani to feed two or an "everyman dinner" for the rancher that lives within us all: grilled hanger steak with a fried egg and fingerling potatoes or coffee-braised short ribs with creamy polenta.
If you really want to understand how Foremost is courting the community, just look at the calendar. The regular menu still changes month to month depending on what's in season, but Fridays will soon feature more "raw" plates: Think local lamb tartare and fresh sashimi caught by Morro Bay fishermen.
Wednesdays have ushered in a 20 percent off bottle deal, which Simon said has become incredibly popular with the wine-sipping set. Sunday brunch is now served from 10 a.m. to 2 p.m., featuring farm fresh eggs from LooLoo Farms in Paso Robles, which you can add "wherever, however, and whenever" you want (that means atop grilled shrimp, steak, or crispy potatoes with hollandaise). Note: There are a lot of bubbles going on during brunch, too.
PHOTO BY DYLAN HONEA-BAUMANN
BOTTLES ON BOTTLES: Wines from around the region and the world come together to create what Wine Enthusiast named one of its Top 100 Wine Restaurants. Restaurant Owners Nancy and Rob Murray are wine grape growers in their own right and proud proprietors of Tooth and Nail Winery in Paso Robles.
My favorite part: Happy hour—held from 4 to 6:30 p.m. daily—that now features outrageously delicious Full of Life Flatbread of Los Alamos (the satisfying finger-food is especially good when paired with tunes by DJ Malik, SLO's master of tasty vinyl).
"I'm so excited about the flatbreads; the flavors are always changing, and it's a quick pick-up that's very affordable," Simon said.
Fans of Foremost's cult classic ramen burgers—sold on the street during Thursday night Farmers' Market—will be sad to know the popular entrée has been put on pause. However, the chef said she intends to push the restaurant's farmers' offering into even more delicious territory.
"Instead of selling food, we'd like to sell a line of product, perhaps our compound butters or spicy tomato jam made in-house," Simon said. "We're so excited about the abundance of summer, and we love to rethink how to use that excess. The idea is for people to be able to take home that restaurant quality."
Growing up in France (and in fragrant French kitchens), the chef sees no reason not to use every part of an animal or ingredient. Watermelon rinds can be pickled and bones made into stock. She cans what she can't serve right away; she finds joyful utility in the trimmings, the fat, the skin.
This way of thinking is creeping not only into the consciousness of other restaurants, but into the very heart of Central Coast eaters. In a fertile, ag abundant region known as much for being "cowboy country" as "wine country," Foremost hits the "fresh, local, and sustainable" nail on the head.
"That is our challenge; to be seen as such, yet not pretentious. My food comes from right here," Simon said, pointing to her heart. "As a chef, I have a very, very organic approach to my cooking and I tend to work to not overdo it. I seek quality and integrity in every ingredient, how it was raised; how it was grown."

RUB ELBOWS, BREAK BREAD: Foremost Wine Company is located at 570 Higuera St. in San Luis Obispo. Dinner hours are Tuesday, Wednesday, and Thursday from 5 to 9 p.m. and Friday and Saturday from 5 to 10 p.m. Sunday brunch is served from 10 a.m. to 2 p.m. Weekly happy hour runs from 4 to 6:30 p.m. daily. For more information, call 439-3410.
With this in mind, Simon welcomes all walks of life to take a seat at the Foremost table. Now, more than ever—she wants to share the warmth and comfort of summer's best offerings with all.
What's getting her out of bed most mornings? Perfectly peak stone fruit, impossibly juicy heirloom tomatoes, her dog, and the joy of working with a passionate staff.
"It doesn't have to be so cerebral," Simon said. "Good food is about the art of knowing how to live, and about taking the time to live well."
Hayley Thomas can't wait to pig out on one of those creative flatbreads come happy hour. She can be reached at hthomas@newtimesslo.com.