Co-writer, director, and co-star Bradley Cooper helms this remake of A Star Is Born (first released in 1937, and later remade in 1954 and 1976). In this iteration, Cooper stars as Jackson Maine, a famous musician whose star is waning as he discovers talented but insecure singer Ally (Lady Gaga). As Jack battles alcoholism and his own decline, he helps Ally find the strength to let her talent shine. (135 min.)
Photo Courtesy Of Warner Bros. Pictures
CROSSED TRAJECTORIES A seasoned performer near the end of his career (Bradley Cooper, left) discovers, nurtures, and falls in love with a talented newcomer (Lady Gaga) in A Star is Born.
Glen You'd think on the fourth retelling, things would be getting stale, but Bradley Cooper takes a sweeping look at the rise and fall of stardom, the shallowness of the entertainment industry, creativity, substance abuse, family dynamics, and romance. It's a stunning achievement, and I was most surprised by Lady Gaga, whose acting chops were impressive. I've never been a big fan of her music, but her voice is undeniably stunning. Almost every time she sang, the tears welled up. To see the fashion icon with her natural hair color and little to no makeup made her more vulnerable and sympathetic. This film is certainly Bradley Cooper's baby, and for a directorial debut, it's beyond incredible. Perhaps he's been in front of the camera for so long that he simply understands what's needed behind it. It's been driven into Ally that despite her talent, she doesn't have the looks for stardom. There's an amazing scene where she overhears her father (a terrific Andrew Dice Clay) explaining to his friends that her looks prevent her from success. When Jack wanders into a bar after a gig looking for a much-needed drink, he happens upon Ally singing "La Vie En Rose" and is immediately smitten by her looks and talent. Later that night, she surprises him by making up a song about him on the spot. Jack gives her the confidence to believe in herself, to feel love, to feel good enough. That's what every good romantic relationship should do, and seeing that message so deftly brought to the big screen is in part why I love this film. It's got enough heart to make the heartbreak feel real.
Anna This is a fantastic directorial debut for Cooper. I only have high hopes for what he brings to the big screen in the future. I'm in love with Lady Gaga's voice. Though her music in general is more poppy than I usually go for, that woman can sing. A Star Is Born is a great showcase for a softer side to her music, the songwriter in her really shines through in the emotionally complex lyrics, and her voice is soulfully tear jerking. Cooper also shines as Jackson Maine, a good-looking, talented musician who draws crowds that can fill stadiums. He comes off as both roguishly handsome cowboy and lost-puppy drunkard, a sweet but haunted man racing life to the bottom of the bottle. He's the guy everyone falls in love with in one way or another—the Monet that from a distance is heartbreakingly beautiful but up close is just a mess. Ally is beautiful, but not by normal Hollywood standards, and she's resigned to the fact that she'll never be a star outside of her small world. Jackson's sudden presence in her life is a freight train that sweeps her up and out and straight into the stars. Yet it seems the moments where they can stare at each other eye to eye are brief; her climb meets his fall, and in the middle is their love and a whole lot of grief along the way. Imperfect, silly, beautiful, and heartbreaking all at the same time, these two are meant for each other in the saddest ways.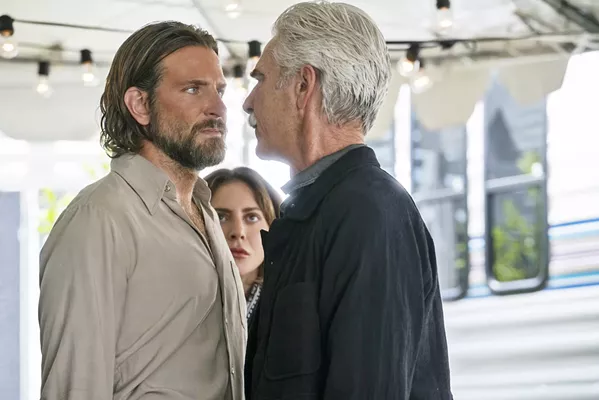 Photo Courtesy Of Warner Bros. Pictures
ESTRANGEMENT Jackson Maine (Bradley Cooper) squares off against his brother and manager, Bobby (Sam Elliott, right), as Ally (Lady Gaga) looks on.
Glen The film is definitely a tragedy, but it's also heartbreakingly beautiful. Sam Elliott stars as Jackson's brother and manager, Bobby, who's lived in Jackson's shadow and does his best to staunch Jackson's self-inflicted wounds. Their relationship is tenuous at best. In addition to his substance abuse, Jack's hearing is going, and he's not interested in following his doctor's orders to wear earpieces when performing for fear it will disconnect him from his audience. He doesn't seem to realize his drug use already does that. His most important lesson to Ally is to be authentic, so when he sees her manager Rez (Rafi Gavron) changing her appearance, adding dancers and choreography to her show, he's artistically offended, though Ally perceives it as jealousy. They're disconnecting just when they need each other most. Like all substance abusers, Jack's behavior is unforgivable—he says terrible things to Ally and embarrasses her with his loutish actions. Their love, however, is real, and she struggles between being supportive and enabling. There's so much going on in this film, and the fact that Cooper is able to weave all of these emotionally potent threads into such a heartrendingly beautiful tapestry is a triumph. I predict some Oscar nods for this one. See it in the theater; bring your own tissues—this one's a tearjerker.
Anna There's definitely been talk of at least Gaga getting a nomination. For me, Cooper also deserves a nod both for his performance and direction. I had heard that this one was going to make me cry, and even going into it with that knowledge, I couldn't stop a serious mascara tragedy from happening. Thank God that theater was dark enough to hide my snot bubbles and furious eye swipes. As wonderful as watching a love story can be, watching the vulnerability and messiness of well-nuanced characters is even more satisfying. The dread of knowing these lovers are dancing around tragedy but still almost reluctantly falling for them and into their world is totally satisfying, despite the fact it also made me want to curl up in a bundle and wait for the world to fall away. The pairing of Cooper and Gaga was meant to be. These two lift hearts just as well as they break them, and the raw talent behind the machine pushes out a product so full of love and intent that it's written on their faces. This is one I'll watch time and time again. Δ
Split Screen is written by Senior Staff Writer Glen Starkey and his wife, Anna. Comment at gstarkey@newtimesslo.com.