Two very different story ballets are opening just steps away from one another the first weekend of April. One is Ballet Theatre San Luis Obispo's revival of Robin Hood, by artistic director Theresa Slobodnik. The other is the Civic Ballet's revival of Alice in Wonderland, by artistic director Drew Silvaggio. Both ballets owe their name recognition to the animated Disney movies that standardized and kidified their characters and narratives. And, while perhaps relying on such recognition to draw an audience, both seek to transcend this Disneyfication in very different ways.
Alice dies at the end
First: Alice, which opens April 6 at the Spanos Theatre. While based on Lewis Carroll's classic of children's literature, the show is remarkably unfit for very young audiences. For starters, Alice dies at the end. This is no spoiler: We know this from the first scene of the ballet. Flash-forwards are hard to do onstage, but here it works, somehow. Through the use of multiple dancers playing Alice, we see the "now" Alice observe, as in a dream, the "future" Alice cornered by outlandish creatures, dragged to a guillotine, and beheaded. All this is danced to The Doors' "The End," at once confirming the scene's chronological place in the story and assuring you that this will be the most badass ballet you've ever seen.
ALL PHOTOS BY BARRY GOYETTE
POINTED NONSENSE : Drew Silvaggio, artistic director of the Civic Ballet, revives his epically absurd Alice in Wonderland ballet.
This year marks the fourth staging of Silvaggio's Alice in Wonderland. And just as he does with Civic Ballet's The Nutcracker, Silvaggio has completely re-cast and re-choreographed the ballet every time. An earlier version of his Alice opened with a scene Silvaggio said he had purposely choreographed to be boring: 30 minutes of muted classical music and a line of dancers en pointe doing, with great skill, a series of deliberately forgettable steps. Thirty minutes is just enough time for most audiences to think, "So this is how the show is going to be," and to settle resolutely into that idea. Then Alice fell down the rabbit hole. The audience heard screams. They thought, "Funny how that screaming sounds just like the opening of Pink Floyd's 'Speak to me/Breathe.'" It did, and it was. Wonderland unfolded, a place of innovative movement and '70s psychedelia.
But Silvaggio seems wary of repeating himself from year to year, despite the success of a previous year's piece of choreography. This year's opener is another testament to that innovative impulse.
For continuity, "now" Alice—danced by the virtuosic Jane Selna, who was so brilliant as the White Rabbit in last year's production—remains the principal Alice of the ballet. (Last year's Alice, Jenna Lee, plays the White Rabbit.)
Silvaggio has also found intriguing ways to simulate the special effects required by Carroll's narrative: While, in previous years, Alice's fall down the rabbit hole was conveyed by a dancer suspended in space, arms and legs flailing, this year a film projection shows her fall. Her fluctuations in size—cue David Bowie's "Changes"—are communicated more abstractly, with several younger dancers in identical costumes representing the shrinking Alice. (Later, the little ones will double as hedgehogs.)
The cartoon Alice in Wonderland skipped over many of the more bizarre scenes in Carroll's book, while pulling other scenes and characters from the work's sequel, Through the Looking-Glass. Working only from Carroll's original, Silvaggio has brought back, and made wonderful use of, some of these more hallucinatory situations. In one forgotten scene, Alice finds herself at the home of a duchess, whose cook is preparing soup for the duchess's baby. But the cook puts too much pepper in the soup, and the infant begins sneezing and howling. At this, the duchess flies into a rage at her baby.
Alice saves the child from harm by running out of the house with … it (the book never identifies the baby's gender), but shortly after that, the baby turns into a little pig, and runs away into the wood.
"In the book, it's very graphic," Silvaggio said. "She's throwing knives at the baby and putting pots on its head. And then I think out of that, this baby, to protect itself, changes into this pig. And it's just an animal that could live anywhere and deal with whatever."
The pig-baby, by the way, is played by an adult-sized dancer, which only heightens the scene's absurdity. Then there are the dalliances of the Gryphon and the Mock Turtle, and a particularly weird lobster dance.
"The novel is nonsense, but pointed nonsense," Silvaggio reflected.
Indeed, Silvaggio's Alice, like its source material, exudes nonsense so utterly certain of itself that the viewer can't help but feel compelled by the dramas onstage. We fear for Alice, whose end we know is near, and are both intrigued and made uneasy by Wonderland's unhinged giddiness.
In the ballet's final scene, set to No Doubt's "Tragic Kingdom," this eerie giddiness comes to a frightening head, as the creatures of Wonderland seal our protagonist's fate, lining up like a firing squad, all the while grinning ear to ear, baring their teeth with a kind of malice not seen since Jack Nicholson chased Shelley Duvall with an axe in The Shining. This is the end—again. But perhaps this, too, is but a vision, or a little girl's fever dream.
In Alice, the imminence of death heightens the senses, makes moments full and weighty. Ryan Lawrence's Mourn, a shorter original ballet that directly follows Alice in Wonderland, looks at death from the other side. Set in part to New Orleans funeral music, Mourn explores the idea of loss and grief from a series of differing perspectives. Oddly enough, the effect of the piece, which I saw in rehearsal, is uplifting, even cathartic. Even celebratory.
"It started as an exploration of different elements of mourning in different cultures, really," Lawrence explained. "The stages of grief are a part of it. The idea of paid mourners I find really interesting as an allegory for what the performer is; the performer taking on the emotions for the audience's sake. Emotions are dirty and ugly and messy, and you don't know where they're going to take you. And letting someone else do that in a codified way is, I think, a lot of what we do as performers."
Lawrence grew up on the Central Coast and danced in the Civic Ballet as a kid. He studied dance at Julliard, danced with Hubbard Street in Chicago, with Lar Lubovitch in New York, and then, having long been attracted to the European approach to dance, made his way to the Netherlands, where he danced with Scapino Ballet Rotterdam and a street performance group called De-Movers. He moved back to San Luis Obispo, this time with a wife and a young daughter.
There are 26 performers in Mourn, their roles largely amorphous, but a lone woman dances at its center, her movements often contrasting with the others'. At times she appears hopeful. At others, she is wracked by sorrow, tearing at her clothing, her face contorted. This is the choreographer's wife, Maarje Lawrence, a former Scapino dancer and a fearlessly expressive performer.
The other 25 dancers often appear to express with their movements the inner torment of the individual. Their sudden burst into angular, aggressively happy movement feels, for instance, like a personification of denial. (Contrast this with the piece's ending, in which the dancers' joy feels unified and genuine.) At other times, they seem to personify the external forces which can exacerbate one's sense of loss: a moment in which several dancers seem to try to offer comfort to the woman, they appear instead to smother her, their sympathetic, embracing gestures beginning to shape her every movement.
Robbin' the Hood
Opening the same night, April 6, at the Performing Arts Center is Ballet Theatre SLO's revival of the original ballet Robin Hood, created by artistic director Theresa Slobodnik. Robin Hood, which premiered in 2009, is another tale of intrigue, adventure, a lovable hero, and a bloodthirsty monarch. Slobodnik based her production on Roger Lancelyn Green's The Adventures of Robin Hood, a collection of stories based on research into Robin Hood myth and legend.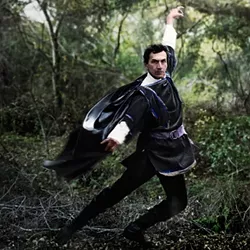 ALL PHOTOS BY BARRY GOYETTE
MAN IN TIGHTS : Julian Rossi, pictured, is Robert Fitzooth—aka Robin Hood, in the Ballet Theatre SLO's revival of the original ballet Robin Hood, choreographed and directed by Theresa Slobodnik.
There are no flash-forwards or sudden modernizations in this production: as is a trademark of the company, beautiful period costumes and classical music and movement are used throughout the performance. The music of Ottorino Respighi, specifically the composer's updated orchestral versions of folk music, conjures the feel of the ballet well: a beloved folk story, refined and romanticized, its edges softened, but ultimately kept intact.
When the ballet opens, King Richard the Lion-Hearted (a perfectly cast Mark Plater) has been taken as a prisoner of war during the Crusades. His brother, the power-hungry Prince John (danced to great effect by Bernie Delgado) ruling in King Richard's absence, now keeps his brother imprisoned. As a result, the common people of England have suffered greatly, burdened by Prince John's over-taxation and unethical laws. If they were unable to pay their taxes, or if they were caught hunting the king's deer, they could be arrested and hanged. Many commoners, having lost their land and their possessions, formed roving outlaw bands, taking to the forests as a means of defense.

ATTENTION, BALLET JUNKIES!: The Civic Ballet presents Drew Silvaggio's Alice in Wonderland, with Ryan Lawrence's "Mourn," playing Saturday, April 6, at 2 and 7 p.m., and Sunday, April 7, at 2 p.m. at the Spanos Theatre. Tickets cost $18 to $29. Ballet Theatre San Luis Obispo's Robin Hood, choreographed and created by Theresa Slobodnik, plays Saturday, April 6, at 7 p.m. and Sunday, April 7, at 2 p.m. at the Performing Arts Center. Tickets cost $20 to $50. Both theaters are on the Cal Poly campus. For tickets, visit pacslo.org or call 756-4TIX (4849).
In the opening scene, a forest outlaw, Much the Miller (Blair London) shoots a deer—and we know no good
will come of it. Much's offense is discovered by Sir Guy of Gisborne (James van Lommel), a henchman of Prince John, and several guards of the Sheriff of Nottingham, who are on their way the wedding of Robert Fitzooth (Julian Rossi) and Maid Marian (Melissa Rasmussen). But Robert himself, traveling with his close friend Will Scathlock (Matthew Jacobs), intercepts them, saving Much's life. Later, Sir Guy clandestinely sends a guard to execute Much for real this time, but Robert kills the guard, securing his fate as Sir Guy's enemy. This does not bode well for the wedding.
Coveting Maid Marian's hand himself, Sir Guy tells her father, Lord Fitzwalter (Robert Lee Norton), of Robert's crimes, demanding that he call off the wedding, and asking for Marian's hand in marriage instead. A befuddled Lord Fitzwalter agrees. And that's about the time Robert Fitzooth becomes the mythic Robin Hood, and the forest outlaws become the Merry Men.
Robin Hood meets his right-hand man, Little John (a wonderfully athletic and funny performance by Darren Bridges) in a manner less heroic than it is comical. Crossing a bridge, he encounters Little John, practicing with his quarterstaff, attacking invisible opponents. At the sight of Robert—soon to be Robin—Little John challenges him to a duel, which ends rather embarrassingly for Robert. But the men soon bond over their mutual distaste for Prince John, and, along with Much, Will, and the drunken Friar Tuck (Zach Johnson, whose flair for physical comedy makes for some of the funniest moments in the ballet), they form the Merry Men, and go about that whole robbing-the-rich business.
Slobodnik's approach to choreography often calls to mind the era of silent film, with gesture and pantomime taking the place of conversational exchanges. The choice helps convey the details of the narrative in a more direct way, though it can't help but feel stagey at times: We are aware that the dancers are miming for the sake of our comprehension. Moments of more abstract movement, by contrast, feel closer to a dancer's pure expression, something we just happen to be privy to, something to be swept away by.
Where Alice in Wonderland is exclusively female, Robin Hood is a story about men—though some women dance in men's roles, and others appear as lady-in-waiting type characters (the talented Michelle McLaughlin, who danced the titular role in Ballet Theatre's dreamy Undine, returning on a break from college, is one of them).
Robin Hood is epic in scope, with its quarterstaff duels, archery contest, and its still-relevant story of a rebellious hero bucking convention, freeing the oppressed, and finding himself in the process.
Alice's world is a murkier place. Wonderland is its own universe, whose logic is never quite grasped. And where Alice perishes next door in a thunderous, hallucinatory finale, the Red Queen exultant, Wonderland winning, Robin Hood demonstrates the triumph of good over evil, the power of an individual to transform a corrupt society. The two ideas don't overlap, but the two ballets do—even playing at the same time.
How is Arts Editor Anna Weltner like a writing desk? Answer at aweltner@newtimesslo.com.