When Tent City Beer Company Bar Manager Brian Duncan reached out to his old Atascadero musician buddy Heath Seager to offer him a gig, he hoped small town pride would outweigh 1,200 miles. Since the early 2000s, Seager's band Criticnue has been a staple of the Atascadero and Central Coast music scenes, but now the frontman lives in Texas.
"Criticnue played a reunion show on the patio last year, and it was so busy that we had people in lawn chairs lined up on the sidewalk," Duncan said. "I really wanted to get them and a few other local bands back together for Tent City's five-year anniversary."
Photo by Hayley Thomas Cain
MUSIC MAN Tent City Beer Company beer-slinger and event organizer Brian Duncan (pictured above) gathered a gaggle of old-school Atascadero music acts for the brewery's anticipated five-year anniversary bash.
So, Duncan sent out a mass message on Facebook, crossing his fingers that—like some sort of beer-soaked bat signal—the rockers would assemble.
You know the story. Bills, kids, work—life has a way of deterring even the best-laid musical plans and well-intentioned reunions. However, and this was Duncan's hunch: Years may pass, miles may divide, but Atascadero musicians will always gather for good beer and a good time.
"Well, Heath's flying in from Texas!" Duncan revealed as I parked my car on the asphalt behind Tent City, which, in a few weeks, will turn from parking lot to concert venue. "Everyone I sent a message to was super pumped on this idea, right off the bat. People are going to go absolutely crazy."
We retreated to the cool taproom to discuss the big concert—a lineup that would make any 30-something A-town native pump a fist in the air.
According to a fresh poster hanging above the row of shiny taps, the stars have truly aligned: the three co-headliners include A-town music royalty Criticnue, Axia, even Siko (which I totally remember playing lunch hour at Atascadero High School, circa '02).
Some of these musicians have stuck around the Central Coast, some have traveled and settled elsewhere, and plenty have started other projects, but all of them will reunite for a day of tunes, craft beer, and food trucks. And, if Duncan is correct, there will also be hundreds of attendees sharing in this momentous occasion.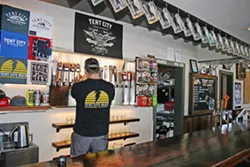 Photo by Hayley Thomas Cain
FIVE YEARS OF BEERS It's been five years plus a lot of beers, and Tent City Beer Company is upping the ante with a big anniversary bash this July 1 featuring live tunes, taco trucks, and (of course) shuffleboard.
Why all the commotion? I'd say half love of local music, half love of local beer.
"There was always a big need for a place like this here," said Brian Vogel, Tent City co-owner and co-brewer. Craft beer may have been booming across the state for some time now, but Tent City did it in Atascadero first.
When the brewer opened Tent City in 2012 alongside husband-wife duo Kendall and Rachel Bryson, it became an instant source of neighborhood pride. The guys got to brewing while Rachel tended bar. Through two pregnancies, she's welcomed the gamut of area characters, and there have been many. Word has it even the police commander has a personalized etched mug hanging above the bar.
Young people came in droves. Suddenly, you could find singer-songwriter nights and comedy acts on El Camino Real. If you were feeling lonely, you could shoot some shuffleboard or say hi to unofficial mascot, Jack, a Boston terrier known to belly up to the bar.
As the brewery grew, so did the events. Collaborations with Tap It Brewing Co. and top tier tap takeovers have coincided with larger music events in the front patio and packed standing-room-only gatherings complete with taco trucks and commemorative T-shirts.
Of course, the beer is still front and center. Now, Tent City offers around 15 brews, from their super popular Imperial Red Ale and IPA to seasonal treats like the summer-ready Mexican Lager. A special double IPA will be released on July 1 in celebration of reaching the five-year mark.
"We don't really mess around with fruit beers and trends," Vogel said. "We still focus on making simple standard ales and lagers, but perfect them to make them very drinkable and delicious."
The anniversary bash will unfold in the back parking lot and beer will be available both inside and out. It's the first time the team has held an event out back, and people are encouraged to bring low-back chairs and blankets to buffer against the concrete. Two SLO area acts—pop group KY and garage rockers The Hopeless Romantics—will open the show. The whole stage crew is local, including Tyson Leonard of Tropo and Rain Fur Rent, who is lovingly performing sound duties.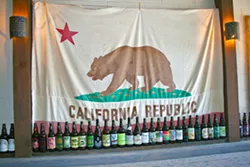 Photo by Hayley Thomas Cain
BE THERE Atascadero's Tent City Beer Company is gearing up for one heck of a party celebrating five years in business.
According to Kendall, the event has already made its way around the tight-knit town.
"I was shopping at Miner's hardware when someone I'd never met came up to ask if the reunion show was truly happening," he said with a smile.
"This isn't a bunch of cover bands," Duncan added. "There was a real music scene in this town, but that has sort of gone away. Nothing like this has happened in Atascadero in a really long time."
Add in the craft beer aspect (we all know about Atascadero's generous grandfathered-in open bottle law) and you've got yourself one hell of an A-town beer bash worth telling your grandkids about.
Kinda makes you wonder: When it comes to all this buzz, what came first? The beer or the bands?
"Before there were ever events here, people were packing the place out because the beer was—and is—so good," Duncan said.
Dead Oak Brewing and Santa Maria Brewing Co. both have plans to start up beer production facilities in Atascadero. Still, at least in 2017, there is only one place to go for a cold one brewed by—and for—A-town locals.
"We're still the only brewery in town," Duncan said.
Hayley Thomas Cain is raising a beer to Atascadero. She can be reached at hthomas@newtimesslo.com.