Some singer-songwriters become ingrained in our culture, people like Jackson Browne, James Taylor, Joni Mitchell—they're simply too good to ignore. Tyrone Wells is like that. He's also pretty darn charming.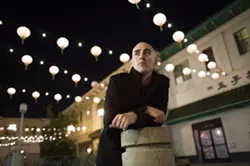 PHOTO BY DAVE HILL
DEEP WELLS: Tyrone Wells headlines a three singer-songwriter show on March 27 at SLO Brew.
"Tyrone Wells is 6 feet 4. He's bald because he's never really liked his hair, so he just shaves it right off. He's a white guy (a surprising fact to many). He has four older sisters. He originally hails from Washington state. His dad taught him how to yodel. He wanted to be a pro athlete, but wasn't even close to having what it takes. He picked up an acoustic guitar and fell in love. He's writing this bio. He's referring to himself in the third person. He believes Jesus is for real. He loves being a husband and a father. He's really normal and totally un-amazing. He tours quite a bit. He's trying to find some sort of balance in this crazy busy world. He's thinking about going back to a good old-fashioned flip phone. He's never written a 'hit' song, but some people really like them anyways. He hopes you are 'some people.' He thinks maybe some day he will write a hit song, but he acknowledges that he also thought he would be a pro athlete. He likes to think that he sings from his soul. He is super stoked that you're checking him out right now. Thanks for reading and listening. Peace."
Kind of hard not to like a self-deprecating guy like this, but after you listen to his music, you'll really fall in love. He's currently on a 32-date national headlining tour to support his new album, Roll With It, which may or may not have a "hit" song on it but definitely does have one great song after another.
Tyrone Wells headlines SLO Brew this Friday, March 27 (7:30 p.m.; all ages; $14 presale or $16 at the door), with two opening acts. Dominic Balli claims to have been a "hopelessly tone-deaf teenager" but who said of his musical roots, "Music is a gift. And I feel like the Creator gave it to me. I mean, I went most of my life being 100 percent musically inept, and totally unable to sing, and then one day it was like, here. This is yours. Use it." His new album is called Not For Sale.
Emily Hearn is touring in support of Hourglass, her new album of 12 pop, folk, and country-flavored songs. The 24-year-old has a gorgeous voice and serious songwriting skills. Three great singer-songwriters! This is going to be an uplifting night of family friendly music. Visit slobrewingco.com for their other shows this week.
PHOTO COURTESY OF HEARTACHE SISTERS
LOVELORN: Heartache Sisters headline a Songwriters at Play showcase on March 29 at Sculpterra.
Songwriters at Play!
Homegrown singer-songwriter showcase series Songwriters at Play kicks off on Thursday, March 26, at Shell Café (6:30 p.m.) with performances Kye Alfred Hillig, Pete Jordan, Derek Senn, and Aireene Espiritu, as well as headliner Amber Cross, who I wrote about a few weeks ago for her new album My Kind of Church, a collection of gospel tunes recorded live at last year's Parkfield Bluegrass Festival (which, by the way, is coming up again on May 7 through 10; more info at parkfieldbluegrass.org). Amber's got a hauntingly beautiful voice and is well worth seeing.
On Sunday, March 29, at Sculpterra (1 p.m.), hear Kenny Taylor, Albert Sanudo, touring violinist-vocalist Razz, and Bay Area balladeer Bobby Dunne, as well as headliner Heartache Sisters. If you're a fan of "Emmylou Harris, Loretta Lynn, First Aid Kit, and Shovels & Rope, give a listen to Heartache Sisters," said event organizers. "The Bay Area duo of Laura Benitez and Michele Kappel-Stone play in a country-rockabilly band, Laura Benitez & the Heartache, and formed the duo as a side project."
And on Monday, March 30 (6:30 p.m.), Songwriters at Play's newest venue, Bang the Drum Brewery, hosts Che Miller & Colleen Gnos, Erin Inglish, Steve Ambarian, Bayley Bagby, and Reese Galido, as well as headliners Wood, a roots-rock-Americana act featuring songwriters Steve Kindel, Paul Silva, and Dahlan Richenberg joined by Rob Strom (bass) and Barry Johnson (percussion).
More music …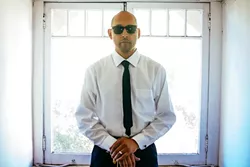 PHOTO COURTESY OF J MOSLEY
GUITARISTA: L.A.-based guitarist-songwriter J Mosley plays Frog and Peach on March 27.
J Mosley, an L.A.- based guitarist-songwriter, plays Frog and Peach this Friday, March 27 (7:30 to 8:30 p.m.), in support of his Top Notch/Universal Music release Under the Sun. Flutist Sukari Reid-Glenn and sound tech Ted "T3" Stanley will join Mosley on a set "infused with Latin soul, organic sounds of guitar and flute mixed and incorporating live arrangements of music, technology and instrumentation," according to press materials. Mosley was the first signed act to Madonna's record label Maverick Records as the guitarist/songwriter for Proper Grounds, and he writes and collaborates with Ron Walters Jr. (music director for Barry Manilow).
St. Paddy's Day may have come and gone, but there's still time to get a touch o' the Irish this Friday, March 27, when Altan plays Cal Poly's Spanos Theatre (8 p.m.; $30.40 to $38 at 756-4849 or calpolyarts.org). From tender old Irish songs to energetic reels and jigs, this band delivers authentic Irish music, prompting the Boston Globe to call them "the hottest group in the Celtic realm!" Their newest album, The Widening Gyre, "explores and celebrates the musical connection between the traditional music of Ireland and the roots and bluegrass music from America," according to their press materials.
Paso's Broken Earth Winery reunites singer-songwriters Joe Koenig, Jon Clarke, and Natalie Haskins for a special concert this Saturday, March 28, from 1 to 4 p.m., with special guest Bob Hamilton sitting in on pedal steel. "It's our first show reunited as our former acoustic trio since 2012, before I moved to Hawaii," Haskins said. "Jon Clarke is moving up to Oregon this summer after graduating college, so it's our last set together for awhile. I couldn't be happier to play one last set with these guys at a beautiful North County vineyard. We all know each other's music so well, we fall into our harmonies so easily, and playing together feels effortless. We've all written new tunes in the years since we've played and will be playing them at the winery. Joe is promoting his newest album, Bleed Like You Bleed. Gotta catch this trio for this rare and special show. Free and all ages." Expect some amazing songs.
Hot on the heals of his excellent new album, Another World, comes an intimate acoustic show featuring guitar guru Guy Budd with jazz and folk chanteuse Inga Swearingen at Boo Boo Records in a free in-store on Saturday, March 28, at 5:30 p.m. These two are pretty much magic together.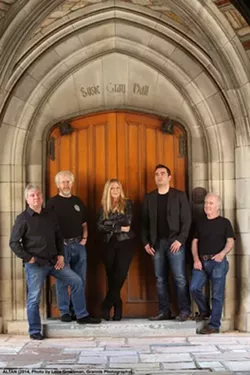 PHOTO COURTESY OF ALTAN
CLAN CELTIC: On March 27, Altan brings its Celtic sounds to Cal Poly's Spanos Theatre.
San Francisco singer-songwriter Bobby Dunne will stop by Linnaea's Café this Saturday, March 28 (8 p.m.), on his way home from appearances at SXSW. According to his bio, he "writes music that is compelling in its contrasts. His love songs can be adoring or brutal, his lyrical landscapes hopeful or torn apart by violence. He has delicate folk songs and ones with driving blues riffs, all tied together by his unique sound and powerful voice."
The Basin Street Regulars Hot Jazz Society's Sunday Session on Sunday, March 29, at the Pismo Vet's Hall, should be a real hot time with performances by the Arroyo Grande High School jazz act Quintessential as well Cell Block 7 from Lodi. There's plenty of room for dancing or just listening from 11 a.m. to 4:30 p.m. General admission is $10 ($5 for members), and food and drink is available. The event opens with a two-hour jam set-up especially for young players. "What better way to learn the ebb and flow of traditional jazz music?" asked Gail Lightfoot, the BSR publicist. "The featured band, Cell Block 7, favors the West Coast traditional jazz sound of Lu Watters, Turk Murphy, and the Bay City Jazz Band of the '50s in a classic jazz lineup led by two cornets. Their very professional approach is coupled with a great sound and extensive repertoire."
Genna & Jesse, an acoustic soul-pop duo, are heading to Paso Brewing this Sunday, March 29 (5 p.m.), hot on the heels of a three-month European tour. The married couple have been spreading the word about their 2012 debut album Give and Take as well as Wild Enough to Try, a live album released last year. Expect tight vocal harmonies with guitar and piano accompaniment. They'll also appear at Last Stage West on Monday, March 30 (6 p.m.).
Santa Margarita's charming, friendly, earthy, and welcoming Dunbar Brewing has a truly kick-ass show coming up this Monday, March 30, when Fernando, Jack Parker, American Dirt, and Dead Volts play (7 p.m. to 10 p.m.; free). "It's one of my favorite places to bring the really great singer-songwriters because Chris and staff, as well as the patrons, make Dunbar a very inviting and welcoming place to play," said Dead Volts frontman Patrick Hayes. "Argentina-born Fernando Viciconte spent the early '90s fronting the L.A. rock band Monkey Paw before relocating to Portland in '94 and embarking on a solo career. In 2010, he put out True Instigator, an album recorded with former SLO resident Adam Selzer (Bottle) and he is currently working on a new album with Peter Buck and Scott McCaughey of R.E.M. Fern is a pretty incredible singer songwriter and one of those guys that should have been a big deal a long time ago. Hopefully now he's getting his due. Jack Parker has spent stints as the guitar player for Tumbledown and MxPx but is now touring in support of his debut solo album, Homegrown. American Dirt and Dead Volts are playing as well because that's just what we do." Should be a
great show!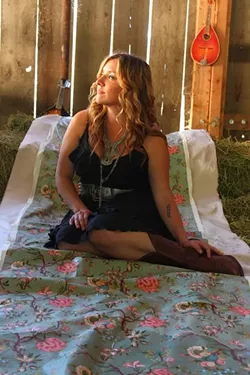 PHOTO BY MARISSA KNUCKLES
SHE'S THE ONE: Natalie Haskins (pictured) joins fellow singer-songwriters Joe Koenig and Jon Clarke at Broken Earth Winery on March 28.
The Central City Swing Band performs its annual Spring Concert in Orcutt's Unity Chapel of Light Church this Tuesday, March 31, at 7:30 p.m. Expect eight instrumental arrangements written for and performed by the Buddy Rich Band. Jim Stromberg, arguably the best drummer on the Central Coast, will be featured on these tribute arrangements. There will also be a whole bunch more music featuring 17 musicians in a standard big band configuration: five saxophones, four trombones, four trumpets, and piano, guitar, bass, and drums. The event is free, but there'll be a tip jar in the lobby with donations split equally between the church and the band's music acquisition fund.
Wing & Claw, a folk-soul duet based in Salt Lake City, will play Linnaea's Café this Wednesday, April 1, from 7 to 9 p.m. Featuring Genevieve Smith on cello ("and making people swoon with a voice like Billie Holiday," according to press materials) and James Miska on guitar, percussion "with his feet," and singing, this show promises homegrown music polished during street busking or in "guerrilla style shows where they set up and play in very public places to an audience, in a planned, word-of-mouth-only situation."
Keep up with Glen Starkey via twitter at twitter.com/glenstarkey, friend him at facebook.com/glenstarkey or myspace.com/glenstarkey, or contact him at gstarkey@newtimesslo.com.