Haley Collins of Los Osos underwent her first heart surgery when she was three weeks old. She's had two more heart repairs since then and was doing well for years. But her heart is failing again, and she's scheduled for yet another major intervention on June 2 at the Children's Hospital in Fresno.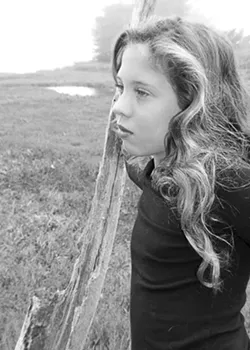 PHOTO COURTESY OF CARISSA STROBRIDGE
IN NEED OF HELP : Haley Collins needs heart surgery.
Haley's parents sold their home and exhausted their savings to help pay for her last three surgeries, and are looking to the community for help. A fundraiser benefit, silent auction, and barbecue will be held for Haley and her family at Santa Rosa Park in San Luis Obispo on May 31 from noon to 5 p.m. Fundraiser coordinators are also asking the public for items that can be auctioned.
The benefit is being hosted by Dana Hodgkinson and Nancy Partham, who are close friends of the Collins'. Hodgkinson hopes to raise at least $25,000. All proceeds will go toward Haley's medical expenses and related expenses.
Haley's procedure will cost around $150,000, according to her mother, Bonnie Collins. Insurance will cover 80 percent of the charges.
Bonnie describes their medical bills as "astronomical."
"The hospital becomes your second home, unfortunately, but in the past, children with Haley's condition would not have lived as long as Haley has," Bonnie said.
Haley meets state criteria to be qualified as disabled, but the Collins do not meet the financial requirements to receive support from California Children's Services (CCS), a state program for children up to 21 years old who have certain diseases or health problems. Before the Collins can qualify for support from CCS, they have to pay about $12,000. They are close to paying off that amount.
"It's a catch 22," Bonnie said. "There is help out there, but the poor don't get it, the rich doesn't need it, and the middle class gets nothing."
The family has already received tremendous support from neighbors: "The community has been incredible," Hodgkinson said. "Local people and businesses donated items for the silent auction ranging from laser tooth whitening to bottled wine, gift certificates for restaurants in town, home theater systems, work from local artists and photographers."
"All kinds of people are coming together for this little girl and we feel very blessed," Bonnie said. "I just want to send a big thank you to all for their help."
A benefit fund has been established at Washington Mutual, and donations can be made at any branch. For tickets to the fundraiser, contact Hodgkinson at 710-1468 or Partham at 528-3644.
---

Interns Jen Ingan and Angela Watkins compiled this week's Strokes. Send your business news to strokes@newtimesslo.com.