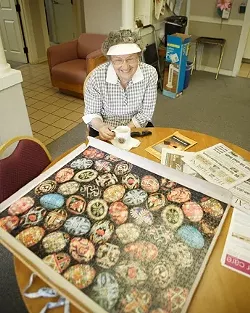 PHOTO BY STEVE E. MILLER
NO WORRIES : Norma Fauset said she's not worried about swine flu and has no intention of getting vaccinated. Anyone over the age of 65 seeking a vaccination when flu season begins, however, will be out of luck.
L
ittle about swine flu is routine, particularly when it comes to vaccines. This year, unlike previous flu seasons, people older than 65 will be turned away from vaccination clinics.
Natalie Beller, a registered nurse at French Hospital, said there are two categories of older people. Some who are a bit nervous about side effects from vaccines and generally healthy enough to not worry about yearly vaccinations. People who fall into another category, the type who get vaccinated every year and worry about getting sick, she estimated, "I think that those people will be surprised."
When swine flu vaccinations become available, probably sometime in mid-October, Public Health Administrator Penny Borenstein would probably hope for more people in the former category. Historically, elderly people have been encouraged to get vaccinated early in the flu season because they're at greatest risk. This year, they'll be told the exact opposite.
The first batch of swine flu vaccine is expected to be in short supply, which will necessitate prioritizing who will receive a dose. According to fact sheets from the California Department of Public Health and the federal Centers for Disease Control and Prevention (CDC), people older than 65 years are not recommended to receive vaccinations. That may be a polite summation. When asked what will happen to elderly people who come expecting a vaccination, Borenstein said they'll be turned away, at least at first. After the first supplies are dispensed and new batches are shipped to local health officials, people who were not given priority originally will be able to receive a vaccination. But the next batch probably won't be available until the end of the year, Borenstein guessed.
There were 1,633 hospitalizations, ICU cases, and deaths in total attributed to swine flu in California as of Sept. 2, according to the state Department of Health. Less than 10 percent of those cases involved people older than 65, Borenstein said. Data indicate the age group most at risk is between 5 and 18 years old, followed by
19 to 24.
Why aren't older people as susceptible to this particular virus? The answer is interesting, Borenstein said. The swine flu virus we know today—the H1N1 influenza, technically—bears some relation to a strain of flu virus that caused a pandemic in 1957, as well as the Spanish flu of 1918, which killed about 50 million people worldwide, according to the CDC.
In other words, "The older the person living today, the greater the likelihood that the person at some time between 1918 and 1957 contracted the H1N1 virus circulated in that era," Borenstein said. Anyone who contracted those viruses has accumulated some natural defenses to the swine flu strain. She stressed that the age-related restrictions that apply to swine flu vaccinations don't apply to regular seasonal flu vaccinations.
That might be a tough sell for people when they're turned away from vaccination clinics. Borenstein said a small committee of health and other local officials has been meeting to spread the word and hopefully prevent any chaos at the clinics.
Not everyone, however, is worried.
The SLO Senior Center had just opened for the morning. A microphoned voice in the next room droned off bingo numbers to about five people who sat silently looking at their cards. Joan Drake is 65 years old. Her large eyes peered through thick glasses that made her expressive stare appear even larger. She was trying to remember what she read in the paper about swine flu this year.
"The rules," she muttered. "Where did I see the rules?"
She knew all about the seasonal flu vaccinations. She pointed to a handwritten note pinned to a nearby wall that explained when county health officials would be coming to the center to provide vaccinations. When asked about swine flu, she said she wasn't concerned.
"If you get it, you get it and take care of it," she said smiling and seemingly amused by her brazen attitude. "But I'm a healthy person."
Norma Fauset was sitting at the same table. She's a youthful 85. Fauset, too, had no fears about swine flu and was happy to let younger at-risk people take advantage of the small supplies. In fact, she was most skeptical about the vaccine itself.
"It's just a new inoculation just coming out," she said. "So I'm not sure if there's been any tests [on it yet]."
So far, however, the word hasn't gotten out that older people will be denied the first round of vaccinations. Really, information has been in short supply and confusing. When swine flu first entered the United States, the French Hospital emergency room was often flooded with people who falsely believed they were infected. A lot of that, Beller believed, was fueled by frightening media reports about the danger of the virus. Yet so far this year, and with flu season about to begin, Beller didn't know what the plan was to avoid a repeat event: "I think that the swine flu needs to be taken seriously, but I think that with enough education most people won't feel the need to come to the emergency room."
And when people are turned away from vaccinations, it may only worsen the situation. Said Beller: "I don't think many of them know that they will be turned away."
Staff writer Colin Rigley can be reached at crigley@newtimesslo.com.