I'm shocked, shocked I tell you, that with seven days to go tickets remain for Jeff Bridges & The Abiders at SLO Brew on Thursday, Aug. 23. I mean, come on, sitting within mere feet of The Dude as he plays songs from the Academy Award-winning film Crazy Heart, select covers, and songs from his album Be Here Soon?
PHOTO COURTESY OF JEFF BRIDGES
RENAISSANCE MAN : Actor, musician, and photographer Jeff Bridges and his band The Abiders play two shows at SLO Brew on Aug. 23. Tickets are going fast.
Bridges started his acting career in 1951 in an uncredited role as an infant at a train station in The Company She Keeps. His first real role as a child actor came on the TV series Sea Hunt, with his dad Lloyd Bridges. One of the rare child actors to transition gracefully into adult roles, his big break came in 1971 when he starred as Duane Jackson in Peter Bogdanovich's masterpiece, The Last Picture Show.
Critically acclaimed films such as The Iceman Cometh, Thunderbolt and Lightfoot, Heaven's Gate, Cutter's Way, Against All Odds, Starman, Jagged Edge, The Fabulous Baker Boys, The Fisher King, and White Squall honed his formidable skills and cemented his reputation as an actor of range and nuance. Perhaps his biggest role came in 1998 in The Big Lebowski, which also made him a cult hero.
He certainly didn't rest on his laurels, and has continued his 80-role career with films such as Arlington Road, K-PAX, Seabiscuit, Iron Man, Crazy Heart, and the excellent remake of True Grit. Three new films should be coming out next year, but somehow he's found time to delve deeper into his lifelong love of music.
He's essentially a man at the top of his game, and he can do whatever the hell he wants, and what he wants to do now is make music. In fact, according to Bridges in an interview with Esquire Magazine, he's decided to spend this year concentrating on making music rather than movies: "Now's the perfect time for me to do something like this."
He built a recording studio next to his garage on his 19-acre mountaintop home that overlooks Montecito, and now when he goes to "work," he picks up a guitar.
According to Bridges' in press materials, strong connections exist between his two passions of acting and music: "There are more similarities than differences. They're both very collaborative, you're working with different artists, but there are also solo aspects in the writing and the practicing. You prepare, and then you let go and give it up."
If you happened to see Crazy Heart, you know just how good a musician and singer Bridges is, and if you haven't you should. The dude most assuredly abides!
He'll deliver the goods at two shows next Thursday, at 5:15 and 9 p.m. Tickets are $40 in advance at Boo Boo Records or ticketweb.com, or you can roll the dice and hope there's are $45 tickets at the door.
Before The Dude rolls into town next week, SLO Brew's got a couple of other hot shows coming up, starting with awesome Texas rocker Alejandro Escovedo, who's touring in support of his 11th album Big Station, hitting the Brew on Friday, Aug. 17 (7:30 p.m.; 21-and-older; $15 presale or $18 at the door). The new album is a rompin' stompin' 12-song collection that features songs co-written by Chuck Prophet that are filled with hooky melodies and rocking rhythms as well as incredibly inventive lyrics like this bit of "Bottom of the World": Austin's changed, it's true, show me what hasn't. Tonight the TV's throwing colors on the wall as I watch the cities of the world reduced to ashes from where I sit at the bottom of the world. This is a terrific album by a true songsmith! Check him out!
Then on Tuesday, Aug. 21, hip-hop artist Immortal Technique plays the Brew (8 p.m.; all ages; $20 presale or $22 at the door). Born Felipe Andres Coronel Lima, Peru, and raised in Harlem, New York, this American rapper and political activist has been offered deals with both Sony and Def Jam Records but turned them both down to retain total artistic control. His lyrics comment on politics, poverty, religion, social class, and racism.
Sail on!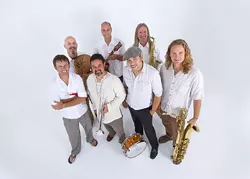 PHOTO COURTESY OF ZONGO ALL-STARS
AHOY! : The Zongo All-Stars play Aug. 16 at Otter Rock Café and Aug. 17 at the Avila Farmers Market.
"Friday, Aug. 17 will mark a historic date in SLO County waters as the 4th Annual Zongo Yachting Cup again breaks the record as the largest offshore sailing event in local history," said organizer and Zongo All-Star horn player Paul Irving. "Over 30 sailing yachts are expected to compete in this year's race from Morro Bay to Avila Beach, sponsored by the Zongo All-Stars, and co-sponsored by the Morro Bay Yacht Club and the San Luis Yacht Club in Avila Beach. All ocean-worthy vessels are encouraged to participate."
Even if you don't sail, you can get in on the fun when the Zongo All-Stars play a pre-race show at the Otter Rock Café in Morro Bay on Thursday, Aug. 16. They'll play again on Friday, Aug. 17, after the race, at the Avila Farmers Market from 4 to 8, with live reggae with Boombala at Mr. Ricks all night long.
"I plan a lot of events throughout the year, but this one is my personal best effort in combining my love for music and sailing all in one big day," added Irving. "We're seeing the boating communities of Morro Bay and Port San Luis really embrace this race as the premiere summer boating event on the Central Coast."

Hear the songs
in their heads
Singer-songwriters are sort of like poets, except it's a lot easier for them to get people to listen to their work! The best local showcase for their talents has consistently been Steve Key's Songwriters at Play, which this week is hosting four different shows starting on Thursday, Aug. 16 with Rebecca Troon at the SLO Down Pub (6:30 p.m.; all ages; pass the hat). Troon, a member of the Honeysuckle Possums, is the kind of songwriter who asks, "What rhymes with 'menopause?'" She's played Live Oak and teaches at SummerSongs West in Cambria. Special guests include L.A.-based writer John Zipperer and Craig Louis Dingman of the local band Code Blues.
PHOTO COURTESY OF BILLY ESTRADA
COUNTRIFIED : Billy Estrada will play Steve Key's Songwriters at Play showcase on Aug. 21 at Kreuzberg.
On Sunday, Aug. 19, Karen Tyler headlines the showcase at Sculpterra Winery (1 p.m.; all ages; pass the hat). This versatile country-blues artist has been called "one of the world's top female blues artists" by Real Blues Magazine. Guest performers include Bayley Bagby, Scott Mickelson, and a band called Soda Pants.
Billy Estrada and Tony Kirkorian are the featured performers at Kreuzberg on Tuesday, Aug. 21 (6:30 p.m.; all ages; pass the hat). The two are members of the band Spoonfed Lightning, and they'll perform their blues-based music in an acoustic setting. Guest performers include Julian "TwoFish" Phillips, Kat Devlin, Kate Lynne Logan, and Beth Whitney.
And finally, Steve Key and company will present a John Hiatt Tribute show on Wednesday, Aug. 22 at Upper Crust Trattoria in SLO (7 p.m.; all ages; $10 at the door). Brent Dannells, Aaron Porter, Matthew White, Steve Key, Buffy Doran, David Carroll, Valerie Johnson & Al B Blue, Cliff Stepp, Holly Ann Phillips, BanjerDan, Ted Waterhouse, and Steve Kindel are all scheduled to perform.


More music…
Pear Valley Vineyards and Winery will host a free concert featuring the incomparable folk stylings of Bob & Wendy this Thursday, Aug. 16 from 5:30 to 8:30 p.m. This husband and wife duo features guitar and cello (or sometimes mandolin) and performs poignant original songs with lilting melodies and straight-to-the-heart lyrics.
Get a dose of some awesome guitar-driven blues, rock, and soul when The Guy Budd Band plays the SLO Farmers Market this Thursday, Aug. 16, from 7 to 8:30 p.m. at the corner of Higuera and Marsh. Front man Guy Budd is a remarkable guitarist and smooth vocalist who plays a range of styles, and he's backed by bassist Andy Kulikowski, drummer Howard Emmons, and keyboardist Ken Burton—all inveterate musicians who form a tight unit. Together they have over 60 years of combined playing experience.
The perpetually touring rock, funk, and hip-hop act Fish Out of Water will play The Cliffs this Saturday, Aug. 18 from 1 to 4 p.m. If you've never been to one of these beach side shows, check it out! It's free, all ages, and The Cliffs offers food and drink for sale. Get there early if you want a table, or bring your low-back beach chair and grab some grass.
The Red Skunk Band will play the "Garden Swing Party" this Saturday, Aug. 18 at the HWY 41 Antique Emporium garden area (by Miner's Hardware in Morro Bay) starting at 1:30 p.m. They'll be joined by The World's Fastest Apples, a Sacramento-based quintet, as well as dance demos by the SLO Swing Dancers. Come on over and experience a "quaint European afternoon garden party." Food and beverages will be available, and tickets are $10 online at festivalafterdark.com and redskunkband.com. Or pay $12 at the door.
The James Sweetwater Trio (with Jacquie Traub and Lucky Newll) seamlessly fuses folk, rock, and country music from the last 40 years "into a slice of Americana that can't be beat!" according to the band. "Jimmy Bufffet meets up with Willie Nelson and Van Morrison on the back porch." See them when they play an Olive Festival after-party on Saturday, Aug. 18, from 5 to 8 p.m. in Paso's Pappy McGregor's. It's free!
I love soulful music with phat horns, which is why I immediately dug The Inciters' sound. The Santa Cruz-based soul act has a new album, Soul Clap, and features three potent female vocalists. You can see them live on Saturday, Aug. 18 from 8 to 9 p.m. at Frog and Peach, followed by The Northstar Session. "Although we've played all over the West Coast and parts of Europe, for some reason San Luis Obispo is new to us," wrote the band. The Inciters boasts 11 players, so how they're going to all fit on the Frog's stage I can't tell you, but if you like Motown sounds and Stax Records artists, you should check these guys out.
Head to D'Anbino Tasting Room on Saturday, Aug. 18 from 8 to 10:30 p.m. to experience the soul and R&B of the late '50s and '60s when the Memphis Soul Stew Review performs music by the likes of Booker T and the MG's, the Mar-Keys, Otis Redding, Wilson Pickett, Sam Cooke, Eddie Floyd, Sam and Dave, James Brown, Albert King, and all things soulful, bluesy, and funky. Admission is $10 ($5 for Record Club members).
Scott Cooper, whose last album A Leg Trick was filled with 11 immediately catchy Americana tunes, is returning to the area with his acoustic trio on Saturday, Aug. 18 at the SLO Down Pub. "My CD is currently #5 on the jam band radio charts (ahead of Tea Leaf Green, Warren Haynes, Keller Williams, et al) ... and with no label support or professional PR firm working on my behalf. That's a feather in my cap, but the larger feather in the larger hat is the CD is getting radio airplay on WWOZ in New Orleans, which (in my opinion) is the greatest radio station on the planet, not just because I love New Orleans music, because they virtually only play New Orleans and Louisiana artists. They treat their own local musicians like rock stars. Can you name one other public radio station that dedicates itself to local artists this way? So for an outsider to get regular airplay on OZ is quite the feat."
"It's that time of year again," wrote concert promoter Stanley Stern. "The Baywood Navy is proud to present the Peter, Paul and Mary Revue, starring Dan Mazer, Steve Kindel, and Laurelle Barnet on Sunday, Aug. 19. This is a free concert. The show starts at noon on the pier on 2nd St. in Baywood Park, Los Osos. There will be enough tide for anyone to launch a small boat, watch the show, and return to the launch site. As usual there will be free cookies for all." Sounds like a hoot.
What do punk rockers do when they can't find their amps? They go acoustic. Sebastian Luna wrote me at the last minute to see if I could squeeze in a notice about a show this week. "I was wondering if it's too late to submit a performance listing for the next issue of New Times? Two punk rawk front men on an acoustic tour. Think Broke Back Mountain in a Dodge Van!" Intriguing. Jared Stinson from the San Diego band Sic Waiting and Matt Salkeld from Bakersfield bands D.C. Fallout and Black Sails Western Shores have joined forces as Drunks Go Acoustic to play a 5:30 p.m. in-store at Boo Boo Records on Monday, Aug. 20. "Myself and Brooke Thompson from local band the Mighty Fine will open with short acoustic sets," said Luna.
Santa Fe-based alt-pop duo GoGoSnapRadio plays Linnaea's Café this Tuesday, Aug. 21, at 7 p.m. Featuring Jeremy Bleich (from the former avant garde trio, Birth) on keyboards, sampler, glockenspiel, vocals, guitar, trash can lid, bass drum and found objects, and Sarah-Jane Moody (lead vocalist from the former all girl alt country band the Dolly Ranchers) on lead vocals, metals, bells, and found objects, this duo will lead you on a "lyrical exploration that fuses odd metered pop with electronic and percussive timbres." They play several instruments at once, orchestrating "an eclectic blend of sound that invokes a trashy and honest tenderness."
On Wednesday, Aug. 22, head on over to the SLO Down Pub to hear some down home "raditional" (radical/traditional) bluegrass music from Appalachia, reinvented for California, by the Appellation Bluegrass Band (7 p.m.; fill the tip jar, people!). Featuring "beautiful high-lonesome harmonies celebrating murder, failed relationships and rail-riding," The Abbies mix in banjo, guitar, mandolin, fiddle, and bass, and then they "top it off with a twist of California: surfing, fast food, and hard times in paradise."
If you're looking for a polished Americana act populated by banjo, slide guitar, mandolin, trumpet, harmonica, organ, percussion, and five-part vocal harmonies, check out the Bay Area quintet Tumbleweed Wanderers, who play Wednesday, Aug. 22 at the Frog and Peach in support of their debut album So Long. This group of young friends sure seem like they're having a good time in an online video of them busking outside the Greek Theatre. Said Jeremy Lyon of their new album, "This is an honest album with a lot of ambition. It's about growing up and taking agency over one's life."
This is just a quick heads up to remind you about the 7th Annual Escuela del Rio Benefit Concert at Castoro Cellars next Saturday, Aug. 25, with Salty Suites and special guest Lily Wilson. A tri-tip barbecue will be available for purchase from PR Kiwanis with a portion of the proceeds going to Escuela del Rio. The show starts at 7 p.m. and costs $25. Call 238-0725 for tickets!
Keep up with Glen Starkey via twitter at twitter.com/glenstarkey, friend him at facebook.com/glenstarkey or myspace.com/glenstarkey, or contact him at gstarkey@newtimesslo.com.