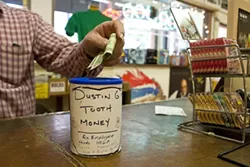 PHOTO BY STEVE E. MILLER
MAKE 'EM SMILE : To donate money to Dustin Garrison's dental fund, drop by Urban Outfitters or Boo Boo Records
A bump in the driveway of his new Portland home would have a pronounced impact on Dustin Garrison's life. It was the bump that would loosen the quick-release on his bicycle as he came home one night, "driving the front of the bike down onto the fork and twisting the carbolite alloy against the harsh asphalt," Garrison recalled, in grotesque detail.
"The diving bicycle threw me over the handlebars and introduced my face to the asphalt. …The flash of thought that hung in my mind the instant before I hit the driveway was a plea to spare my teeth."
But the sight of fragments of tooth littering the end of the driveway indicated otherwise, and his fingertips would quickly confirm several chips and fractures: "[They] were pushed inward far enough to prevent the bottom row of teeth from meeting the upper molars," said Garrison, 28. "I would be eating liquids for weeks."
Having just relocated from San Luis Obispo, his home of 10 years, and without a job, insurance, significant savings, or the usual network of friends and family, the accident couldn't have come at a worse time. Garrison was able to find a dentist who would give him a significant discount. But the pile of bills he was left with still seemed insurmountable.
Fortunately, many of his friends back home happen to be the generous type. They also happen to be mostly artists, musicians, and bohemians. Word of the accident led to local benefit concerts to help Garrison, beginning with a house concert featuring local bands Siblings and Magic Fingers.
"He asked if we could do a benefit show," Boo Boo Records assistant manager and Siblings frontwoman Tasia Trevino told New Times, "and we happened to be doing a show already." The planned concert was made into a benefit, and between donations and sales of Garrison's old record collection, pulled in nearly $700.
Others were soon volunteering. Garrison's friend Michael Annuzzi donated the proceeds from the Songwriters at Play showcase, held at the Steynberg Gallery, to his cause. Both Urban Outfitters and Boo Boo Records, Garrison's former employers, set up a donation box, drawing a modest number of donations.
"Usually, people our age don't have that kind of cash," explained Gabie Czarniecki, Urban Outfitters merchandiser and longtime friend of Garrison's, referring to Garrison's sizeable bills. Because of company policy, the cash box at Urban is kept out of view—do-gooders have to ask to donate.
A Facebook group, cheekily called Help Dustin get his Faceback, formed, and fun new events—local and otherwise—are in the works for February. Visit Facebook.com/Help-Dustin-get-his-Faceback for details on upcoming events, or to donate.
Garrison himself, still in Portland, seems humbled by friends' and strangers' acts of generosity.
"To pay it forward from the overwhelming amount of support and help I have received," he said, "I will be volunteering with Habitat For Humanity and help build someone a house who desperately needs it."
Fast Facts
The Gypsy Pyrates will hold a fundraiser for Enhancement, Inc., a local nonprofit whose programs support breast cancer survivors. Titled "Pirates Save the Ta-Tas," the event will be held at the Fremont Theater on Feb. 8. A raffle will be held during a showing of The Princess Bride, and raffle tickets may be purchased in advance by contacting Rasha Wyndsong at GypsyPyrates@yahoo.com. Dress as a pirate or one of your favorite Princess Bride characters for a chance to win in a costume contest. There will also be a fencing demonstration. Doors open at 7 p.m.; the film begins at 7:30 p.m.
Global Alliance for Balance and Healing will offer a free community outreach program called "Financial Balance" on Feb. 10, from 6:30 to 8 p.m. Certified business analyst and Safe Money Coach Gary Hicklin will run the program at the Global Alliance Center, 22720 El Camino Real, suite C in Santa Margarita. No registration is required. For more on the Financial Balance Program, e-mail Hicklin at ghicklin@thecorefg.com, or call 748-5374.
Arts Editor Anna Weltner compiled this week's Strokes and Plugs. Send your business news to strokes@newtimesslo.com.