PHOTO COURTESY OF JOHN CORBETT
MY BIG FAT AMERICANA CONCERT!: Hollywood star and country musician John Corbett plays SLO Brew on Jan. 25.
Man, I sure dug Chris Stevens, the character on Northern Exposure. He was a disc jockey at the local radio station in Cicely, Alaska, but also a conceptual sculptor and the most well read person in town thanks to a stint as an inmate. He'd intersperse his radio show with philosophic musings from the likes of Whitman, Tolstoy, Shakespeare, Jung, and even Where the Wild Things Are author Maurice Sendak. And he was a minister in the Universal Life Church, thanks to an ad out of the back of Rolling Stone magazine. In short, he was dripping with cool. The guy who brought Stevens to life was John Corbett, the 6-foot-5-inch actor who also starred in films such as My Big Fat Greek Wedding, Volcano, and Sex and the City 2.
What you may not know is that in addition to being a prolific actor, Corbett is a guitarist and country music singer, and a good one! He plays SLO Brew this Saturday, Jan. 25 (7:30 p.m.; 21-and-older; $20 presale or $22 at the door).
As his bio admits, "No one has to tell John Corbett that Hollywood stars moonlighting as musicians don't always get taken seriously. He's already faced crowds full of skeptics wearing expectant looks that silently challenge, 'All right, actor boy, show us what you've got.' But Corbett's never had a problem doing just that, onstage with his band or on radio airwaves. His self-titled debut album, released in 2006, climbed to No. 42 on Billboard's Country Albums chart."
His newest collection of rustic Americana songs, 2013's Leaving Nothin' Behind, confirms his first album wasn't a mere flash in the pan. The guy's for real, and according to his bio, "music was always Corbett's first love. He's been playing since he can remember."
"I never for a second dreamed that I could make a living making music, except probably when I was a freshman in high school and would daydream about what it would be like to be in Kiss or Styx or something," he admits in press materials. "But I always had a guitar with me."
His new album features songs from Dallas-born musician, songwriter, and producer Jon Randall Stewart, a longtime Guy Clark collaborator who wrote or co-wrote seven of the album's 10 songs. Corbett confesses his favorite Stewart song on the record, "Name on the Stone," really felt personal and makes Corbett misty-eyed when he performs it because it reminds him of losing his father, who died in 2011, a year after suffering a stroke.
"There wasn't anybody there but me. All his friends had been gone; he had really no family left," recalls Corbett. "I'm the only kid. I didn't even put an obituary in the paper. I got him cremated and that was it. There wasn't anybody to let know that he was gone. And when I sing a song like 'Name on the Stone' … it means a lot more to me than singing 'Mustang Sally.'"
Thanks to Corbett's acting chops, he has the ability to inhabit Stewart's songs as if they were his own. Interestingly enough, he says he doesn't even worry about dispelling the "preconceived actor-dabbling-in-music notions."
"I don't do anything. I play the show. I already win the battle when I come out onstage, if they haven't seen us before, because they have such low expectations," he says. "We're pretty good; we put on a pretty good live show."
He and his bandmates Tara Novick (guitar), David "the Hawk" Lopez (drums), and Louie Vincent Ruiz (bass) now play "near-Springsteen-length sets, without a break. Then they haul gear and sell merch; Corbett even does the driving. It's a down-to-earth operation, like the guy who runs it. And no, it doesn't bother him if people show up because they're fans of his acting," says his bio.
"I want them to put on the marquee, 'From Sex and the City and My Big Fat Greek Wedding. I want as many people in those shows as I can get. I don't care how they get in there."
Our local Texas soul man Joe Koenig will open the show.
You can also see at SLO Brew this week Tasty Treats with opening acts Kicks N Licks and NovaScope on Thursday, Jan. 23 (8 p.m.; 18-and-older; $12 presale or $15 at the door). This trio of electronic bands will get your blood pumping.
On Friday, Jan. 24, get your island music fix with J Boog and your Latin music fix with Los Rakas (7:30 p.m.; all ages; $18 presale or $20 at the door).
There's hip-hop afoot when Zion I plays on Sunday, Jan. 26 (7:30 p.m.; all ages; $16 presale or $18 at the door), with Aileron and Sol opening.
Then on Wednesday, Jan. 29, check out Gentlemen Hall (7:30 p.m.; all ages; $8). The Boston-based sextet won MTV's Best Breakout Band in 2009 and Boston's Best Act in 2011, and the band won Billboard's Battle of the Bands and made history being the first independent band to perform on the Billboard Music Awards in 2011. Basic Vacation opens the show.
Wonderland!
PHOTO COURTESY OF CAROLYN WONDERLAND
PIXIE WITH A GUITAR!: With the voice of Janis Joplin and the guitar skills of Steve Ray Vaughan, Carolyn Wonderland will blow your socks off Jan. 25 at the SLO Vets Hall.
I had the good fortune of catching ripping blues guitarist and singer Carolyn Wonderland at Live Oak Music Festival, so I know she puts on a show! This Saturday, Jan. 25, she'll play the SLO Blues Society at the SLO Vets Hall (8 p.m.; 21-and-older; $20 at the door).
Imagine a performer with the voice of Janis Joplin and the guitar skills of Stevie Ray Vaughan, and you've got Wonderland, who can rip through Texas blues as easily as through country, swing, zydeco, surf, gospel, and soul.
She grew up in Houston but moved to Austin, which she calls "the land of free guitar lessons!" She can also play trumpet, accordion, piano, mandolin, lap steel, and you should hear this woman whistle! With six albums out as well as well as numerous guest appearances on other artists' album, she's got a deep catalog from which to draw.
Her band includes Scott Daniels on guitar, vocals and mandolin; Cole El Saleh on keyboards; Eldridge Goins on drums; and Bobby Perkins on bass.
Local blues powerhouse Code Blues will open.
More music…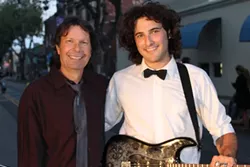 PHOTO COURTESY OF STEREO STEVE
THE TAO OF STEVES!: Stereo Steve (Steve Ambarian and Steve Hilstein) play Bon Temps Creole Café on Jan. 27.
Luna Red's got some great acts lined up this week for their late night music series (10 p.m. to midnight), starting with Jody Mulgrew on Thursday, Jan. 23, then Mason Blackwell on Friday, Jan. 24, Chris Beland on Saturday, Jan. 25, and Hot Club of SLO next Thursday, Jan. 30. Great drink and food specials!
The Parmesans—part contemporary folk, part alternative country, sort of blues, and not quite bluegrass string band—play a Boo Boo Records in-store on Friday,
Jan. 24.
Think of Bill McClintock as a one-man band. "I have a gig at this new little place in Paso called the Burbank Ranch Winery and Bistro," said Bill. "I do a three-hour show, half original material, alt-country, hard folk. Just one man with a guitar, a bass, and a Boss RC3 looper kicking up a lot of dust." Check him out starting at 6 p.m. on Saturday, Jan. 25.
Up in the Air, "a band that blends structure and improvisation with a wide variety of musical styles," according to their bio, plays D'Anbino Tasting Room on Saturday, Jan. 25, from 7:30 to 10 p.m. "Featuring the extraordinary singing of Atascadero High School choir director Emy Bruzzo; the Jethro Tull-type flute work and Santana-like guitar leads of David Singer; the song writing, guitar, and keyboard playing of John Beccia; the exciting playing of Tom Bruner on trombone, piccolo, and flute; and the rock-solid rhythm section of Rich Daulton on drums; Phil Gross on bass; and Victor Rocha on congas, timbales, and percussion, Up in the Air performs all original songs that are upbeat, melodic, and lyrically relevant," they say.
Bluegrass and roots act Salty Suites play the next Música Del Río House Concert in Atascadero this Saturday, Jan. 25, at 7:30 p.m. Call 466-6941 for reservations and direction ($20 at the door).
Cal Poly's Early Music Ensemble will be joined by members of the Cal Poly Symphony to present "Bach in the Mission IV" at 8 p.m. on Saturday, Jan. 25, at Mission San Luis Obispo de Tolosa. Hear Cantata No. 4, "Christ lag in Todes Banden" (Christ lay in death's bonds); Motet No. 6, "Lobet den Herrn, alle Heiden" (Praise the Lord, all the heathens); Sonata for Violin and Continuo in E minor, BWV 1023; and Concerto for Two Violins in D minor, BWV 1043, with Brynn Albanese and Paul Severtson. Tickets are $14 for the public, $12 for senior citizens, and $9 for students (call 756-4849).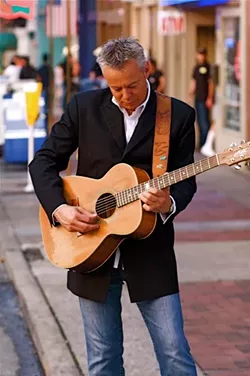 PHOTO COURTESY OF TOMMY EMMANUEL
MIND BLOWING!: Incredible Canadian guitarist Tommy Emmanuel plays a solo show at the PAC's Cohen Center on Jan. 27.
L.A.-based alt-rock act Screamsbirds play Frog and Peach on Sunday, Jan. 26. "The group will be arriving in town on Jan. 24 to shoot our second music video and to visit local radio station KCPR 91.3 FM," said band member Mike Murray. Expect jangling guitars and plaintive vocals.
The more Steves the better, right? Stereo Steve, which features two members of The Scarlet Furies—Steve Ambarian (vocals, guitar, ukulele, bass, and melodica) and Steve Hilstein (percussionist, guitar, bass, and vocals)—play Bon Temps Creole Café on Monday, Jan. 27 (6:30 p.m.; free; all ages) as part of the Song Writers at Play showcase, which will also include Amie Richie, Will Johnson, and Trevor McSpadden. Visit songwritersatplay.com for a complete listing of their showcases this week.
On Monday, Jan. 27, at 7:30 p.m., two-time Grammy nominee Tommy Emmanuel performs a solo evening of amazing artistry. "One of Australia's most respected musicians, with a professional career spanning five decades, Emmanuel has garnered hundreds of thousands of loyal fans worldwide," according to Cal Poly Arts. The fingerstyle guitarist uses all ten fingers, like a pianist! Tickets are $21 to $38 (call 756-4849) for this Cohen Center show.
The Irish Rovers "have been touring for 50 years and with wit, a wink, and a smile," according to Cal Poly Arts, which presents the group in the Cohen Center at 7:30 p.m. on Tuesday, Jan. 28 as part of their "Farewell to Rovin' Tour." Tickets are $21 to $38 (call 756-4849).

Keep up with Glen Starkey via twitter at twitter.com/glenstarkey, friend him at facebook.com/glenstarkey or myspace.com/glenstarkey, or contact him at gstarkey@newtimesslo.com.