Baltasar Kormákur (Contraband, 2 Guns, Everest) directs this true story of survival about Tami Oldham (Shailene Woodley) and Richard Sharp (Sam Clafin), two free-spirited lovers and avid sailors who set off to cross an ocean only to encounter a catastrophic hurricane that leaves their sailboat in ruins and Richard gravely injured. Can Tami find the will to save them? (120 min.)
Photo Courtesy Of Lakeshore Entertainment
INTO THE STORM Avid sailors Richard Sharp (Sam Clafin) and Tami Oldham (Shailene Woodley) set off on a cross-ocean adventure but encounter a devastating hurricane.
Glen Imagine if romance novelist Nicholas Sparks (The Notebook, The Choice, The Best of Me) decided to write a disaster-at-sea story and you'll have a pretty good idea about Adrift. It opens post disaster, as Tami awakens in the hold of a sailboat half submerged in water. She's got a large cut on her head and is badly bruised. She's frantically searching for her fiancé, Richard, but she also knows she has to pump out the water before her boat sinks. From there, the film proceeds to flash back five months to when Tami meets Richard. The film repeatedly moves through time, cutting between their romance and her struggle to survive and help a severely injured Richard, who can do nothing to help Tami besides provide advice and emotional support. The romance part of the film is pretty sappy, and the disaster part of the film is fairly harrowing, but compared to what I consider the gold standard of lost-at-sea films, Robert Redford's phenomenal All is Lost (2013), Adrift is just OK. There's plenty of drama, and Tami's struggle to survive and save Richard and herself is certainly potent, but the film relies too much on emotional manipulation. As a true story, it's an amazing tale of survival, but as a film, it's good but not great. What really saves the film is a raw, powerful, and committed performance by Woodley.
Anna Woodley really does give it her all, and I appreciate her choices for the role. Getting lost at sea isn't pretty business, and this decidedly gorgeous woman plays in the down and dirty with heart. That being said, I got a bit bored with the back-and-forth storyline. Tami and Richard's five-month-long relationship burned quick and bright but hardly comes off as more than young love mixed with a passion for wandering. Tami has a pretty strong opinion on heading home—she's not interested and doesn't intend to go anytime soon. When a job offer interrupts her and Richard's plans to sail to Japan, Tami is less than willing at first to journey back to San Diego. Why such resistance to a stop-off in her hometown? I'm afraid we never really get an answer, just a few family anecdotes and a vague reasoning for liking to be lost. Richard's backstory is barely addressed. We learn early that he lost his mother at a young age, and while the script tries to attach some yearning to that, it quickly gets stepped over and lost in the storyline. I too consider Redford's All is Lost as the finest lost-at-sea film out there, but perhaps that comparison isn't fair—this isn't meant to be that story. Yet, I'm still not won over because this film feels less internal, and the timeline switchbacks cut up the drama of life onboard an ill-fated sailboat and the choices Tami and Richard must make. It's not a bad film, but for me it fell short of great pretty quickly.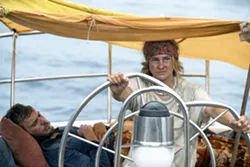 Photo Courtesy Of Lakeshore Entertainment
SURVIVORS With no help in sight, Richard (Sam Clafin) and Tami (Shailene Woodley) must rescue themselves through ingenuity and sheer force of will.
Glen Director Kormákur knows his way around seafaring disaster—his The Deep (2012) is about a fisherman trying to survive after his boat capsizes off the coast of Iceland—but his CGI storm in Adrift isn't as impressive as the CGI of The Perfect Storm (2000). It's all these little things that undermine Adrift: the romance feels too easy, even with the argument about whether the couple should accept $10,000 and two first-class return tickets from San Diego to Tahiti in exchange for piloting the luxury sailboat to California for Richard's friends, a rich British couple; the CGI is good but not great, leading to distraction and pulling viewers out of the drama; and there's a twist near the end that won't be a surprise for those familiar with Tami's adventure, but that might seem like a gimmick or trick to those—like me—who were unfamiliar with her tale. It's a film that's worth seeing, and if you're a fan of the genre, hit a matinee, but I think I would have been pleasantly surprised to rent this film at Redbox or even wait for it to show up on a streaming service.
Anna If you want an incredibly gripping true tale of a lost-at-sea survival story, check out the book Alone: Orphaned on the Ocean about 11-year-old Terry Jo Dupperault, who survives for four days floating on a cork raft after her family is murdered by their captain. It's amazing, and Tami's story would probably be more gripping if told from a firsthand account instead of a dramatized one, but I'm guessing that a documentary wouldn't draw the crowds like a big Hollywood film. Either way we are left with a film that makes an earnest effort to tug at your heartstrings but instead chokes them out with a little too much schmaltz. The storm that brought their boat down was meant to be epic but falls short of its predecessors such as A Perfect Storm, as you mentioned. I don't think I saw The Deep, and if I did it must have fallen into forgettable, but Kormákur certainly likes an ocean theme from what I can tell. The CGI doesn't warrant a trip to the big screen. For me this one can be safely viewed curled up at home when a little adventure and sentimentality is needed. Δ
Split Screen is written by Senior Staff Writer Glen Starkey and his wife, Anna. Comment at gstarkey@newtimesslo.com.