No one likes failing. But it's somehow extra shameful to do badly at something you shouldn't even be doing to begin with.
The midlife crisis phenomena hits married man Barney Cashman (David Norum), of Neil Simon's play Last of the Red Hot Lovers, hard. And he decides that the only answer is to have an affair before it's too late. But he just can't seem to seal the deal as he attempts to seduce three different women, each somehow uniquely crazier than the last.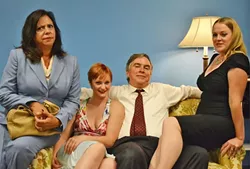 PHOTO COURTESEY OF WINE COUNTRY THEATER
YOU'RE GETTING COLDER : In 'Last of the Red Hot Lovers,' a trio of potential lovers blow hot and cold with leading man Barney. From left to right: Jeanette Fisher (Cynthia Anthony), Bobbi Michele (Melanie Portney), Barney Cashamn (David Norum) and Elaine Navazio (Angela Hutt).
This show is the current selection from Wine Country Theatre, playing from Nov. 13 to 22 at the Park Street Ballroom in Paso Robles.
"Neil Simon is the quintessential American playwright," Last of the Red Hot Lovers Director Cory Schonauer said. "His humor appeals to me. There is this real nice human connection in all the crazy characters. This play in particular with Tinder, it's just one click away to do something like this nowadays. And in this play, the grass isn't always greener on the other side. But Barney kind of goes on this journey where he learns more about himself and realizes he has it pretty good at home."
The play consists of just four characters and three acts, but it's more than enough to keep the audience's attention. For leading man Norum, this will be his third time reprising the role of Barney.
"It's my favorite Neil Simon play," Norum said. "I think it's just the best in that it's funny and it's also very real. I think anyone who is middle-aged can relate to it. I think we're trying to play it so he doesn't come off as completely lecherous. That's the challenge, is to not turn each of the characters into a stereotype."
First up in Barney's carnal quest is Elaine Navazio (Angela Hutt) the serial adulterer who is on the prowl for her next affair when she meets Barney at his restaurant.
"She's a player," Hutt said of her character, Elaine. "She has lots of affairs with different men. She's kind of like the women on The Real Housewives of OC. She really just comes to get laid. The play is older so back when it was written, there weren't women like her, who were sexually assertive and knew what they wanted. So I like that she knows what she wants and isn't afraid to get it."
Then there's Bobbi Michele (Melanie Portney), the self-proclaimed amazingly talented actress who just can't stop talking about herself.
"I think everyone has met someone like that," Portney said. "You kind of want to love her because she's a bright person, but she's also manipulative and she lies."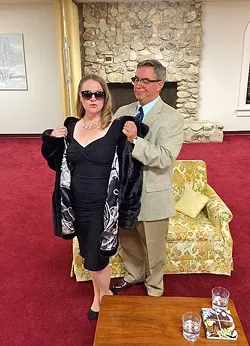 PHOTO BY RYAH COOLEY
SHE'S A MAN EATER: Elaine Navazio (Angela Hutt) comes to married man Barney Cashman's restaurant about half a dozen times in Last of the Red Hot Lovers in an attempt to seduce him.
And then there's the saddest would-be affair of them all: Jeanette Fisher (Cynthia Anthony), good friend to Barney's wife, Thelma. Aside from the potential for double betrayal from this pairing, Jeanette herself is heavily depressed and medicated.
"It's a very hard part to play depressed and to give up on life and be funny," Anthony, who founded Wine Country Theatre in 2014, said. "It's tough. My character is trying to feel better, and one way she decides to do that is to go and have an affair with Barney and then it all goes to hell."
While infidelity—a heavy topic—might seem like an unusual choice for a comedy, Anthony said that ultimately all comedy springs from a well of darkness.
"All comedy comes out of pain," Anthony said. "That's why we laugh when someone slips on a banana peel or when someone has such a bad hangover in a movie that they can't talk. We laugh because we have to. It's a gift to us as human beings to be able to laugh at our foibles."
HOT NIGHT OUT: Catch Last of the Red Hot Lovers at the Park Street Ballroom at 1232 Park Street in Paso Robles. Show times are 7:30 p.m. on Nov. 13, 20, and, 21, 7 p.m. on Nov. 19, and 2 p.m. on Nov. 14, 15, and 22.
One of the perks of attending a Wine Country Theatre production? They keep the vino flowing. Show attendees can enjoy a variety of wines, appetizers, and desserts while they take in Last of The Red Hot Lovers. Tickets range from $15 to $25 and can be purchased online at brownpapertickets.com.
Ryah Cooley just can't quit her long-term affair with flaming hot Cheetos at rcooley@newtimesslo.com.