Like many people who live and work in SLO County, Jeremy and Jaclyn Douglas worried they might never be able to afford to buy a house here. But late on a sunny afternoon in mid August, the family's dreams of home ownership became reality. They received the keys to their brand-new San Luis Obispo home, loaded up the car with blankets and pillows, and along with their two young children slept on the carpeted floor of their very own house that night.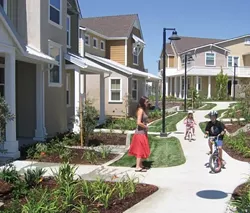 PHOTO BY KATHY JOHNSTON
A HOME OF THEIR OWN : San Luis Obispo's inclusionary housing ordinance allowed the Douglas family Jaclyn, 26 Walker, 5 Spencer, 6 and (not pictured) Jeremy, 29 to buy a three-bedroom home in mid-August in a new Centex development on Broad Street.
# The Douglases are among the lucky ones. Although the city's so-called inclusionary housing program, which requires developers to contribute to the local stock of affordable housing, has had some successes including the production of 103 affordable housing units and $4.8 million in the Affordable Housing Fund since its inception city officials and affordable housing advocates alike say that the eight-year-old program needs improving. In certain cases, officials worry that developers may have been in a position to hand-pick who received the affordable homes.
"We never would have been able to afford to own a home without the city's [inclusionary] housing program," Jaclyn said as she pulled a freshly baked homemade apple pie out of the gleaming new oven in her home off Broad Street, her children playing at her feet.
She and her husband Jeremy a Morro Bay policeman sought the advice of a financial adviser last year to find out whether they could save enough to someday buy a house.
"He told us the only way was to look for new developments going in and apply for their affordable housing. We didn't know anything about that. We drove around looking for those little construction trailers, saw the one at Centex Homes on Broad Street, and went in and filled out an application," Douglas said.
Months later, their name was drawn in a lottery for the affordable housing component of the new development. They filled out all the paperwork, eventually found a loan they could afford, happily gave up their cramped rental, and moved into a spacious three-bedroom home.
"When we got the keys, it was really exciting. It was very unexpected. It's still a shock. I keep thinking I'm going to wake up in our old house," Jaclyn said with a big smile as her two children prepared to take a bike ride on the complex's paths.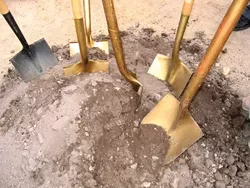 PHOTO BY KATHY JOHNSTON
GOLDEN OPPORTUNITY : Peoples' Self-Help Housing broke ground for 29 new affordable apartments in Avila Beach. In the City of San Luis Obispo, the group has been the recipient of funds paid from developers' in-lieu fees, and is building 27 apartments for low and very low income households.
# Under SLO's inclusionary housing ordinance, Centex had the choice of building some affordable housing units with sales prices set by a formula, or supplying land where a nonprofit organization could build affordable housing, or paying an in-lieu fee to the city's housing fund.
In 1999, the City of San Luis Obispo became the first place in SLO County to adopt an inclusionary housing ordinance. Atascadero and Arroyo Grande have inclusionary housing programs that provide incentives to build affordable units. SLO County officials are looking at the idea for unincorporated areas of the county, such as Templeton, San Miguel, and Nipomo.
Statewide, 170 cities and counties have adopted inclusionary housing programs, according to a study by the Sacramento-based California Coalition for Rural Housing. Although no two programs are identical, a report by the group notes that they "share a common element of requiring or encouraging private developers of housing to directly build or facilitate the building of affordable housing for sale or rent in new residential developments."


San Luis Obispo's ordinance which applies to commercial development as well as residential was recently amended by the City Council to clarify the process for selecting the recipients of affordable housing.
"Due to the current lack of specificity, there are instances where only individuals with direct ties to a developer are offered the chance to occupy affordable housing units," stated a staff report to the Planning Commission.
The City Council voted unanimously on Aug. 21 to require a "fair, open process" including a call for interested residents to sign up with the city and the Housing Authority, either for a lottery or direct selection.
"We don't know of any cases of a developer supplying housing to their employee, but we wanted to prevent that," the city's housing programs manager, Peter Brown, said in an interview.
If developers supply extra affordable housing beyond the requirements, that extra housing could be offered to their employees under the newly adopted rules.
Other sections of SLO's ordinance are also due to be revamped during the next year in consultation with a yet-to-be-established committee of housing advocates, builders, and others, Brown said.
For example, the city's ordinance specifies that in most of the city, five percent of new developments of five or more houses must be affordable to people of very low, low, or moderate incomes.
The city's "expansion areas" of Margarita and Orcutt require higher percentages of affordable housing, reflecting lower land costs, Brown said.
"We should get more bang for the buck there, more in line with other communities," he added.
That percentage varies in other cities depending on political compromises and housing needs, according to Dewey Bandy, deputy director of the California Coalition for Rural Housing.
"The general range is 10 to 25 percent, with 15 percent pretty typical. Generally it's not below 10 percent. San Luis Obispo is definitely at the low end," Bandy said in a phone interview from his Sacramento office.
"Why that's a concern is that housing isn't something like the charge for a library card. You're talking about land, which is limited, and if there's only five percent affordable housing in a subdivision, it takes away your opportunity for the future. The less units you build, the less need you address," Bandy added.
San Luis Obispo's inclusionary housing program also differs from other cities by allowing developers to choose which income level to supply.
"That's another part that needs work. Our ordinance doesn't specify which income level, so most developers go for 'moderate' because they can sell the units for more. We're not really meeting the requirements of the state because we're not supplying housing for low and very low income residents," Brown said.
The Douglas family's new home, for example, is designated for "moderate" income, defined as 81 to 120 percent of the median county income. The income range for a family of four in that category is $52,000 to $77,000.
Most inclusionary housing ordinances in California don't allow developers to build housing just for the highest income levels, instead requiring a range of incomes, according to Bandy in Sacramento.
"I would think San Luis Obispo would want to look at that. If you're not serving your low and very low income workforce, that's a problem. It's incumbent on environmental and social-equity advocates to weigh in on that," Bandy said.
The majority of builders in the city are choosing not to build affordable units, but instead are paying an in-lieu fee to the city's housing fund, according to Brown. Around $5 million has been paid into the fund so far. The city has spent around half that money on various projects including a first-time homebuyers program, a partnership with People's Self-Help Housing to build 27 apartments for low and very low income households on South Higuera, a loan to the Housing Authority to buy land on Humbert Street to develop 65 cooperatively owned workforce housing units, and a contribution for the operations of the Housing Trust Fund. Brown pointed out that funds are available to support new affordable housing developments in the city.
"The in-lieu fee provides flexibility for developers, and gives them options. It pencils out that most developers pay the fees because it's cheaper, so we don't get as much affordable housing," Brown noted.
But Bandy countered that in-lieu fees should be "revenue neutral," equivalent to the cost of building a unit, so there's no incentive to pay rather than build.
"The key problem is that it takes a long time for an in-lieu fee to materialize into an actual affordable unit on the ground. It most likely won't buy as much two or three years later. It's much better to get an actual house on the ground," Bandy said.
In addition, building affordable units at the same time as the market-rate homes in a development helps to overcome opposition to affordable housing production from existing neighbors the so-called NIMBY response.
Some SLO homebuilders are avoiding inclusionary housing requirements altogether by building smaller housing units, which are considered "affordable by design" and therefore exempt as spelled out in Table 2A of the city's Housing Element of the general plan. But the result is that less affordable housing is being built in the city limits, Brown pointed out.
The biggest problem faced by inclusionary housing programs around the state is a lack of ongoing oversight, which results in housing that's supposed to be restricted to owner-occupants being rented out instead, according to Bandy.
City officials will consider closer monitoring along with other changes in the ordinance, Brown said.

A broader perspective
County officials are looking at all these issues as they prepare to shape a more stringent inclusionary housing ordinance for the county's unincorporated towns. An independent economic consultant is also preparing a financial analysis.
A "concept paper" for the ordinance proposes an affordable housing component equivalent to 20 percent of a project, according to Dana Lilley, supervising planner with the county's planning department. That 20 percent includes five percent each for four different income levels defined as very low, low, moderate, and a new category called "workforce," which is up to 160 percent of the median income.
"We're proposing that mix in order to get variety. If we leave it up to the developers, they might build all workforce housing," Lilley said.
In-lieu fees under the county's ordinance would be more equivalent to the cost of building a housing unit around $300,000 a unit for moderate or "workforce" income, and $100,000 for low and very low income.
"We don't want the fees, we want them to build housing units," Lilley said.
Studies of inclusionary housing programs throughout California show that one necessary ingredient for success is a strong political commitment. Some observers note that in SLO County, the Board of Supervisors' commitment may be strengthened by the fact that the local Home Builders Association and the Housing Trust Fund have issued a joint position paper in support of policies they'd like to see in an inclusionary housing program.
The SLO County Planning Commission is set to discuss the new program for unincorporated areas on Sept. 27.
"We're learning from lessons elsewhere. It's exciting but it may be very controversial," Lilley said.
In Santa Barbara County, for example, a recent task force recommended that all developers be asked to pay an in-lieu fee to be used for the development of affordable rental housing, Lilley noted.
Even the strongest proponents of inclusionary housing agree that it's only one tool in the affordable housing toolbox. Other city incentives, such as density bonuses, have helped create another 1,100 affordable units since 1985.
"Inclusionary housing is not a panacea. It is wholly dependent on the vicissitudes and volatility of the residential construction industry," states a report by the California Coalition for Rural Housing.
Still, the program has been successful in SLO and around the state, where an estimated 80,000 people now live in affordable housing in mixed-income neighborhoods resulting from inclusionary housing policies.
The Douglas family is happy to own one of those affordable homes in SLO, close to good schools, shopping, parks, and services. Their home's deed carries an affordability restriction for 30 years, so any resale has to be at affordable rates.
"I think it's such a good thing. Our friends who work for nonprofits are encouraged now, thinking maybe they can own a home here too," Jaclyn said as she watched her children play.
More affordable housing units are on the drawing board in San Luis Obispo, open to qualifying people who live and work in the area.
As housing program manager Brown noted, "We're making progress."
INFOBOX: How to buy an affordable home
San Luis Obispo's Housing Programs Manager Peter Brown is collecting names of qualified county residents with very low, low, and moderate incomes. A lottery is planned for early 2008 for 10 affordable homes at Laurel Creek on Orcutt Road, with down payment assistance available. Future affordable housing is planned for the Margarita and Orcutt areas of the city. Contact Brown at peter@slocity.org or by calling 781-7523.
Dana Lilley, supervising planner for San Luis Obispo County, is also taking names for future affordable housing. Reach him at dlilley@co.slo.ca.us, or by calling 781-5715.
Calling all affordable housing developers! The City of San Luis Obispo has up to $2.3 million available to support your project. Contact Brown to discuss this.
INFOBOX: Affordable housing standards (SLO City)
Income group Income limit Affordable sales price
4-person household 3-bedroom home
Very low $32,100 $100,125
Low $51,350 $160,200
Median income $64,200 -
Moderate $77,000 $280,350
---
Freelance journalist Kathy Johnston may be reached at kjohnston@newtimesslo.com.