It's hard to say what the best part of the Live Oak Music Festival is. Obviously there's the music, a consistently diverse selection of genres performed by proficient and highly entertaining players. My buddy Chad finally decided to go this year, but he told me, "I don't want to camp too close to the stage. I don't like bluegrass." Like many, he's got a misconception about the festival, thinking it's a bunch of hayseeds playing string band music (Not that there's anything wrong with that. I personally love string band music and find hayseeds charming—I'm talking to you, Stuart Mason Helmintoller!). This year, for instance, punk icon John Doe will bring his roots music, Carolyn Wonderland will bring her ripping Texas guitar, the Rebirth Brass Band will bring its New Orleans sounds, David Lindley is going to do that weird and wild David Lindley thing, and the whole shebang will end with a performance by the Indigo Girls. All told, you can witness nearly 30 performers!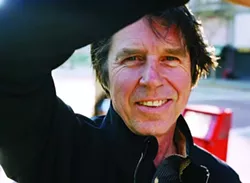 PHOTO COURTESY OF JOHN DOE
ROCK'S POET! : Punk icon John Doe of X will play his rootsy brand of rock'n'roll, country, and folk on Friday, June 15, at 7 p.m.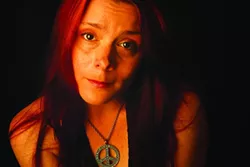 PHOTO COURTESY OF CAROLYN WONDERLAND
TEXAS TORNADO : Guitar wizard Carolyn Wonderland will deliver a set of her blistering blues on Saturday, June 16, at 8:45 p.m.
I'd be remiss if I didn't mention the food. I know it sounds ridiculous since we have some pretty good Mediterranean restaurants in SLO Town, but the best gyro I've ever had was at Live Oak—maybe because when you're camping, food just tastes better, but I don't know. It was a pretty freaking good gyro! In years past, I've always gone overboard on my provisions, but when I get down there, it's so convenient and delicious and fairly inexpensive to frequent the food vendors. This year I'm bringing snacks and extra money. That means more room in my cooler for beer. Woo hoo!
The relaxing setting is pretty hard to beat. I work two jobs, putting in about 60 hours a week, so Live Oak is my decompression chamber between the school year ending and my summer starting. What's better than sitting under an oak tree, sunlight dappling the leaves, with an ice cold beer in your hands, knowing your next biggest decision is whether to go check out some music, take a nap, or just get another beer? The most dangerous thing about Live Oak is the roving bands of squirt gun-wielding children. Yep, life is pretty good at Live Oak.
Of course, there are a few drawbacks, like porta-potties, spotty hot water conditions in the communal showers, a chance of too much sun, perpetually dirty feet, and sleeping on a leaky air mattress. But those are small quibbles for the pay off: the most relaxing weekend ever!
PHOTO COURTESY OF THOMAS MAPFUMO
THE LION OF ZIMBABWE : Thomas Mapfumo and the Blacks Unlimited offer two sets of his patented Chimurenga music on Sunday, June 17, at 2:45 and 5 p.m.

JOIN THE FUN!: The Live Oak Music Festival happens Friday, June 15 through Sunday, June 17, at Live Oak Camp, about 80 minutes south of San Luis Obispo on State Route 154. Visit liveoakfest.org for the complete line-up of performers, as well as to purchase three-day camping passes ($122 for adults; $77 for teens 13 to 17; or $37 for kids younger than 12) or day passes ($42 for adults and teens; $17 for kids younger than 12). The event is a fundraiser for KCBX 90.1FM, your local public radio station!
I guess if pressured, I'd have to say my favorite part of Live Oak is the people. There are regulars you see there every year, like Twinkle Toes, this Scandinavian guy who wears tie-dyed T-shirts, shorts, and a knee brace, and spends all day dancing (or spinning in circles, really). Or the guy in the big hat with the groovy dance style. Or the volunteers, without whom Live Oak would not exist. There are all these people whose names I don't know but who are instantly recognizable to me.
And then there are the people whose names I do know, who are my Live Oak family: Liz and George, Elaine and Dan, Kyle and Francis, Sobyl, Briana, Keith and Donna, Matt and Mary, Jay and Debbie, Jan, Ron and Lorelei, Allen, Jeff and Cathy. These people know more about living the good life than anyone I know. Here's their secret: Step one, go to Live Oak. Step two, live. It's a simple plan, but it works!
Glen Starkey takes a beating and keeps on bleating. Keep up with him via twitter at twitter.com/glenstarkey, friend him at facebook.com/glenstarkey or myspace.com/glenstarkey, or contact him at gstarkey@newtimesslo.com.