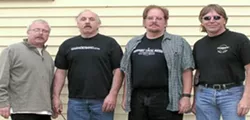 PHOTOS COURTESY OF AL MILAN AND THE ROBOTS
OLD AND NEW : Al Millan (second from left and inset) returns with his band the Robots for a fundraising concert for People First of SLO at the Odd Fellows Hall on July 18.
PHOTOS COURTESY OF AL MILAN
I've got an extra special place in my heart for Al Millan and the Robots. After all, as a wee senior high-schooler, I used to slip through the back entrance of the Dark Room to see this awesome bluesy, garage-y, Americana rock act. The Dark Room and Millan were essentially my first nightclub experience, and I remember heading over to Boo Boo's the next day to buy Millan's red-covered album
Come Alive
, which I'm pretty sure is still in my stacks. I think I lent my copy of
Soul Protection
to someone. If you're reading this, bring it back!
I also have fond memories of the Dark Room's Robot Burger, but I digress.
Millan now resides in Sacramento and hasn't played around these parts since a gig at Pozo Saloon back in '05. On
Saturday, July 18
, at 7 p.m. in the Odd Fellows Hall,
Al Millan and the Robots
return for a fundraiser for People First of SLO, a self-advocacy organization for people with developmental disabilities.
Millan, along with original members Gary Steinmann (bass) and Kirk Handley (keyboards), will be joined by Bay Area drummers Mark Schiltz and Bobby Flamingo, as well as local sax man Scott Wright of the Mighty Croon Dogs and guitarist Jack Collins of Big Daddy's Blues Band.
Millan's an old hand at fundraisers, and throughout his long musical career he's engaged in advocacy for people with developmental disabilities, in part because he's the director of a similar organization that advocates for developmentally challenged individuals and assists parents who are looking for help with their special needs children. Such advocacy is more than theoretical for Millan as he became one of those parents 18 years ago, experiencing difficulties while searching for support services for his daughter. This is a cause that is very personal for Al and his band members.
Get your $15 tickets at Boo Boo's or Cheap Thrills. A limited number of tickets will be available at the door. The Hoot Road Show and Bill Gaines Audio are pleased to be able to assist in these efforts.
PHOTO COURTESY OF THE WEST AFRICAN HIGHLIFE BAND
EXPERIENCE THE HIGHLIFE : The West African Highlife Band will play the highlife and Palmwine music of Ghana and Nigeria at Castoro Cellars on July 18.
Be like Obama!
Hot on the heels of President Obama's trip to Ghana comes
The West African Highlife Band
, playing the highlife and Palmwine music of Ghana and Nigeria at Castoro Cellars on
Saturday, July 18
.
"In Africa, music expresses and heals the feelings of the people. Rhythm, dance, and melody bring us together," claims the ensemble.
According to SLOfolks, who organized the event, The Highlife Band consists of Baba Ken Okulolo, Soji Odukogbe, Rasaki Aldokin, Pope Flynne, Nii Arm ah Hammond, and Lemi Barrow, who together create sounds rare and beautiful. Their producer and bandleader Okulolo was first seen in the U.S. with King Sunny Ade's African Beats. He's a five-time winner of Nigeria's best bassist award, according to that country's music journalists. Nigeria's Odukogbe was for five years the lead guitarist for the late Fela Anikulap Kuti. He draws on an extensive background in Nigerian Afro-beat, highlife, and spiritual music.
The music they play can trace its roots to the 1920s but peaked commercially in the '80s. It's seeing a resurgence now thanks to a dedicated fanbase and bands like theirs.
Tickets are $22 (call 238-0725, order online at castorocellars.com, or visit Boo Boo Records). For an additional charge, there's a 6 p.m. catered dinner by Cahoots. The concert, powered by Mobile Solar Power, starts at 7 p.m.
PHOTOS COURTESY OF AMANDA GRILL
REVERSIBLE! : Jody Mulgrew and Sebastian Luna (left) and Sebastian and the Lunas (right) both feature Mulgrew and Luna. One plays July 16 at the Clubhouse, the other July 18 at the Porch.
Vice versa
You know those nifty reversible coats, green on one side and orange on the other? You turn it one way to blend in and the other to stand out. It's like two items of clothing in one!
Well, that's what Jody Mulgrew and Sebastian Luna are like. Allow me to elaborate. On the one hand, we have Jody Mulgrew and Sebastian Luna, and on the other we have Sebastian & the Lunas, which is Luna and Mulgrew, not Mulgrew and Luna. See? To make it even more confusing, there's also the Johnny Starlings, which Mulgrew fronts and Luna plays in. What's my point?
You can see both incarnations this week.
According to his bio, "Though he was born in East Los Angeles, Sebastian Luna was raised on the mean streets of Los Osos. He spent his formative years attending Morro Bay High School where he excelled in sports and art but showed little talent musically. Nonetheless, after graduating, Luna quickly set about putting a band together with neighbors and friends. The Feud was a punk rock band that had one song and only played one show. Other garage bands would follow with similar results.
"He realized that if he was ever to be taken seriously he would have to take his routine on the road. Luna spent the next eight years as a working musician in San Diego. Known primarily as a bassist, he's recorded and/or toured with the likes of Subside, Flight Risk, the Underhills, Sic Waiting, and Flight to Athena. He also spent three years fronting his own post-punk rock band: Arneson. In early 2007 Luna returned to the Central Coast, performing with Jody Mulgrew and the Johnny Starlings. Sebastian Luna currently lives in Morro Bay where he continues recording, performing, and putting together a new band."
On
Thursday, July 16
,
Sebastian & the Lunas
will play the Clubhouse at 8:30 p.m., but come at 6:30 p.m. and also see
Anthony and the Engine
and
Brent Dannells
.
Then on
Saturday, July 18
, you can see
Jody Mulgrew with Sebastian Luna
beginning at 7:30 p.m. at the Porch in Santa Margarita.
"You're probably still kicking yourself in the keister for missing the amazing Sara Watkins show at Downtown Brew, and no doubt you feel almost as bad for missing the Johnny Starlings' opening set that night," wrote Mulgrew. "Well, you can't go back in time, but there's a little consolation in the fact that I, Jody Mulgrew, frontman and songsmith for the Starlings, am playing a couple of sets at the Porch in Santa Margarita this Saturday. Bassist Sebastian Luna will be in tow, and we'll give you a play-by-play of last Sunday's concert and play you some stripped-down versions of what you missed, and then some."
Mulgrew, whose song "You'll Only Get As Far As She'll Let You" will appear on the upcoming New Times Music Awards Top Twenty CD, was recently nominated for a "Just Plain Folks" songwriting award and has been quietly trying out test-material from his new record, both polished and not-so-polished, in the form of limited edition CDs, available only at shows. The first installment, a little 8-songer aptly titled
May 2009
, quickly sold out its 50-CD run. Now he's unveiling a limited number of the next installment,
June 2009
, up at the Porch this weekend.
"I'm curious to know which of the new songs get a reaction from folks, so we printed up these limited editions, each signed and numbered," explained Mulgrew. "The first CD sold out faster than I expected, so now it's time to test out the second batch of tunes. Those first two Johnny Starlings records were put down to tape when I was aching for some hi-fidelity recordings. Lately, I've been tinkering with some lo-fi techniques and experimenting on the dirty side of things. I'm hoping the result is both entertaining and dirty enough that you get some on you."
Brewed fresh for you
Downtown Brew kicks off its week on
Thursday, July 16
with a CD release party by
B Foundation
(7:30 p.m.; all-ages; $6 presale and $8 at the door). The So-Cal-based surf and roots rock act "draws influence from reggae rhythms, teen angst, and the salty waves of the Pacific Ocean." With three albums out now, they spent Fall 2008 on the road opening for indie giant Slightly Stoopid from coast to coast, coming off a nationwide co-headlining summer Surf Roots Tour with Ballyhoo!.
Bare Feet
will open this show.
PHOTO COURTESY OF THE WEAKERTHANS
LIVE WEAK! : The Weakerthans bring their northern prairie rock to Downtown Brew on July 21.
On
Tuesday, July 21
,
The Weakerthans
hit the stage (8 p.m.; all-ages; $15) to bring their northern sounds to SLO Town. They recorded their fourth album,
Reunion Tour
, in March of '07 in a recording studio built above a factory on the outskirts of Winnipeg, the cold prairie city where the band was born a decade ago. According to the band: "The factory produces cases for machines and computers and musical instruments, but only in the daytime; for a week and a half in the middle of winter, after the casemakers departed each afternoon at 4:30, the musicmakers, led by producer Ian Blurton, would arrive and play all night, crafting new sounds and new songs on the factory floor and then driving back to the city through the frigid Manitoba pre-dawn."
Mark your calendars for the return of
Emery
on
Thursday, July 23
(5:30 p.m.; all-ages; $15 presale or $17 at the door). The post hardcore act's newest album,
In Shallow Seas We Sail
, was released on June 2 and debuted at No. 50 on Billboard's Top 200 Chart! Read more about the band next week.
PHOTO COURTESY OF FISH OUT OF WATER
ALL WET : Still glistening with post-gig sweat, the trio known as Fish Out of Water plays Native Lounge on July 19 to promote their new album Harvest Your Thoughts.
Fish swim home
Near-constant touring has certainly tightened up
Fish Out of Water
, essentially a band of young, happy-to-couch-surf, reggae-inspired itinerate hippies. They're constantly e-mailing me their tour blog, a big technological leap from the monthly postcards I used to receive. They spent weeks playing Hawaii, and then months on cross-country tour through the rest of the United States. Oh, and they like to play in bathrobes and Mardi Gras beads, if that tells you anything.
On
Sunday, July 19
, FOW returns to their home turf with an album release party from 1 to 3 p.m. at Native Lounge for
Harvest Your Thoughts
. The new recording is filled with rhythmic, energized tracks with plenty of fancy time and genre change-ups, all part of their patented formula that mixes rock, funk, reggae, and hip-hop into what they call RoPhunkRaeHop.
College kids will eat this up like Cheerios laced with ecstasy and beer. Think of them as Sublime-lite with some Bootsie Collins dreams mixed in. Likeable enough, to be sure, but not exactly weighty fare.
PHOTO COURTESY OF DAVE MCGRAW AND CROW WING
WAY OUT WEST : (Left to right) Ryan Heinsius (vocals and guitar), Andrew Lauher (drums), Dave McGraw (vocals and guitar), and Thom Lord (bass) are Dave McGraw and Crow Wing, appearing July 16 at Frog and Peach.
More music…
On
Thursday, June 16
, Flagstaff, Arizona-based Americana folk-rock band
Dave McGraw and Crow Wing
will hit Frog and Peach during their first stop on a West Coast/Northwest tour in support of the brand new album
Coyotes Came Around
. The band displays some fine pickin', and McGraw has a comfortable voice and a knack for writing immediately accessible songs. Fans of Josh Ritter, Rocky Votolato, Ryan Adams, and Wilco are going to like this quartet.
I haven't been there, but I've got to say the name, Sally Loo's Wholesome Café, sounds awfully inviting, and the new coffee house is kicking off their grand opening right with a performance by
Café Musique
on
Friday, July 17
from 5 to 9 p.m. "We specialize in local organic dishes and delicacies," said proprietor Jennifer Manuele. "Come enjoy our coffee and be the first to try new items added to the menu as well as the best sellers." They're located at 1804 Osos St., in SLO Town.
Damon Castillo
brings the heat to Concerts in the Plaza this
Friday, July 17
from 5:30 to 7:30 p.m. Castillo and his band are in the top three for Best Band in the
New Times
Music Awards, and they put on an amazing show.
Local favorites
The Mighty Croon Dogs
, a highly entertaining butt-jiggling lyrics-giggling dance band, plays the next Paso Robles Concerts in the Park on
Friday, July 17
. The quartet plays and sings all types of music, covers and originals, and will entertain you from 5:30 to 7:30 p.m. during this free community concert. Run with the big dogs!
Bill Donley—drummer of the Dentures, the super-fun '50s and '60s surf rock act—has a new project,
SNAFU
, as in "semi-normal American funk unit." They'll bring their four-part harmonies and do-wop and rock sound to the newly remodeled patio at the Last Stage West on
Saturday, July 18
from 1:30 to 3:30 p.m.
Calling all swingin' cats and kittens, get your old school swankified groove on
Saturday, July 18
at 6 p.m. when
The Three Martini Lunch
plays the patio at Native Lounge.
I don't get down to Arroyo Grande too often, mainly because there's so much action in SLO Town, but something's clearly been building at the SLO Down Pub. On
Saturday, July 18
from 7 to 11 p.m., another special event descends when they present a '60s dance party hosted by the
Jim Townsend Blues Band
and featuring a variety of musicians playing songs from the pub's past Beatles' Show and from "Pubstock '09." In addition, new music will be added from the Beach Boys, Jan and Dean and many others from our '60s beach music memories. Do the watusi, the twist, the swim, or the boogaloo, or just sit back and soak up the fun. A Santa Maria-style barbecue is available in the pub's parking lot. Hawaiian shirts and flip-flops optional!
Yee haw!
The Big Hoedown Annual Showcase
at the Red Barn Community Music Series in Los Osos happens on
Saturday, July 18
at 7 p.m. (potluck at 6 for those interested). This show marks the fourth edition of this annual celebration of local music and community. As many as 50 musicians are expected to show up for short acoustic sets. This year performers include
Jill Knight
,
Inner Faces
,
Cuesta Ridge
,
Seamus Conroy
,
Better Late Than Never
, the
Foggy Bay String Band
, and many more. A $10 donation is requested. BYOB and a dish to share for the potluck supper.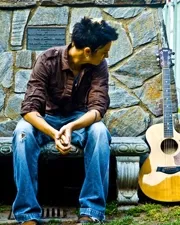 PHOTO COURTESY OF MISTY ODELL
SWEET SOUNDS : Misty Odell's got herself a marvelous voice, a husky purr that you can't turn away from. See for yourself on July 18 at Linnaea's Café.
Misty Odell
's got herself a marvelous voice, a husky purr that you can't turn away from. On
Saturday, July 18
, she appears at Linnaea's Café from 8 to 10 p.m. to deliver her thoughtful indie folk pop, music that hints at ragtime and blues. SLO native
Chris Swanson
(violin) and
Rick Brandt
(cello) will be joining her, and the strings add a lushness to Odell's already charming sound. She's a bit of a late comer to music, having earned a BA in criminal justice, enjoyed a college basketball career, and played in the Women's Professional Football League. Better late than never, I say. She's awesome!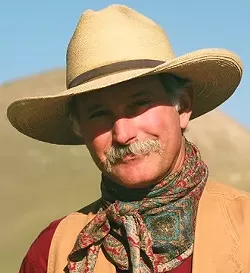 PHOTO COURTESY OF DAVE STAMEY
COWBOY UP! : Western singer-songwriter Dave Stamey (pictured) will be joined by Mary McCaslin and cowboy poet Gary Robertson at Stacked Stone Cellars on July 19.
SLO Town's Old Fashioned Sunday Summer Concerts series continues on
Sunday, July 19
when the
Gold Coast Chorus
and
SLO County Band
play the bandstand at Mitchell Park. The 1 p.m. show marks the second of four free summer concerts. Ride your bikes and bring a blanket, a picnic, and the kids. It's a great way to spend a Sunday afternoon.
The Crisptones
are on this bill on
Sunday, July 19
for the next Sizzlin' Summer Concert Series show at the Grover Beach Farmers Market from 3 to 6 p.m. at the Ramona Garden Park.
Western singer-songwriters
Dave Stamey
and
Mary McCaslin
, along with cowboy poet
Gary Robertson
, will be at Stacked Stone Cellars on
Sunday, July 19
at 3 p.m. Award winners all, these three potent entertainers are dazzling! You'll feel like you've been transported to a campfire on a wide open plain, except it'll be daytime and you'll probably be drinking wine—also dazzling! Bring low-backed chairs, layered clothing, money for food, ID for alcohol, and a festive attitude. Carpooling is strongly encouraged. Tickets are $20 (546-2857).
Glen Starkey refuses to put on pants. He just writes better if the boys are feelin' free and easy. Send him a big "Ewww" to gstarkey@newtimesslo.com.
CD Reviews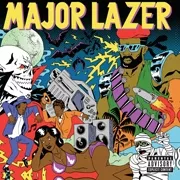 Major Lazer—Guns Don't Kill People ... Lazers Do
After saturating the airwaves with M.I.A.'s hit "Paper Planes" and scoring a Grammy nod for their work her Kala album, Switch and Diplo are keeping their frenetic production focused on the art of moving butts. Cloaking themselves behind the alter-ego of a one-armed Jamaican cartooned-soldier Major Lazer, they recruit dancehall heavyweights and a few friends to toast up their hyper-active mixtape of dancehall/reggae musical stylings. Mimicking the blistering rumbling surf guitar that launched Pulp Fiction's opening sequence, Major Lazer gets down to business immediately on the Santogold and Mr. Lex infectious opener "I'll Make Ya (Hold The Line)" followed by the bass-shaking, scattershot percussion of "When You Hear the Bassline." Sprinkling in other Jamaican genres, shades of Studio One rocksteady are authentically duplicated on "Can't Stop Now" and roots reggae is touched on "Cash Flow," with "Mary Jane" reviving the military snare march that animated Diplo's previous venture into Brazilian balie funk. Furiously upbeat, Guns Don't Kill People ...
Lazers Do
stamps this duo as unstoppably talented.
Various Artists—Ze 30: Ze Records 1979 – 2009
Every generation has its new thing: exciting, refreshing, and waiting for future generations to understand. Criminally neglected in its own time, ZE Records captured the sound of '80s New York, where art, music, and intellect converged and fostered a punk-funk sound that is still being mined for inspiration. Influenced by the new wave of the Talking Heads and television, British-native Michael Zilkha and French journalist and punk purveyor Michel Esteban combined their initials and tastes to curate "art-house party music." Having reformed the label in 2002 after shuttering its doors in '86, Ze 30 compiles an excellent slice of its golden era. Housing the disco-inspired pulse of Was (Not Was)'s Reagan critique "Tell Me That I'm Dreaming," the skronky disheveled clamor of James White & the Black's "Contort Yourself," or the minimal synth of Suicide's "Dream Baby Dream" (later covered by Bruce Springsteen), the label released other misfit outsiders like Kid Creole and Material. Not only an intriguing listen, but also completely enjoyable.
—Malik Miko Thorne, of Boo Boo Records and mikovision.blogspot.com, where you'll find archived reviews and soundclips.