When they hear the word "homeless," many people picture the lone, older adults they have seen on the streets.
But as El Camino Homeless Organization (ECHO) President Wendy Lewis will tell you, those single adults aren't the only individuals experiencing homelessness in SLO County who are seeking help. The organization's Atascadero shelter also serves a growing number of families with children who are struggling with homelessness and seeking help.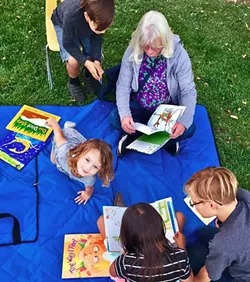 Photo Courtesy Of ECHO
FOR THE KIDS The El Camino Homeless Organization offers a number of art, reading, and nutrition programs for children at its Atascadero shelter.
Currently, the shelter provides rooms where homeless families can stay for up to three months and participate in the programs, get connected with services, and, most importantly, not be separated from each other.
"Being able to stay together as a family unit means they can connect with resources, find employment and transportation, and eventually housing while staying together," Lewis told New Times. "The physical ability to remain as a family unit makes a huge impact."
Now the organization will be able to enhance and even expand some of its programs geared specifically toward children in the shelter thanks to a $3,000 grant from Central Coast Funds for Children. The fund is a nonprofit organization that has been raising money to help children in need in SLO County since the 1990s. The organization is currently celebrating its 25th anniversary. The grant came from more than $1.7 million raised by the organization to help needy children in the county.
"ECHO provides for the immediate needs of many homeless children by providing overnight shelter and daily meals," Debbie Craven, president of the Central Coast Funds for Children, said in a written statement. "They exemplify everything Central Coast Funds for Children stands for."
Lewis said the money would be used to fill funding gaps and enhance current programs and add new ones for children in the shelter. Current programs for children at ECHO include an art program, a reading and family literacy program, and a nutritional education and tutoring program. A dedicated staff of volunteers helps run most of those programs.
"ECHO really strives to create an environment that does not feel like a shelter. Especially for the children," Lewis said. "We have a unique model."
ECHO provides shelter for an average of 60 children each year. As many as 15 children between the ages of 0 to 18 years old live at the shelter, often with their families.
For more information about ECHO, go to echoshelter.org or call (805) 462-3363.
Fast facts
• The Monday Clubhouse Conservancy is currently raising money to make capital improvements to the historic Monday Clubhouse building in SLO. Planned improvements include a new addition to the facility that will house an ADA accessible restroom, new electrical and mechanical systems, and other improvements. The conservancy has already raised more than $500,000 from its members and local grants, but it's still trying to reach its goal of $1.1 million. For more information, go to themondayclubslo.org.
• The Vineyard Team announced its educational scholarships are available to 2019 graduating high school seniors and currently enrolled college students whose parents or guardians are vineyard or cellar workers, employed, or contracted by a member of the Vineyard Team. Interested applicants can email their intent to apply to Kyle Beal Wommack at kyle@vineyardteam.org by March 28. Visit vineyardteam.org to complete an application. Final packets are due April 18, and recipients will be awarded between $1,000 and $5,000. Δ
Chris McGuinness wrote this week's Strokes & Plugs. Send hot takes and hot tips to strokes@newtimesslo.com.