It's a sunny and clear Christmas afternoon in downtown San Luis Obispo and the streets are mostly empty, save for a few revelers hopping from one pub to another.
The most happening spot in town appears to be the Amtrak station, where about 70 people walk by with bags slung over their shoulders. Young families sit together on benches, waiting to depart for their Christmas destinations.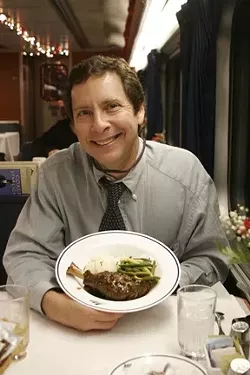 PHOTO BY MATT FOUNTAIN
SOUL TRAIN: : Train aficionado and Amtrak volunteer David Weisman brought New Times along for the ride on the Christmas Day party train to Gaucho Town.
Walking up to the station, I spot David Weisman, my chaperone for the day, flagging me over. Weisman—when he's not keeping private utilities companies and their regulators on their toes in his role as outreach coordinator for the Alliance for Nuclear Responsibility—volunteers as a station guide for Amtrak California.
Think of station guides as you would a museum docent, but less stiff. They greet passengers, answer questions about the ride, help little old ladies to their seats, and serve as goodwill ambassadors to the public. In this capacity, my friend David is the life of the party.
Unlike fast-paced commuter stops, today's schedule allows him time to interact with passengers. He's cheerfully greeting families with children and handing out goodies from his bag, including coloring books and blue paper train conductor hats, which one would-be junior conductor looks a smidge reluctant to accept at first.
"Now, I know what you're saying: that it's not cool. But you put it like this," he says, twisting the hat backwards and plopping it on the little girl's head, "and suddenly it's cool. See?"
She apparently agrees, turning to her parents, grinning ear to ear.
"This is the kind of grassroots marketing I'd like to see Amtrak do a little more of," Weisman says, waving the blue conductor hat as we stroll toward the ticket booth. "I mean, these are just paper. What's the cost? But the reaction, it's instant."
We talk a little about why he sacrifices his time for Amtrak. Rail commute, he says, is the way to go. It's better for the environment, it's efficient, and most of all, he says, it's pleasant—as commuting so seldom is. And as a station guide, it's Weisman's job to relate the benefits of rail travel to the public.
"It's a matter of, do you love people and like trains? Not the other way around," Weisman explains. "It's about helping people. You'll find trains are very people-oriented in ways that planes can't be."
He introduces me to a handful of the staff, who don't seem the least bit phased to be working on a holiday. I shake hands with Frank Bailey, our conductor for the day. The train starts rumbling, and we hop aboard. Inside, passengers flip through their smart phones, thumb through magazines. Wide-eyed children handle new-looking toys with their parents, some beginning to illuminate Weisman's coloring books.
Everyone seems in good spirits as we begin rolling southbound, Christmas lights strung along the cars' ceilings, Little Richard howling "Good Golly Miss Molly" over the radio. I follow Weisman and his bag of goodies through five cars or so. A few passengers—children and adults—are hanging in the movie car where "A Christmas Story" is blasted up on the screen.
Turns out New Times couldn't have asked for a better day to jump somebody else's train. As we roll a steady 40 to 50 miles per hour down the coast, the neon sun starts to hang low over the Guadalupe Dunes, treating passengers to a show that would have been impossible to see from the highway.
After Weisman finishes his rounds, we take a load off, the gorgeous Lompoc Valley streaming by outside the window, and conversation turns to the state's planned high-speed rail system.
"Just look at this," Weisman exclaims. "You see places like this and you think, would I really want to be flying by at 150 miles per hour?"
Before we know it, it's 5 p.m.—dinner time! We abandon our car and head toward the dining car, where passengers are already being served their Christmas dinner overlooking the Pacific Ocean. Turkey isn't on the menu, so I have to settle on a steaming plate of roasted chicken, mashed potatoes, and green beans. Poor me!
The sun eventually ducks below the hills, and passengers and staffers sit together, reveling in the scenery and starting up conversations about travel, music, and chocolate.
"Train people are the best kinds of people. I mean, in an airplane the flight attendants wouldn't be sitting there with passengers debating the quality of vinyl versus CDs," Weisman quips. "I'm telling you, revolution is being fomented in dining cars across America. This is how the 99 percent travel!"
Amtrak began the Station Host program in March 2001, in Emeryville. It's the brainchild of long-time director of the National Association of Railroad Passengers and the Train Riders Association of California, Doras Briggs. Since then, the program has grown so successful that Amtrak stations across the country have adopted it.
As a guide, volunteers attend a training program and can sign up for their choice of a morning, afternoon, or evening shift. As a guide, you're expected to serve at least once a month. Hosts who reach the 100 hours of service mark in a calendar year receive a free round trip, on Amtrak, to anywhere in California. Last he checked, Weisman had accrued some 110 hours of service through November.
Even though his full-time gig in ratepayer advocacy keeps the guy extremely busy, he says the time he spends volunteering is anything but wasted.
"The train is a time machine," Weisman says. "You don't spend time, you get time: Time to read, time to watch, time to listen. It adds time to your life."
To learn more about volunteering as a station guide, visit stationhost.org.
We arrive in Santa Barbara a few minutes ahead of schedule. With a few hours to kill before our Greyhound takes us back to SLO, we wander into O'Malley's and knock back some additional holiday cheer. As if we needed more.

Riding that train. Eating chow mein. Staff Writer Matt Fountain is ready. Watch your speed at mfountain@newtimesslo.com.