San Luis Obispo County voters will decide in November whether to enact a countywide ban on fracking and new oil drilling, by passing or rejecting Measure G at the ballot box. As election day nears, the campaigns to shape public opinion on both sides of the issue are building momentum and funds—and the people behind them are made up of familiar faces, including a sitting county supervisor.
Deep pockets for 'No on G'
Between Jan. 1 and June 30, the committee No on Measure G: Stop the Oil and Gas Shutdown received two large donations from two oil companies. Sentinel Peak Resources and California Resources Corporation contributed $500,000 and $225,000, respectively, to the group.
Sentinel Peak owns and operates the Price Canyon Oilfield in rural Arroyo Grande, while the California Resources Corporation is a Los Angeles oil and gas producer with sites in the LA, San Joaquin, Ventura, and Sacramento areas, according to its website.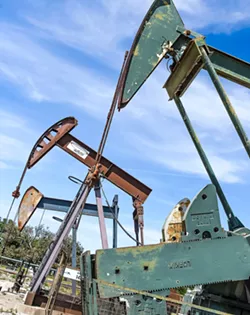 BATTLE OVER OIL The committee to fight Measure G in SLO County received $725,000 in contributions from the oil industry during the first half of 2018, including $500,000 from Sentinel Peaks Resources, owner of the Price Canyon oilfield (pictured).
Aaron Hanke, campaign manager for No on Measure G, told New Times that the committee's large, out-of-area donation is an indicator of a broader oil industry response to what he called "essentially a statewide measure to shut down the oil and gas industry." Hanke is referring to similar measures that have been on ballots around the state, including in Monterey and Santa Barbara counties: Monterey voters passed Measure Z in 2016 (though its details are still being settled in court), while Santa Barbara voters rejected Measure P in 2014.
"When you have an opposition that is working through multiple counties and collecting data for a bigger picture-type goal, your side also has to come together," Hanke said.
He added that Measure G's potential impact on oil production in the county could affect other aspects of the statewide oil industry, like refineries.
"That has a trickle-down effect," he said.
As far as how No on Measure G has spent its war chest, the committee sent most of its funds thus far to attorneys and political campaign consultants. Top recipients include Santa Monica-based ballot measure consultant Winner and Mandabach Campaigns ($155,068); Nielsen Merksamer Parrinello Gross & Leoni LLC, a "preeminent political law, government law, and lobbying" firm based in Sacramento, according to its website ($123,858); and local campaign strategist Meridian Pacific Inc. ($111,445), which is co-owned and founded by 1st District SLO County Supervisor John Peschong.
According to public campaign finance filings, No on Measure G retained Meridian Pacific for consulting services and campaign literature during the first half of the year. Hanke, the No on Measure G campaign manager, is a former vice president of Meridian Pacific and former senior advisor to state Assemblymember Jordan Cunningham.
Since Peschong started his term as supervisor in 2017, he's recused himself on board decisions related to the energy sector. Most recently, Peschong stepped off the dais in June for a decision on whether the county should include an economic impact analysis with Measure G's voter materials. The remaining supervisors nearly failed to come to a consensus on that decision, and a 2-2 split vote would have sent it to court.
Conflict of interest laws for elected officials require that 12 months pass from the time the official receives $500 or more in income from an individual or company, before he or she can vote on a public decision that would affect that individual or company. Peschong said Meridian Pacific has contracted with several oil industry clients for past campaigns, including the campaigns to fight Measures P and Z in Santa Barbara and Monterey counties. Meridian also recently worked for Texas-based oil firm Philips 66 Company—and Peschong recused himself from the Board of Supervisors' vote last year to deny a local rail spur extension project.
"We've worked on a number of these types of campaigns and so I have recused myself," Peschong told New Times. "I'll continue to do so."
Peschong declined to comment about whether he's considered forgoing business with the oil and gas industry on occasions when it conflicted with local issues or to allow the 12-month conflict-of-interest period to expire so he could cast votes as a supervisor. He also declined to share his opinion about Measure G.
According to financial interest statements filed with the state, Meridian Pacific has a fair market value of more than $1 million, and Peschong retains a greater than 10 percent ownership interest. He earned more than $100,000 in salary at the firm in 2017.
Yes on G draws citizen and nonprofit support
While No on Measure G has the deep-pocketed backing of two large oil companies, proponents of Measure G describe themselves as a local grassroots group drawing support from a wide variety of individuals.
During the first half of 2018, the Coalition to Protect San Luis Obispo County collected $12,471 in monetary donations and another $42,814 in nonmonetary contributions.
Charles Varni, co-chair of the committee, told New Times that a successful Measure G campaign will demand a significant get-out-the-vote effort.
"There's no way we're going to be able to compete with the money that Big Oil has. We know they'll spend millions," Varni said. "Our power comes from the citizens of SLO County and the 20,473 voters who signed our initiative."
The coalition thus far has received modest donations from 28 people or groups, the top four coming from the SLO County Community Foundation ($2,336), retired SLO resident Richard Krejsa and electrician Carl Meissner ($2,000 each), and Varni ($2,650). As campaign season heats up entering the fall, Varni said fundraising efforts will also ramp up, with events, art auctions, and more around the county.
"Fundraising is big goal of ours right now to fund what is a professional yet bare-bones and fundamentally grassroots campaign," he said.
In September, the Measure G coalition will open an official campaign office in SLO. Varni said volunteers have been out mobilizing voters by attending public events like farmers' markets and city council meetings. Varni looks no further than the successful Monterey initiative in 2016 to find optimism.
"We have a model over in Monterey County," Varni said. "Big Oil spent $5.5 million to defeat Measure Z, and it passed with 56 percent 'yes' vote. That's what we're doing here."
While Measure G's monetary support is largely local, the coalition has received $39,180 in "in-kind" services from a national nonprofit, the Center for Biological Diversity. The group made headlines in SLO County for its 2016 lawsuit against state agencies over former Price Canyon oilfield owner Freeport McMoRan's application to exempt its wastewater injection aquifer from federal safe drinking water protections.
Candace Kim, a senior organizer at Center for Biological Diversity, called the aquifer exemption, which is still under review by the EPA, a "huge giveaway" of "a potential source of drinking water." She told New Times the organization has offered its attorneys and other staff resources to the Measure G effort. It also lent its support to the Measure Z campaign in Monterey.
"We have a history of supporting community-led grassroots, county-level campaigns to ban fracking and dangerous drilling," Kim said. "We do this because the safety net we have as a society isn't working. It's failing communities on a state and federal level."
Both Kim and Varni emphasized that the Measure G campaign is locally led, with mere complimentary assistance from the nonprofit.
"They're respectful that we're a well-organized grassroots organization and the leaders of this," Varni said. Δ