The Exploration Station is abuzz with activity as I pull up on Sunday, Nov. 6. I'm here to judge "Chemistry of Cocktails," a fundraising event pitting mixologists from our county's finest eateries against one another to see who can concoct the most fantastic drinks ever assembled. Not only do these adult beverages need to be gorgeous and delicious, they also need to incorporate a chemistry theme.
PHOTO BY GLEN STARKEY
CHEMISTRY FOR ADULTS : Delicious and beautiful potions were imbibed for a great cause: Exploration Station in Grover Beach.
PHOTO BY GLEN STARKEY
TOO MUCH METHYL ANTHRANILATE! : Though technically difficult and certainly interesting, The Quarterdeck's Purple Rain suffered from tasting like cheap candy, though it did win the People's Choice Award!
Frankly, I don't know what to expect, but I'm about to get a crash course when Program Director Tosha Punches dons a white lab coat and safety glasses, then proceeds to pour some mango margarita she's made into a metal bowl, where she ladles in liquid nitrogen and then starts stirring. A couple minutes later she hands me the most marvelous alcoholic sorbet, with a slippery texture and a taste to die for.
"Liquid nitrogen is the only way to freeze alcohol," she informs me.
After playing around with the Exploration Station's many fascinating hands-on displays (I like the black hole that demonstrates how gravity works), I make my way to the judging area and meet my fellow judges, Coast News writer Teri Bayus (she's already judged a taco contest earlier in the day, overachiever!), Cal Poly chemistry professor Nanine Van Draanen (sister of novelist Wendelin!), and Stacy Shoals (wife of Grover Beach mayor John P.).
The first drink arrives, some sort of modified mojito, but with basil instead of yerba buena. It's by Mongo's and is called the "Fuget About It," and as we imbibe, Stacy blurts out, "If I'd ordered this, I'd send it back and ask where the alcohol is!"
This is my kind of lady! Take no prisoners!
We make a few notes and then cocktail No. 2 by Rosa's Italian Restaurant arrives. Called "'Double' Your Pleasure," it comes with instructions. First take a drink of what's in the martini glass—a sweet orange-colored fluid. Next, puncture the two clear sacks in the shot glass, add them to the martini glass, and mix. Ka-boom! A whole new flavor! Now that's chemistry!
The drinks keep on coming: Café Roma's "The Pink Elderflower"—beautiful and delicious; F. McLintock's "St. Germaine's Quantum Theory" bubbling with dry ice; Fin's "The Redneck Shark" rimmed with crushed Red Hots; Marisol at The Cliffs' "Pink Persuasion" with disgusting little pink sacks floating in it; The Quarterdeck's "Purple Rain" rimmed with purple crystals; Sea Venture's "Vitus Invigerato" with fantastic lacey grape peels bubbling with dry ice; Lido's refreshing "2727" with floating cucumber slices; and finally Novo's "The Hell Raiser Margarita" a drink so hot it separates the men from the boys.
Then things just devolve into an alcohol- and sugar-fueled frenzy. Soon, anything anyone says sounds vaguely sexual.
"That's a weird sensation—all those balls going into my mouth," says Teri as she sips the "Pink Persuasion," whose texture reminds me of chumming for sharks.
"It's really hard to get really big crystals," exclaims Nanine, marveling at "Purple Rain," which she says uses "methyl anthranilate," the fake grape flavor found in candy. "You can tell I've had enough to drink because I'm going to tell you that methyl anthranilate is molecularly similar to the wintergreen flavor found in Lifesavers. They don't taste anything alike, but they're almost identical at a molecular level. Isn't that interesting?"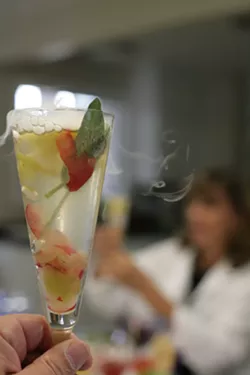 PHOTO BY GLEN STARKEY
STUNNER! : For sheer visual pleasure, it was hard to top Sea Venture's Vitus Invigerato, which won third overall.

DONATE!: The South County Family Education and Cultural Center Exploration Station—located at 867 Ramona Ave., in Grover Beach—recently held a fundraiser to keep the hands-on science museum up and running, but they could always use more help. Visit explorationstation.org to learn about their programs and mission. Contact them at youth@explorationstation.org or by calling 473-1421.
"Wow, these grapes are still frozen and so hard," notes Teri as she lolls a grape around her mouth from "Purple Rain."
"Mmm, I could drink these all day," purrs Stacy, sipping on the cucumber-laden "2727," which Teri informs us is cop code for "crazy."
We're tasting, discussing: "This one has absolutely no chemistry," Nanine claims.
"There's spicy and then there's doggone hot," Stacy squeals, recoiling in disgust at the "Hell Raiser Margarita," which Teri and I love.
Back and forth and around we go, trying to come to a consensus. As far as pure deliciousness and simple yet elegant presentation, I love "The Pink Elderflower" by Café Roma, but "'Double' Your Pleasure" by Rosa's Italian Restaurant is delicious and really employs the chemistry theme. We name it No. 1. The "St. Germaine's Quantum Theory" by F. McLintock's gets No. 2 for being delicious and bubbling with dry ice. For sheer visual delight, No. 3 goes to Sea Venture's "Vitus Invigerato." It was tough not awarding The Quarterdeck's "Purple Rain" something, what with all those hard-to-form crystals, but it tasted too much like cheap purple candy.
And now to wash away all that sugar with an ice cold Pabst! Cheers!

Glen Starkey takes a beating and keeps on bleating. Keep up with him via twitter at twitter.com/glenstarkey, friend him at Myspace.com/glenstarkey, or contact him at gstarkey@newtimesslo.com.