IMAGE COURTESY OF KELRIK PRODUCTIONS AND DOMONIQUE PATON
LEGENDARY: Los Angeles actress Domonique Paton portrays Mimi Marque, a sexy HIV-positive stripper and dancer who is also a heroin junkie and Roger's love interest. Rent takes the stage in SLO for three shows only Oct. 15-17 at 8 p.m. at the Alex and Faye Spanos Theatre in the PAC at Cal Poly. Presented by Kelrik Productions Rent is the Smash-Hit theatrical experience that changed Broadway forever. Set in the East Village of New York City, Rent takes you on a journey of youthfulness, learning to survive, falling in love, finding your voice, and living for today. Info: 756-2787 or pacslo.org.
New Times
Tell me about your professional background.
Domonique Paton I've been performing professionally for 15 years and I'm 21. I dance, my mother and grandmother were both dancers all of their lives. I stumbled upon singing and found that to be something I enjoyed as much as dancing. I just got off the international tour of Hairspray.
New Times How did you get involved in the SLO production of Rent?
Paton I went to school with Jacob Nixon, who plays Angel in Rent, and we've always wanted to do this particular show together.
New Times Tell me about Rent and your role. I honestly don't know much about this production.
Paton I've seen Rent 12 times.
New Times Wow.
Paton Rent is a story about love, at the end of the day that is what you are going to walk away feeling after seeing the show. It is a story about eight friends, throughout one year, and follows two roommates, Mark and Roger. Roger falls in love with my character Mimi, who is an HIV positive exotic dancer. Roger is HIV positive as well. This whole group deals with AIDS and HIV because some of the characters are not dealing well with the disease, unlike Mimi who isn't waiting around for HIV to kill her, living each day as she should.
New Times Does she influence the other characters?
Paton She brings a real side to the disease. She is a heroin addict. For the first act, most of the time she is high. She brings a gritty side to the story.
New Times What else will audiences come away with after seeing this show? Is it a tear-jerker?
Paton We deal with death in the show, a very interesting side of it. But you should walk away with hope. It's an uplifting story about people taking care of each other, and everyone being there for each other at the end of the day, which is what it's all about.
New Times What is the signifigance of the title, Rent?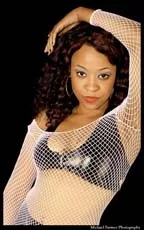 Paton
One of the roommates marries a rich girl and bought the building the guys are living in, so he becomes a hot shot after living the bohemian lifestyle. Roger and Mark have to start paying rent after that. If they pay that rent, then they are leaving the bohemian lifestyle they promised to uphold.
New Times Why is Rent so successful?
Paton What made it such a hit is no one at that time, in 1996, no one was talking about the issues it addresses. The music, which is raw rock, is so catchy.
New Times What do you bring to your character Mimi?
Paton I bring something different since I'm younger than most Mimis I've seen. I want to bring her innocence to it.
New Times What can SLO expect from Rent at the PAC?
Paton A lot of fun. We have a blast doing this show, relating to these characters. People will sing along, and be touched by the story. And they will take the message, "No day but today".
Christy Heron can be reached at cheron@newtimesslo.com.