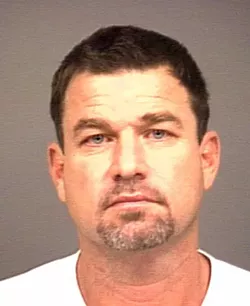 PHOTO COURTESY OF SLO SHERRIFS DEPARTMENT
STAY AWAY: Restraining orders dictate Arroyo Grande Councilman Edward Arnold, Jr. must steer clear of his wife and his former girlfriend, who's now his wife's girlfriend
The woman allegedly assaulted by Arroyo Grande Councilman Edward Arnold, Jr., said in a restraining order filed Dec. 25 that Arnold threatened to kill her and blamed her for the breakup of his marriage.

She states in the document she once had sexual relations with him and refers to his estranged wife as her girlfriend.

In the documents, the alleged victim said, "Ed Arnold and I had a few sexual encounters. And Ed Arnold stated that he was obsessed with me."

She also described the attack in detail, alleging Arnold bludgeoned her from behind with a club, covered her mouth to keep her from screaming, threatened to kill her, and brought—but didn't use—zip ties to aid his attack.

Kathryn Arnold also filed a restraining order against her husband.

Arroyo Grande police responded to a domestic violence call late on the evening of Dec. 15 in the 800 block of Turquoise Drive, where Arnold allegedly hit a 28-year-old woman in the head with an unidentified object. Arroyo Grande police arrested Arnold on suspicion of burglary, domestic violence, and assault with a deadly weapon. He is out on $50,000 bail.

New Times was unable to contact Edward Arnold, Kathryn Arnold, or the alleged victim for this article. Arnold has told other media he will refute the allegations in court.